This No-Churn Peppermint Bark Fudge Swirl Ice Cream starts with a creamy white chocolate ice cream base loaded with chocolate chunks, crushed candy canes and swirled with chocolate ganache!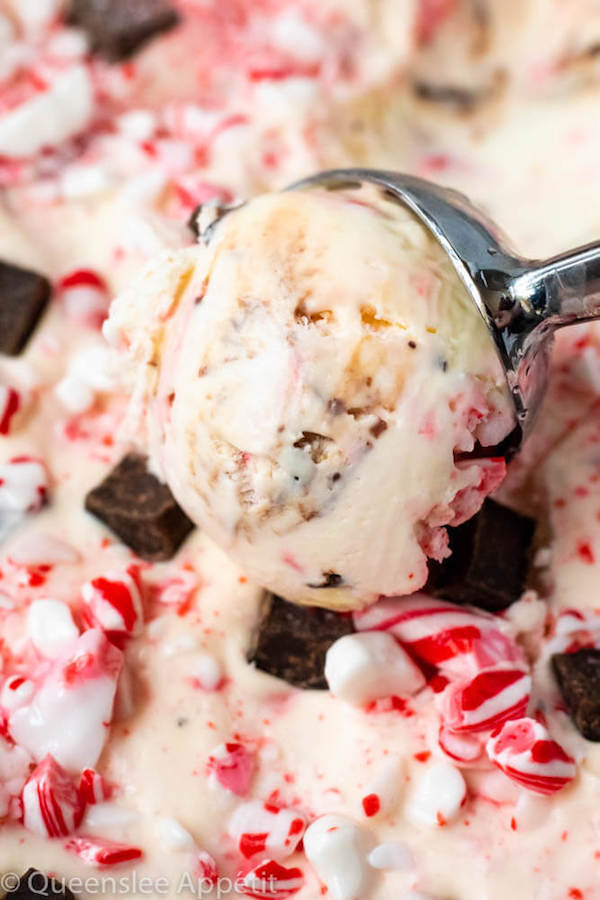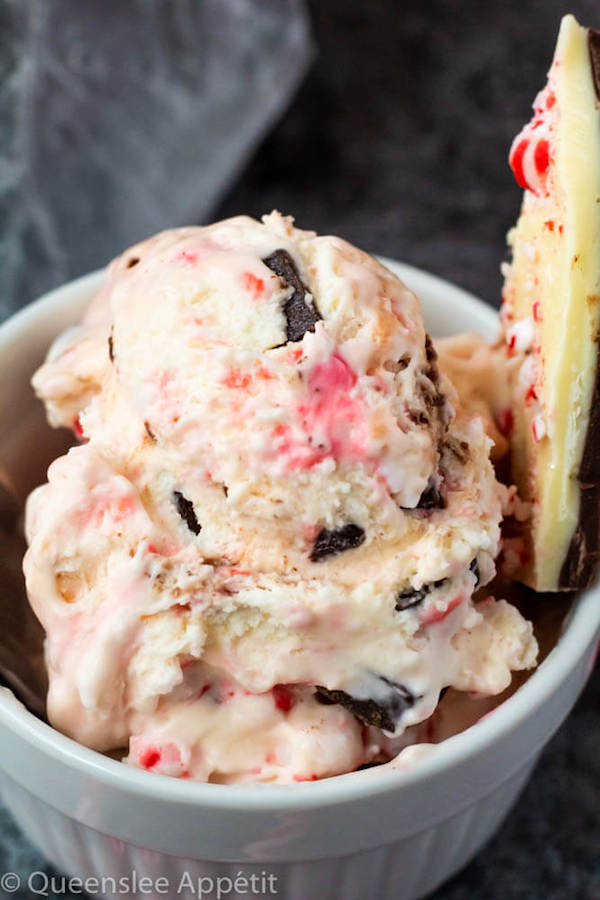 This post may contain affiliate links. As an Amazon Associate I earn from qualifying purchases. Please see my full disclosure policy for details.
Some photos updated: 12/12/2019
Yes, I know it's raining and snowing extremely hard outside and the wind is screaming bloody murder, so you're probably wondering why I'm sharing an ice cream recipe.
Well, guess what? No matter how bad the weather is outside, that doesn't prevent you from enjoying a big bowl of ice cream inside. So this ice cream is the perfect holiday treat to enjoy while you're sitting next to the heater or fireplace!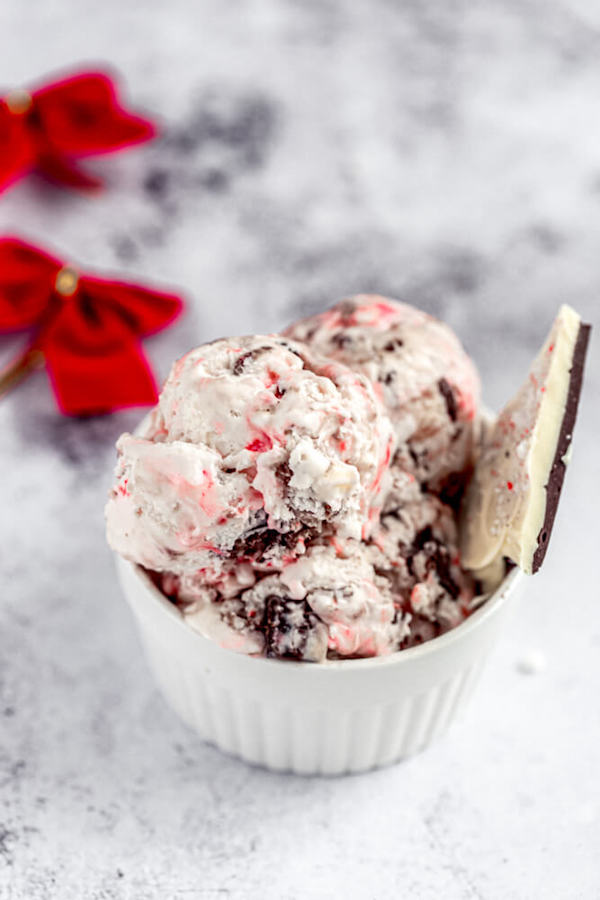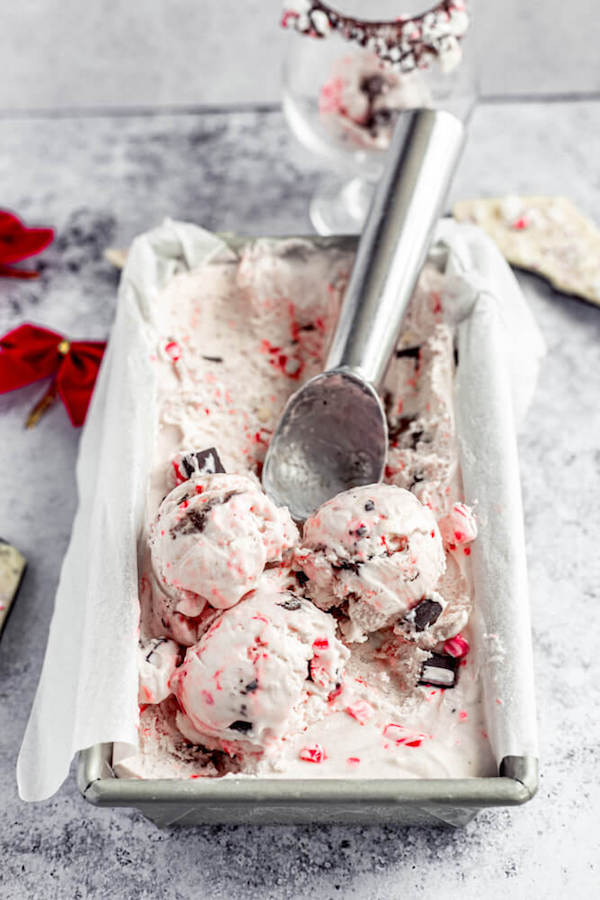 No-Churn Peppermint Bark Fudge Swirl Ice Cream
This is such an easy treat, because not only does it require only 6-7 ingredients, but because it's no-churn it comes together in a matter of minutes! Definitely beginner friendly.
We start by whipping the heavy cream into stiff peaks. This step replaces the air incorporated into ice cream when churning in an ice cream machine. The egg yolk custard that you would make on the stove is instead replaced with a can of sweetened condensed milk.
Those two ingredients alone, along with a bit of vanilla, can make you a batch of some super creamy vanilla ice cream. Or you could customize it to create any flavour you want — like this White Chocolate Peppermint Bark flavour!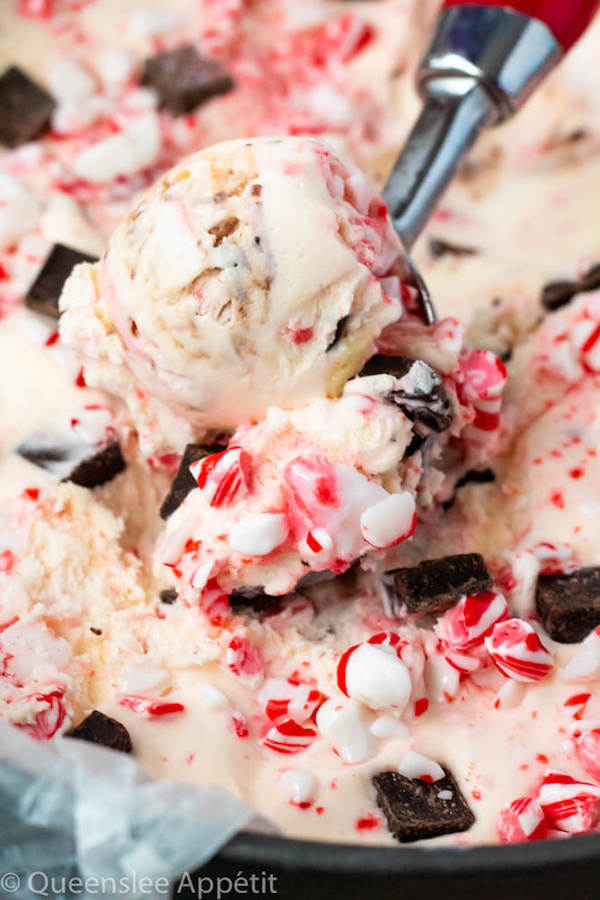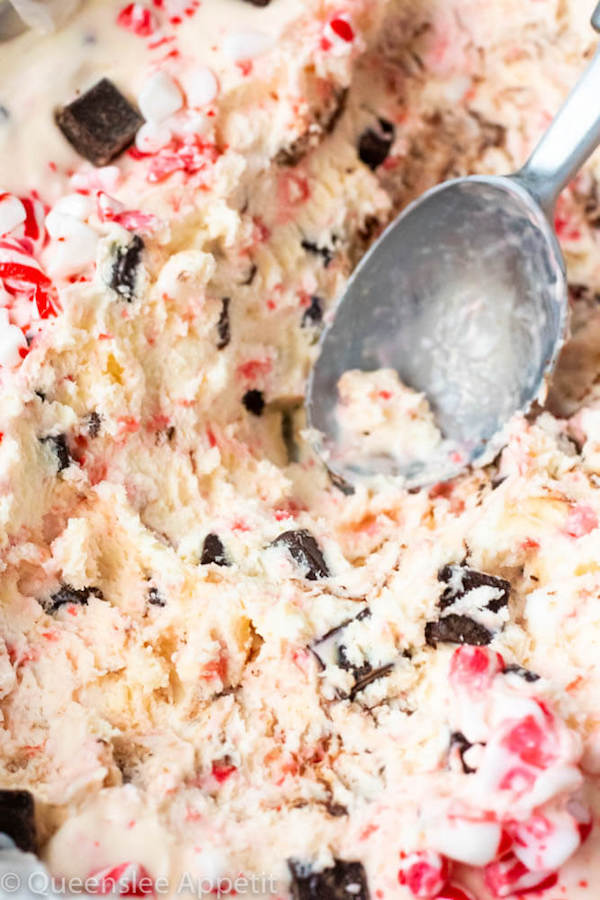 Creamy White Chocolate Peppermint Ice Cream
Today's recipe starts off with a super creamy and silky no-churn white chocolate peppermint ice cream. Like I said above, you need heavy whipping cream and sweetened condensed milk, but we're also gonna add some white chocolate and peppermint!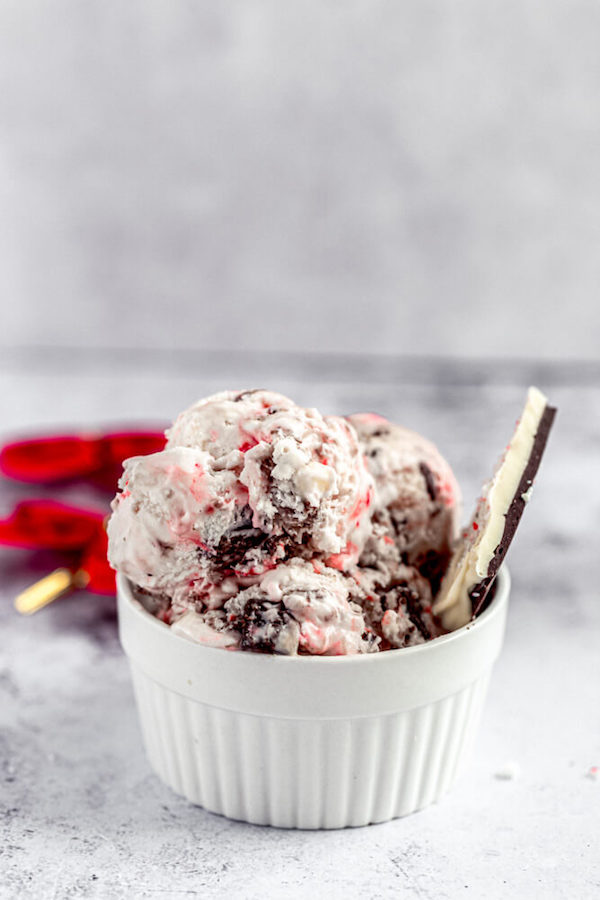 For my No-Churn Brownie Fudge Swirl Ice Cream I created the richest chocolate ice cream EVER by melting the chocolate chips and condensed milk together to make a thin fudge. I decided to take a page out of my own book and do the same with this recipe, using white chocolate chips instead.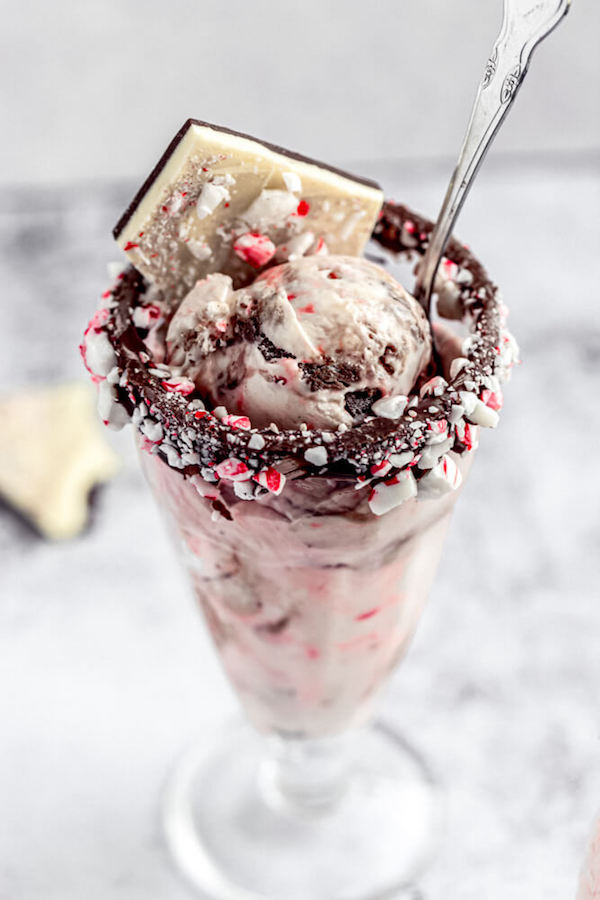 You'll want to allow this mixture to sit in the fridge (or freezer to speed things up) so it can cool down because you don't want the whipped cream to melt. I also recommend stirring it every now and then to loosen it up because it will start to form a skin on the top and we want it to be smooth and silky all throughout.
I then added some peppermint extract to the heavy cream before whipping so I could make a nice peppermint whipped cream. All you need to do next is fold the whipped cream and white chocolate fudge mixture together, then fold in the chocolate chunks and crushed candy canes!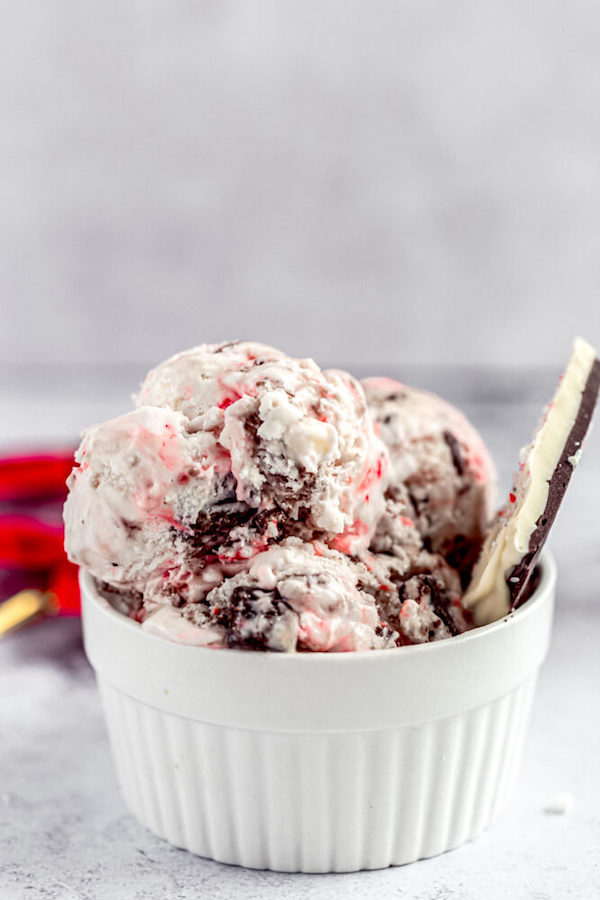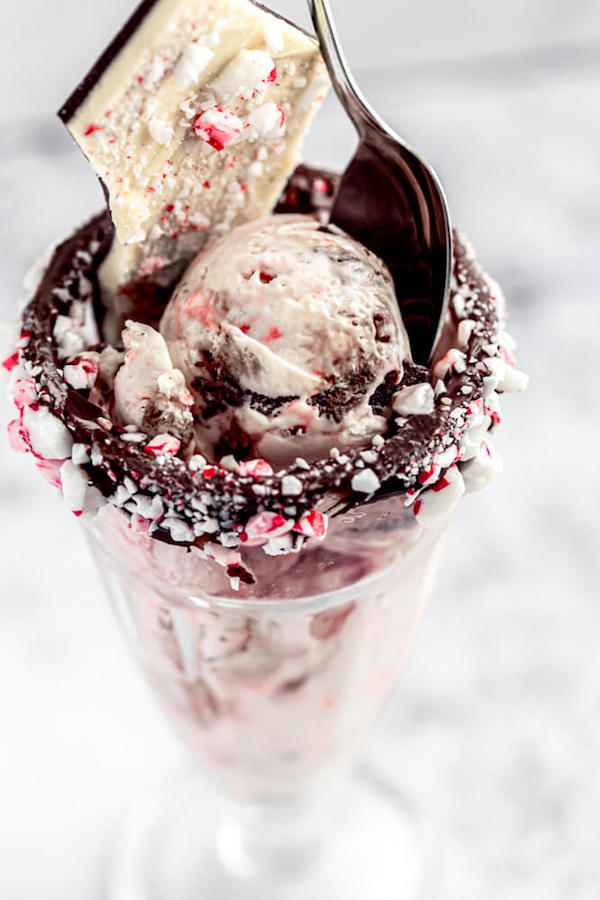 Fudge Ganache Swirl
This part is totally optional, so if you choose to leave it out, that's completely fine. I had some leftover ganache, so I decided to swirl a bit into the ice cream.
I decided not to swirl any on top, and just garnished it with more chocolate chunks and crushed peppermints.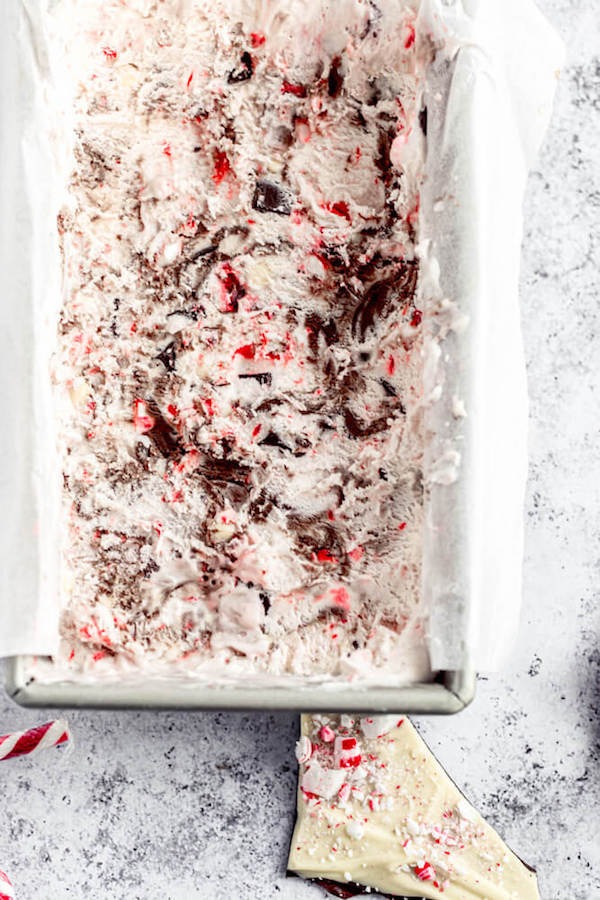 This No-Churn Peppermint Bark Fudge Swirl Ice Cream is irresistibly good! The festive combination of chocolate and peppermint make this the perfect treat for the holidays!
Did you make this recipe? Let me know how it turned out in the comments below! And don't forget to leave a rating!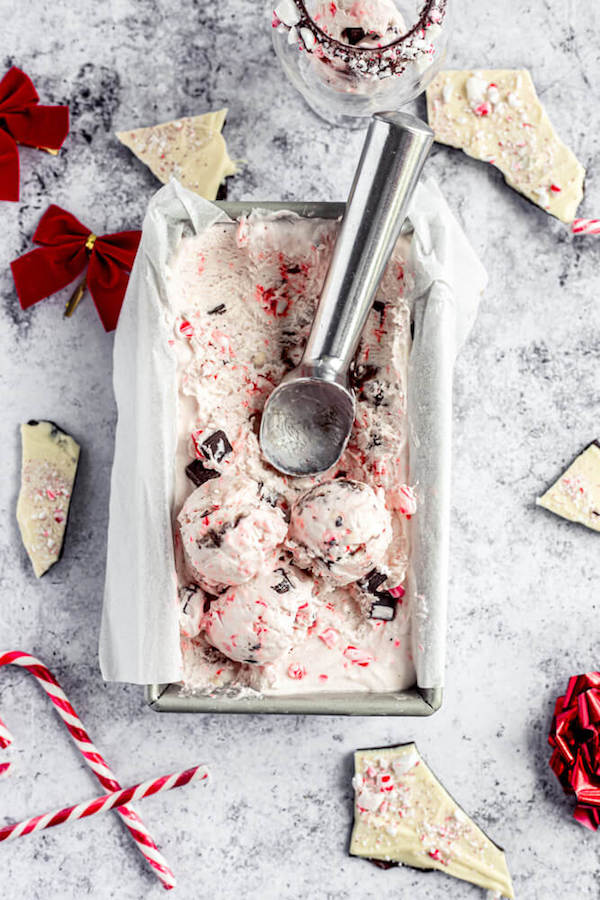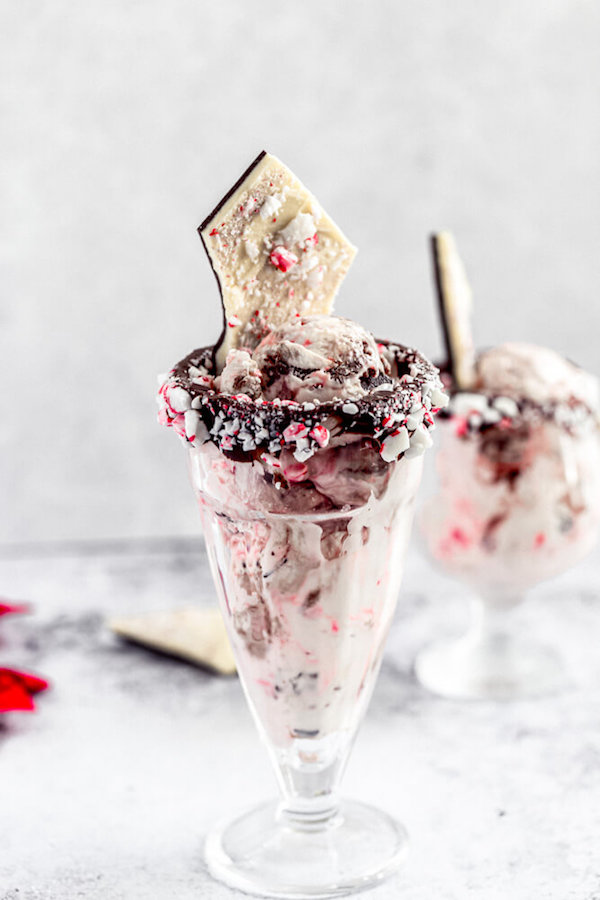 >>PIN ME FOR LATER<<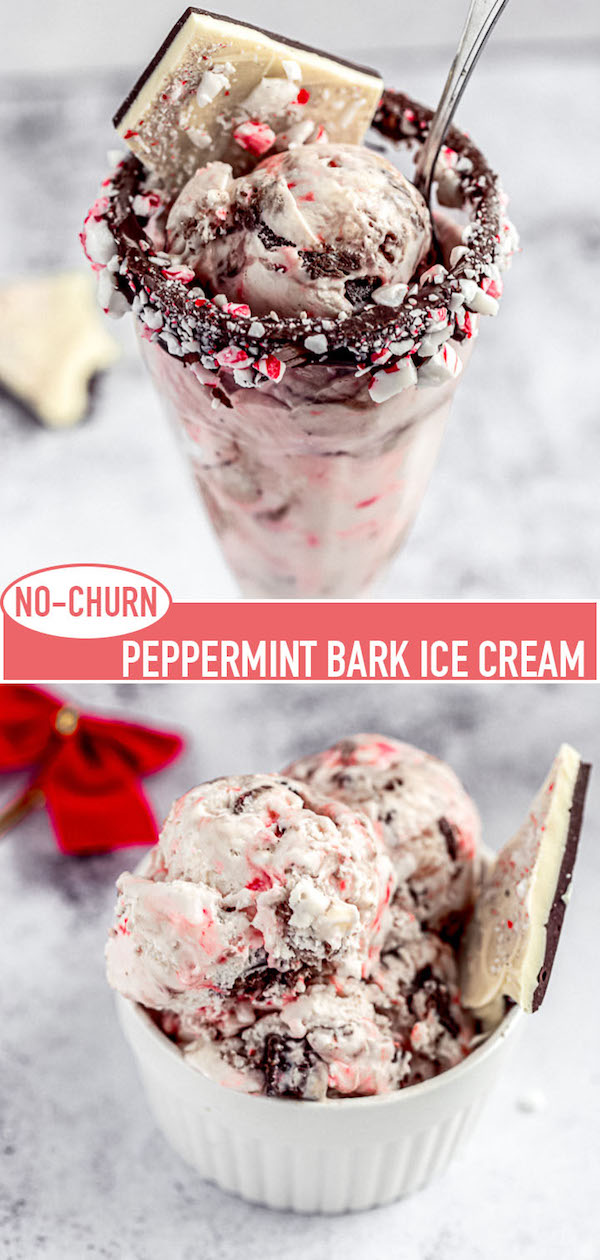 FOLLOW QUEENSLEE APPÉTIT
Like what you see? Make sure you're following Queenslee Appétit for more tasty recipes!
Pinterest | Instagram | Facebook | Twitter |
Have any questions about the recipe? Contact me here, and I'll be happy to help!
Let's get baking!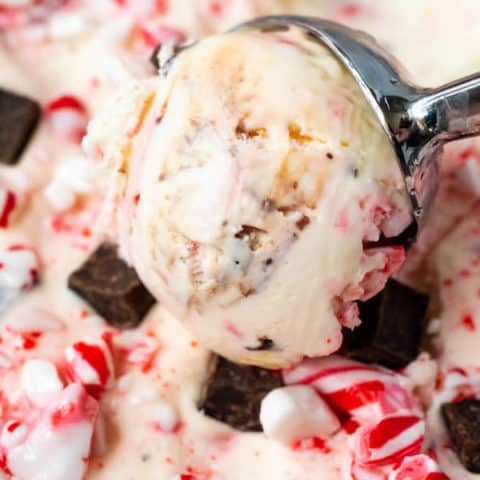 No-Churn Peppermint Bark Fudge Swirl Ice Cream
Yield:
ONE 9-INCH SPRINGFORM PAN OR A 9×5-INCH LOAF PAN
Total Time:
6 hours
30 minutes
This No-Churn Peppermint Bark Fudge Swirl Ice Cream starts with a creamy white chocolate ice cream base loaded with chocolate chunks, crushed candy canes and swirled with chocolate ganache!
Ingredients
Ganache:
½ cup semisweet chocolate chips
¼ cup heavy cream
No-Churn Peppermint Bark Ice-Cream:
6 oz. white chocolate chips
14 oz. sweetened condensed milk
2 cups Heavy Whipping Cream
1 teaspoon pure peppermint extract
¾ cup crushed candy canes + more for topping
¾ cup chocolate chunks + more for topping
Instructions
For the Ganache:
Put the chocolate chips and heavy cream into a small bowl.
Microwave in 15 second intervals, stirring after each until completely melted and smooth. Set aside to cool.
For the No-Churn peppermint bark Ice Cream:
Add sweetened condensed milk and white chocolate chips to a medium bowl over a saucepan of simmering water and heat on medium-low, stirring constantly until chocolate is fully melted and mixture is combined and smooth.
Remove from heat and set aside to cool completely at room temperature. You can also transfer it to the refrigerator or freezer for at least 15-20 minutes to speed up the cooling process. Make sure to stir the mixture at least every 5 minutes to loosen it up.
In a large stainless steel bowl, whip the heavy cream and peppermint extract until stiff peaks form, about 3-4 minutes.
Add whipped cream to cooled white chocolate mixture, ⅓ at a time and gently fold until smooth and combined.
Add chocolate chunks and crushed candy canes and gently fold into the cream until combined. Pour ⅓ of the mixture into a parchment lined 9-inch springform pan or a 9x5-inch loaf pan and spread evenly.
Drizzle some of the ganache on top and use a butter knife to swirl. Pour ½ of the remaining cream mixture on top and drizzle more of the ganache on top and swirl. Repeat with the remaining ice cream mixture, spread into an even layer, then drizzle and swirl some more ganache on top, if desired.
Sprinkle top with more crushed candy canes and chocolate chunks (optional).
Cover with plastic wrap and freeze for up to 6 hours or overnight. Serve and Enjoy!
Notes
To create the rimmed candy cane glasses, dip the rim into some of the ganache, then dip it into a plate of crushed candy canes. Transfer to the freezer or refrigerator to set up before serving.
BON APPÉTIT!
Love, Dedra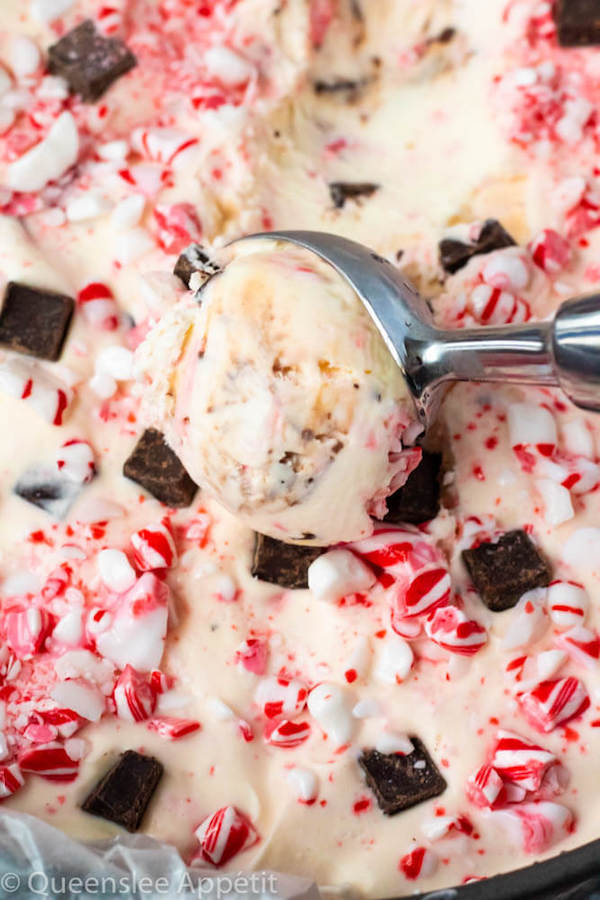 ©QUEENSLEE APPÉTIT. All images & content are copyright protected. Please do not use my images without prior permission. If you want to republish this recipe, please re-write the recipe in your own words, or link back to this post for the recipe.