My favourite chocolate cupcake recipe with a seasonal twist! These Hot Chocolate Cupcakes are filled with a creamy marshmallow filling, and topped with the best chocolate buttercream and more marshmallows!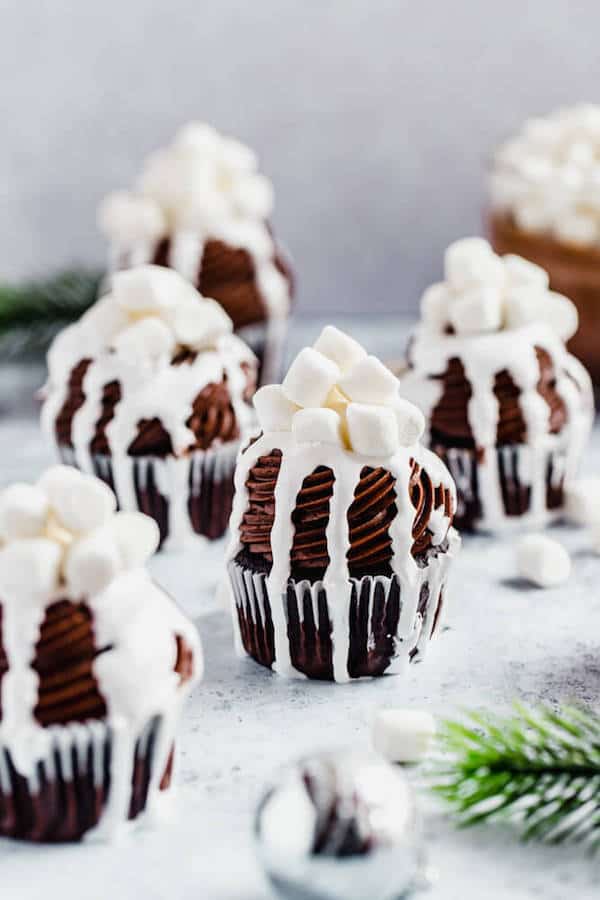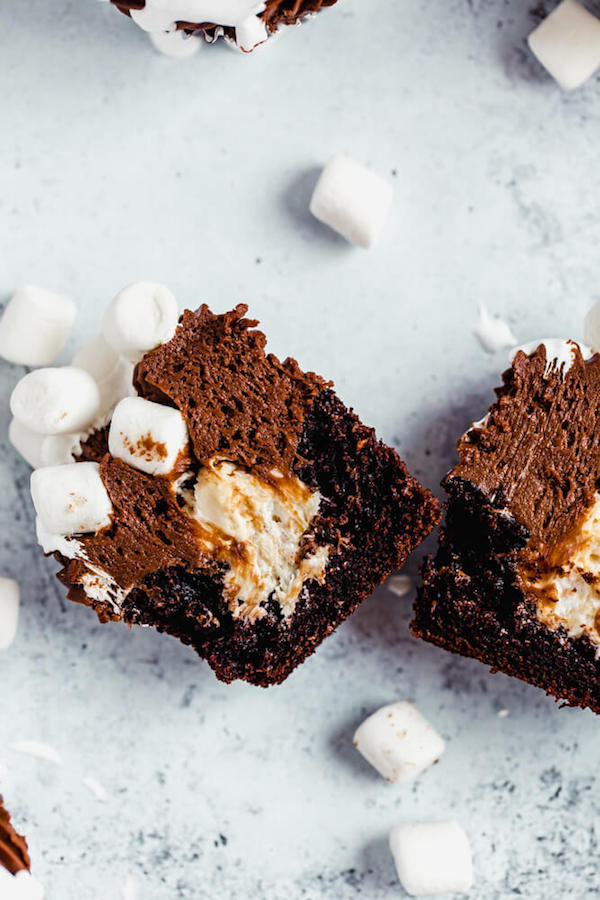 This post may contain affiliate links. As an Amazon Associate I earn from qualifying purchases. Please see my full disclosure policy for details.
Everyone here is a hot chocolate lover, right? I mean I can't see why not! I always enjoy a big mug of rich and creamy hot chocolate, but I especially enjoy it in other forms like pancakes and cupcakes!!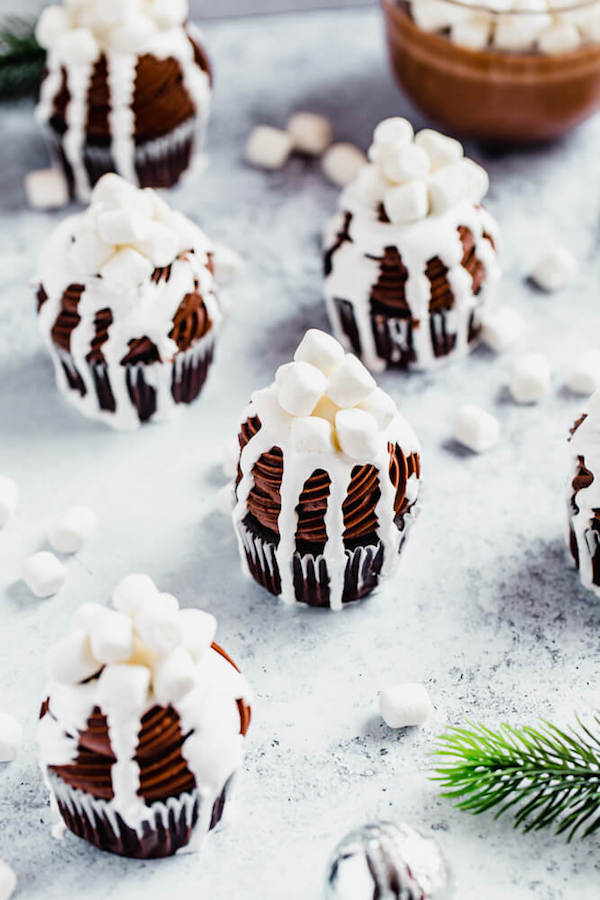 Hot Chocolate Cupcakes
I've been planning on making these cupcakes for over a year now, but I wanted them to be unique and different from every other hot chocolate cupcake recipe I've seen.
I didn't just want to make a batch of chocolate cupcakes, throw some marshmallows on top and call them "hot chocolate cupcakes". But I didn't want to mess up my perfect chocolate cupcake texture by replacing the buttermilk with hot chocolate.
So in the end, I did top some chocolate cupcakes with marshmallows like everybody else. BUT I also stuffed the cupcakes with my favourite homemade marshmallow filling, and a wintery marshmallow fluff drip on top!
Tell me these cupcakes don't scream "HOT CHOCOLATE!"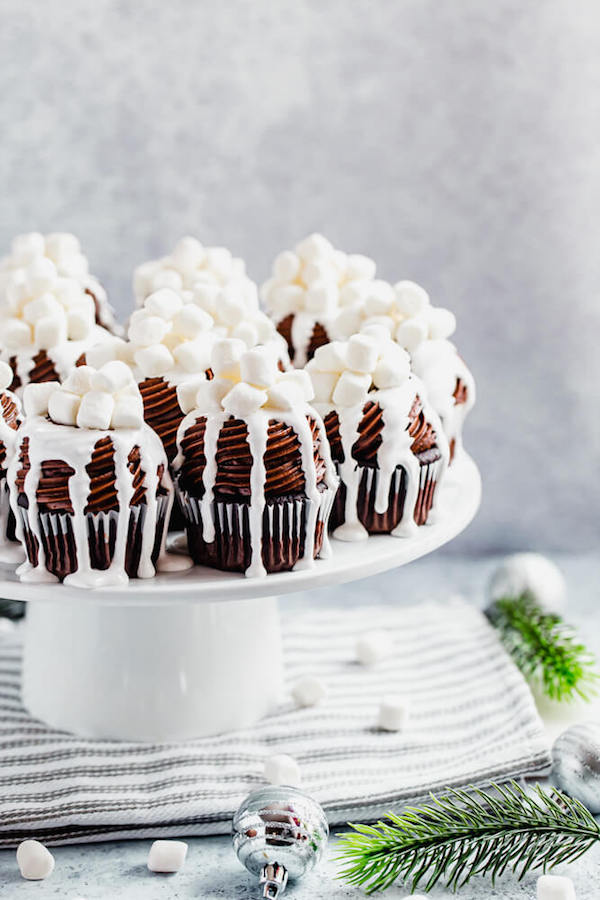 4 Parts in these Hot Chocolate Cupcakes
Chocolate Cupcakes

Toasted Marshmallow Filling
Chocolate Buttercream

Marshmallow Fluff Drip
And also that mandatory pile of marshmallows on top, because I'll admit, it is totally a must for all hot chocolate themed desserts.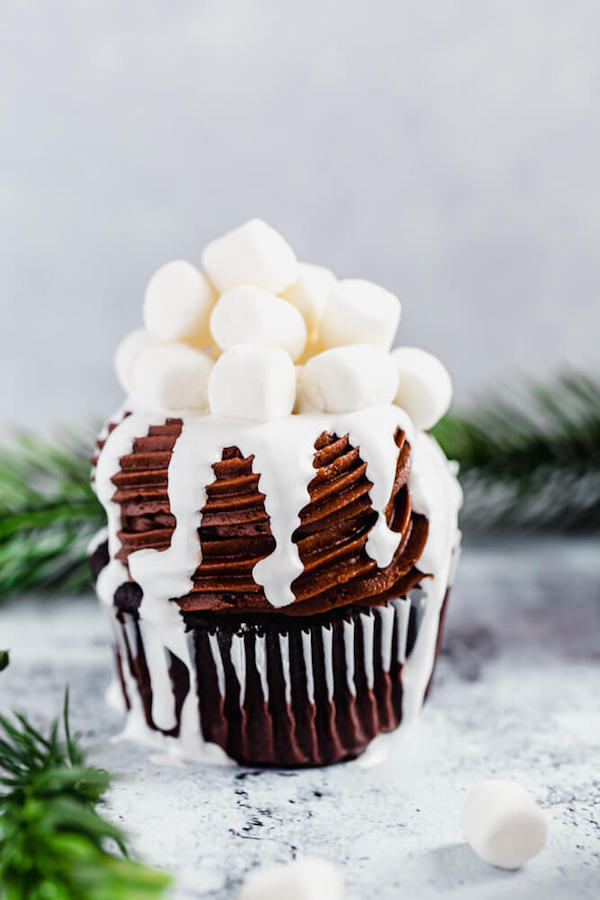 Perfect Chocolate Cupcakes
The base of these hot chocolate cupcakes is my new favourite chocolate cupcake recipe, so loyal readers get used to this recipe because it'll be the base of all chocolate cupcake recipes from here on out!
To make the cupcake, we start by beating the butter and sugar together. Do not skimp on this step as it is the key to the light and fluffy texture of the cupcakes! Mix in some eggs and sour cream, which softens the crumb and moisten the cupcakes.
For the flavour, I combined equal amounts of vanilla and instant coffee to deepen the chocolaty-ness of the cupcakes. Lastly, alternate between the dry ingredients and buttermilk and you're done. You'll end up with the most gorgeous chocolate batter ever!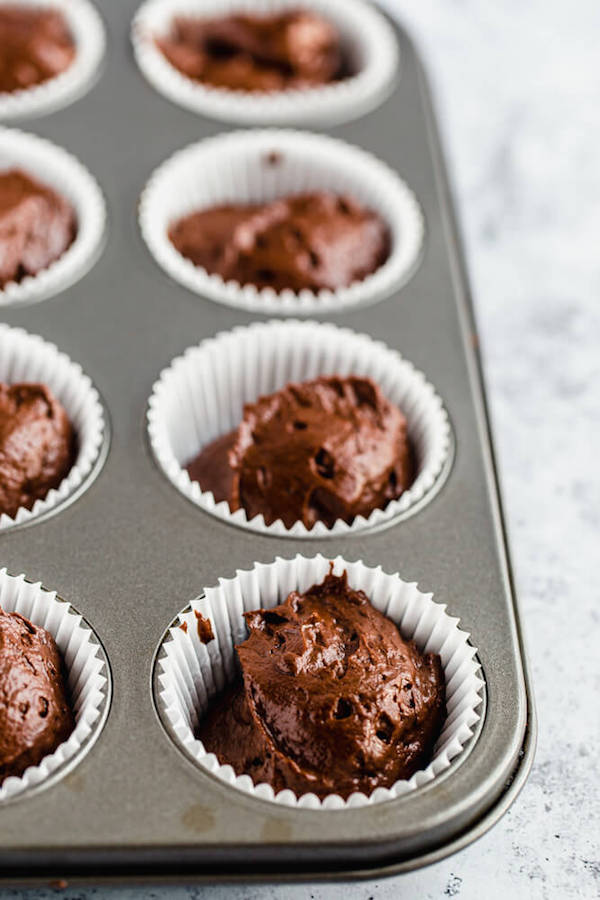 Gooey Toasted Marshmallow Filling
I've used this ooey gooey marshmallow filling in a few recipes now, like these lemon meringue s'mores cupcakes and malted belgian cupcakes. Only 5 ingredients are needed for the filling: marshmallows, butter, powdered sugar, vanilla and marshmallow fluff.
Start by toasting the marshmallows. I prefer to use mini marshmallows instead of regular marshmallows because they blend in easier. Set the marshmallows aside to cool down a bit while you mix all the other ingredients together. Add the gooey marshmallows a little bit at a time until they're all mixed in.
The marshmallows aren't gonna completely dissolve into the mixture, but that is a-okay. This means we get chunks of gooey marshmallow in every bite!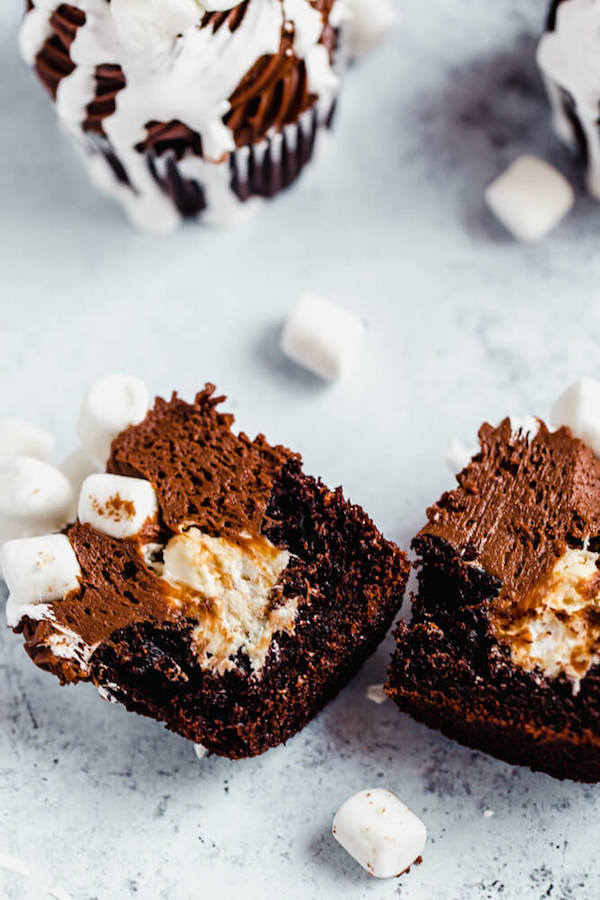 How to Make the Best Chocolate Buttercream
My Dreamy Chocolate Buttercream is making a comeback! It's been a long time since I've made this amazing frosting, so I had to bring it back for these cupcakes and I'm glad I did because I almost forgot how insanely delicious it was!
The thing that makes this chocolate buttercream stand out from the rest is that it uses REAL melted chocolate! We start by making a simple chocolate buttercream using a small amount of cocoa powder, then we kick up the chocolate goodness by adding 8 whole ounces of pure melted chocolate.
Look at these swirls of deliciousness!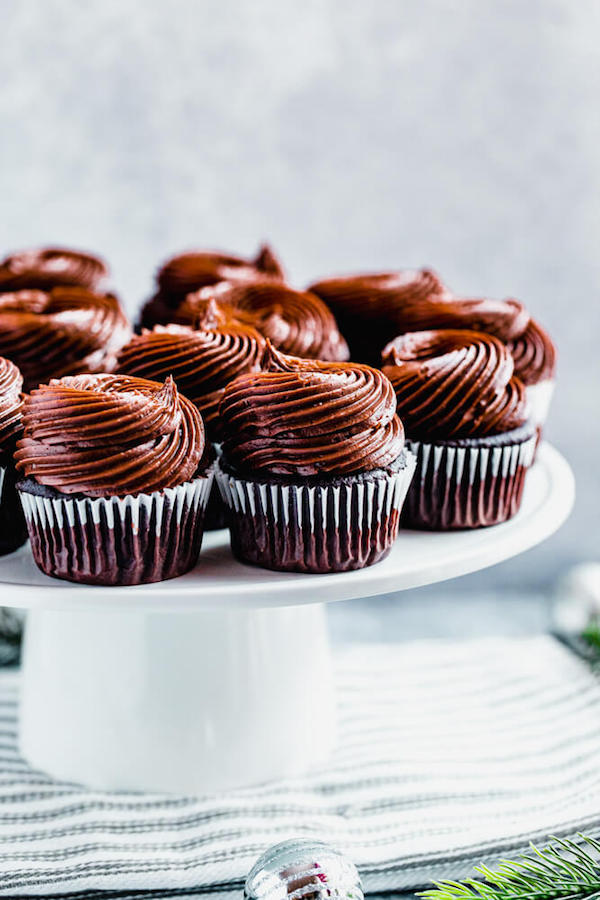 I think most can agree that the best hot chocolate topping is marshmallows! Mini marshmallows, to be exact. That mug of hot chocolate you see in the photos wasn't just for photography purposes, I seriously top my hot chocolates with that many marshmallows, because why not?
I'm not the type to just eat marshmallows out of the bag, but when you stir them into a mug of hot chocolate and let them sit and soften up *chefs kiss* perfecto!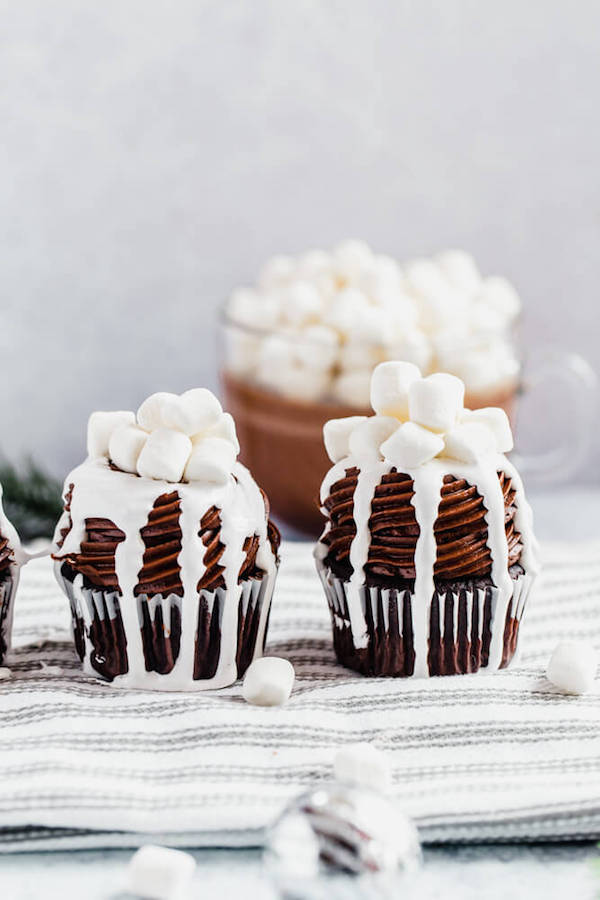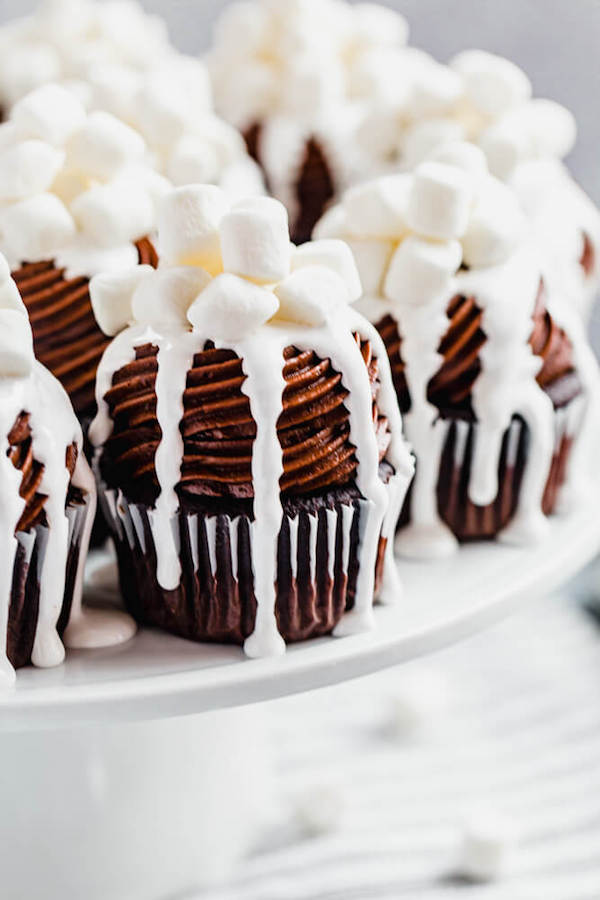 Marshmallow Drip
Like I said earlier, I didn't want to just slap some marshmallows on top of the cupcakes and call it a day. So I decided to decorate these cupcakes like my Chocolate Covered Strawberry Cupcakes, but instead of dripping ganache off of these chocolate swirls, I went with marshmallow fluff!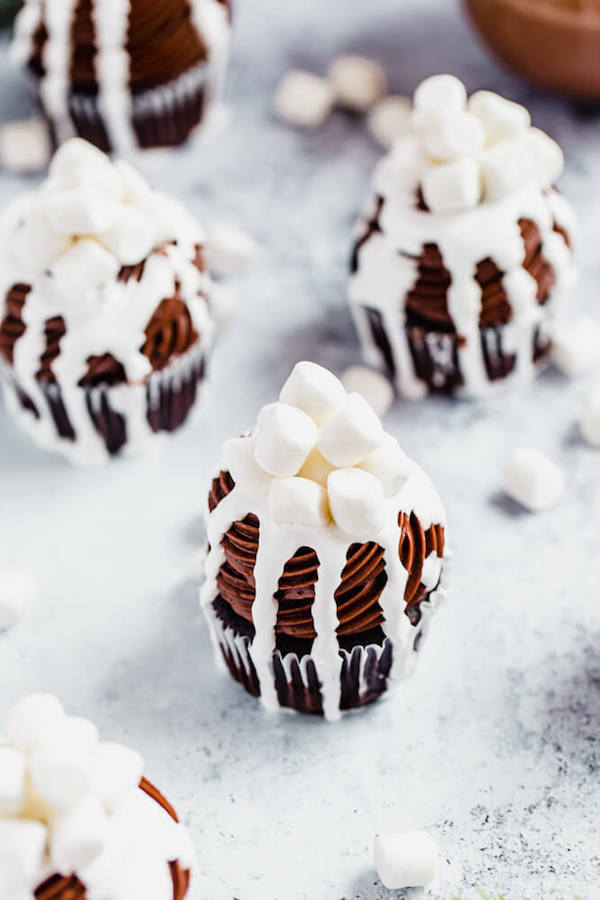 Now if you've ever dealt with marshmallow fluff, you'll know that not only is that one of the stickiest spreads in the world, but it isn't exactly pourable consistency. But I've found a neat little trick to thin the fluff out enough for it to easily flow down these cupcakes.
You can do this in either a non-stick saucepan on the stove or in a microwave. Add a teaspoon or two of water to the marshmallow fluff and heat in the microwave for a few seconds, or on medium heat while stirring. The water and the heat will work together to soften that marshmallow fluff right up so it'll be a nice, pourable consistency.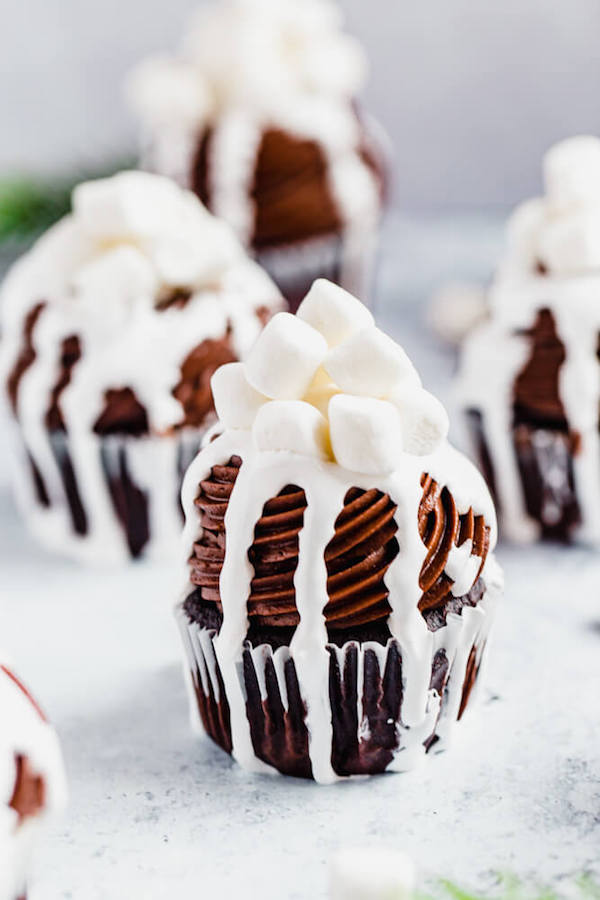 Spoon the marshmallow fluff on top, or place it in a disposable piping bag and pipe it around the edges and let it drip down the frosting.
Though it can get a bit messy, as you can see the fluff dripped straight down to the bottom. So as an alternative decorating idea, you can decorate the cupcakes like these Cadbury Creme Egg Cupcakes.
Pipe a double layered rim of frosting, leaving a whole in the middle which you'll then fill with the marshmallow fluff! So when you bite into the cupcake, that marshmallow will come oozing out.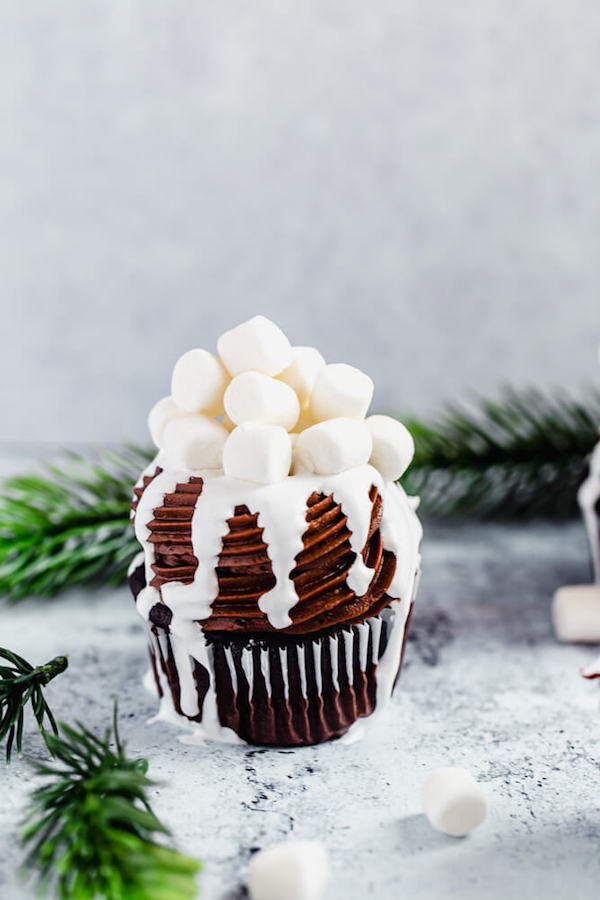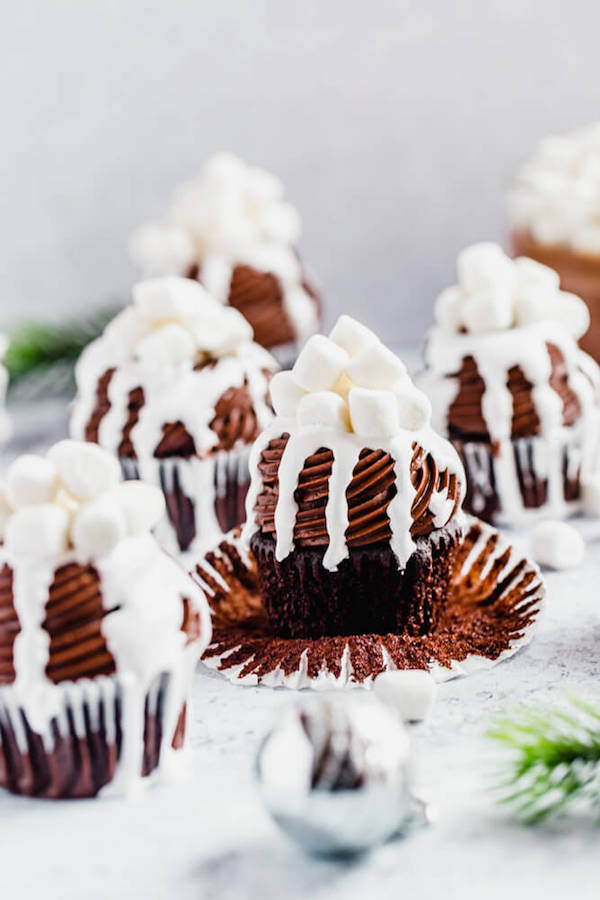 >>PIN RECIPE FOR LATER<<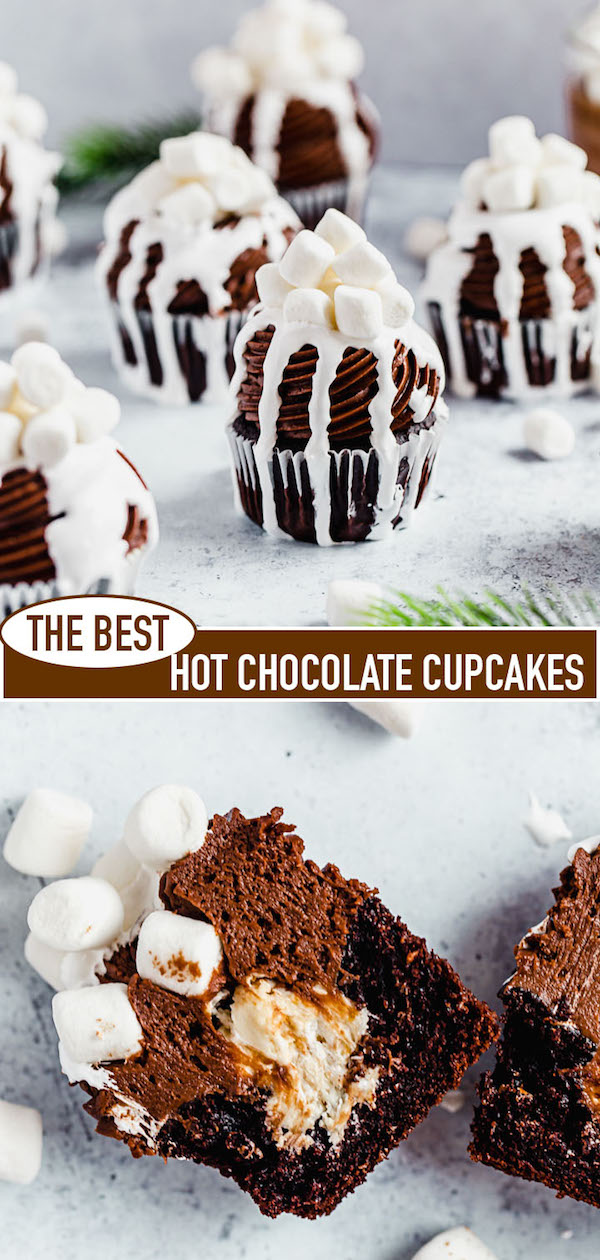 FOLLOW QUEENSLEE APPÉTIT
Like what you see? Make sure you're following Queenslee Appétit for more tasty recipes!
Pinterest | Instagram | Facebook | Twitter |
Have any questions about the recipe? Contact me here, and I'll be happy to help!
SHARE YOUR PICS!
Tag me on Instagram @queensleeappetit or use the hashtag #queensleeappetit so I could see your gorgeous creations!
Let's get baking!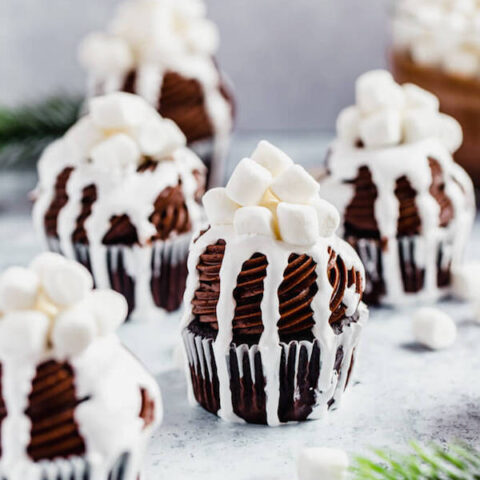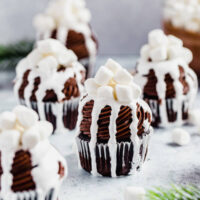 Hot Chocolate Cupcakes
My favourite chocolate cupcake recipe with a seasonal twist! These Hot Chocolate Cupcakes are filled with a creamy marshmallow filling, and topped with the best chocolate buttercream and more marshmallows!
Ingredients
Chocolate Cupcakes:
1 cup + 2 tablespoon all purpose flour
¾ cup unsweetened cocoa powder
¾ teaspoon salt
1 and ⅛ teaspoon baking soda
½ teaspoon baking powder
¾ cups unsalted butter, room temperature
1 cup + 2 tablespoon granulated sugar
2 large eggs, room temperature
6 tablespoon sour cream, room temperature
2 and ½ teaspoon pure vanilla extract
2 and ½ teaspoon instant coffee granules
1 cup + 2 tablespoon buttermilk, room temperature
Toasted Marshmallow Filling:
1 and ¼ cup mini marshmallows
½ cup unsalted butter, room temperature
¾ cup powdered sugar
1 teaspoon pure vanilla extract
½ cup marshmallow fluff
Chocolate Buttercream:
1 and ½ cups unsalted butter, softened to room temperature
⅛ teaspoon salt
5 cups powdered sugar, sifted
¼ cup unsweetened cocoa powder, sifted
8 oz semi sweet chocolate chips, melted and cooled
2 teaspoons pure vanilla extract
4-6 Tablespoons heavy cream or milk
Marshmallow Drip:
1 and ½ cups marshmallow fluff
1 tablespoon water
Topping:
1 bag of Mini Marshmallows
Instructions
For the Chocolate Cupcakes:
Preheat the oven to 350°F (177°C), and line a standard cupcake pan with paper liners. Line a second pan with 7 liners, this recipe makes about 19 cupcakes.
In a large bowl, sift flour, cocoa, salt, baking powder and baking soda. Whisk to combine, set aside.
In the bowl of a stand mixer fitted with a paddle attachment, or in a large mixing bowl using a hand mixer, beat the butter and sugar on medium speed until pale and fluffy, 4-5 minutes. Scrape down the sides and bottom of the bowl.
Lower the speed to medium-low and add eggs one at a time, mixing after each addition until just combined. Scrape down the sides and bottom of the bowl.
In a small bowl, combine the vanilla and instant coffee granules. Add the sour cream to the batter along with the vanilla coffee mixture and beat on medium speed until combined.
Add ⅓ of the dry ingredients and beat until just combined, add ½ of the buttermilk and continue to mix. Repeat mixing in ½ of the remaining dry ingredients, then the remaining buttermilk followed by the remaining dry ingredients.
Scoop batter into cupcake liners, filling them ⅔ way full. Bake for 18-20 minutes or until a toothpick inserted into the centre comes out clean.
Remove cupcakes from oven and allow to cool in pans for about 5 minutes, then transfer to cooling racks to cool completely before frosting.
For the Toasted Marshmallow Filling:
Line a baking sheet with parchment paper and arrange marshmallows in an even layer. Broil for about 20-30 seconds. Pay close attention to them making sure they don't burn.
In a medium mixing bowl, using a handheld mixer, beat butter until creamy. Add powdered sugar and vanilla and mix until smooth.
Add all of marshmallow fluff and toasted marshmallows, a little at a time, and beat until well combined and smooth. Keep covered until ready to use.
For the Chocolate Buttercream:
In the bowl of a stand mixer fitted with the paddle attachment, or in a large bowl with a hand-held mixer, beat the butter and salt on medium speed until light and fluffy, about 5-6 minutes. Scrape down the sides and bottom of the bowl.
Turn the mixer to low, and gradually add half of the powdered sugar and the cocoa and beat on low speed until just combined. Pour in the cooled melted chocolate and vanilla and mix on medium-low speed until combined.
Gradually add remaining powdered sugar and mix until combined. Add heavy cream or milk 1 tablespoon at a time until you reach a smooth and creamy consistency.
Increase mixer speed to medium-high and whip until light and fluffy, about 5-7 minutes. Set aside.
Assembly of the Hot Chocolate Cupcakes:
Core the centre of each cupcake using an apple corer. Keep the cored piece intact and cut off the bottom. Keep the tops!
Transfer toasted marshmallow filling to a disposable piping bag or a medium ziplock bag and snip off a corner.
Fill the cupcakes with the marshmallow filling. Then take the reserved cupcake tops and place back into the cupcake to cover the filling.
Fit a piping bag with a large star tip, then pipe a swirl of frosting onto each cupcake.
For the Marshmallow Drip:
Add marshmallow fluff and 1 tablespoon of water to a microwave safe bowl or a nonstick saucepan.
Heat in the microwave for 30 seconds, or heat over medium heat, stirring constantly until the fluff loosens up and becomes pourable.
Transfer fluff to a disposable piping bag and cut off the end. Pipe it around the top of the frosting swirl and allow it to drip down the sides. See the above post for other decoration idea.
Top each cupcake with a handful of mini marshmallows. Enjoy!
Notes
Cupcakes can be made a day ahead of time, covered and stored at room temperature. They can also be frozen for up to 2-3 months. Thaw in the refrigerator overnight. Frosting can also be made ahead of time and stored in the refrigerator. Bring to room temperature and re-whip on high speed before using.
Recommended Products
As an Amazon Associate and member of other affiliate programs, I earn from qualifying purchases.
Nutrition Information:
Yield:

19
Serving Size:

1
Amount Per Serving:
Calories:

423
Total Fat:

24g
Saturated Fat:

14g
Trans Fat:

0g
Unsaturated Fat:

8g
Cholesterol:

73mg
Sodium:

155mg
Carbohydrates:

52g
Fiber:

2g
Sugar:

44g
Protein:

3g
BON APPÉTIT!
Love, Dedra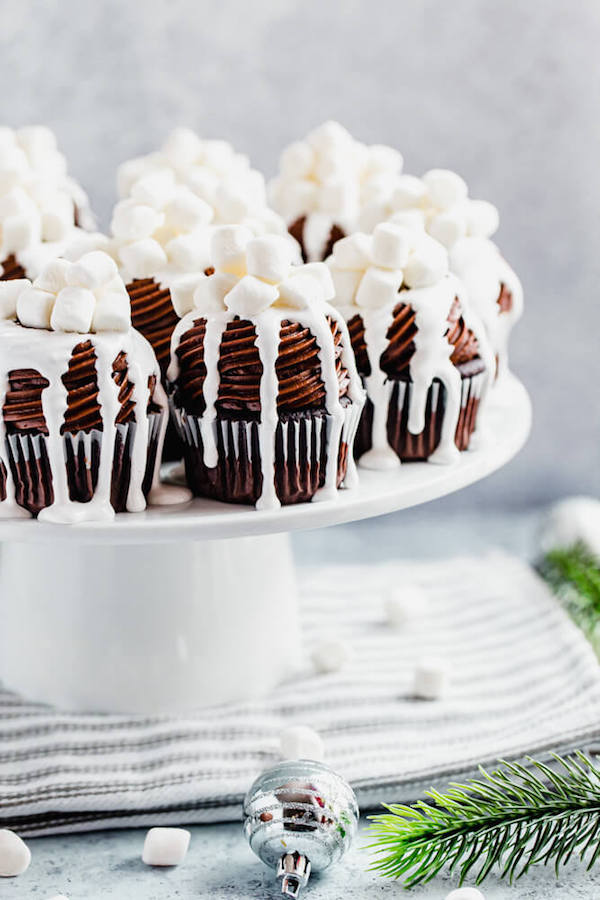 ©QUEENSLEE APPÉTIT. All images & content are copyright protected. Please do not use my images without prior permission. If you want to republish this recipe, please re-write the recipe in your own words, or link back to this post for the recipe.