These Chocolate Covered Strawberry Cupcakes are made with a moist chocolate cupcake topped with fresh strawberry buttercream, a drizzle of ganache and a perfect chocolate covered strawberry sitting on top! These beautiful cupcakes are a delightful Valentines Day treat!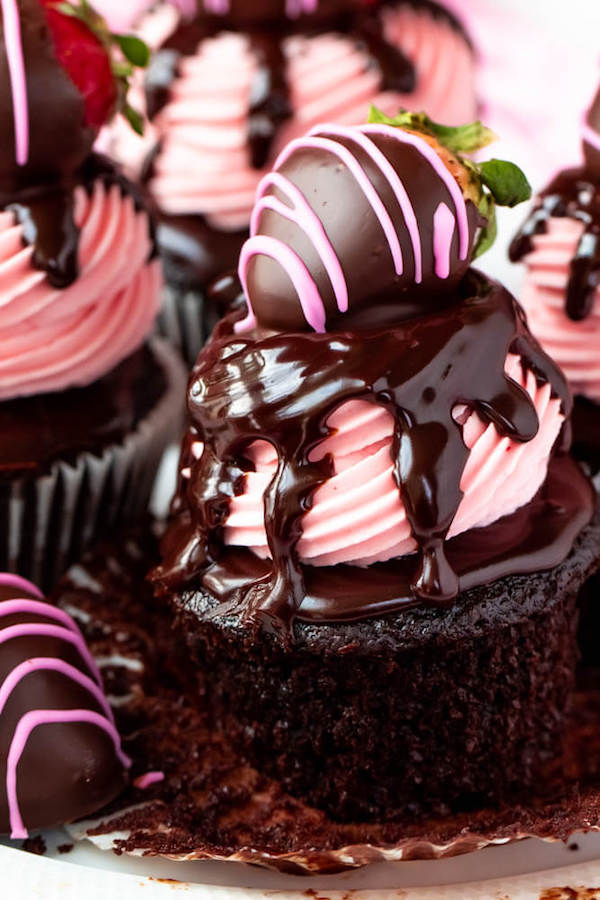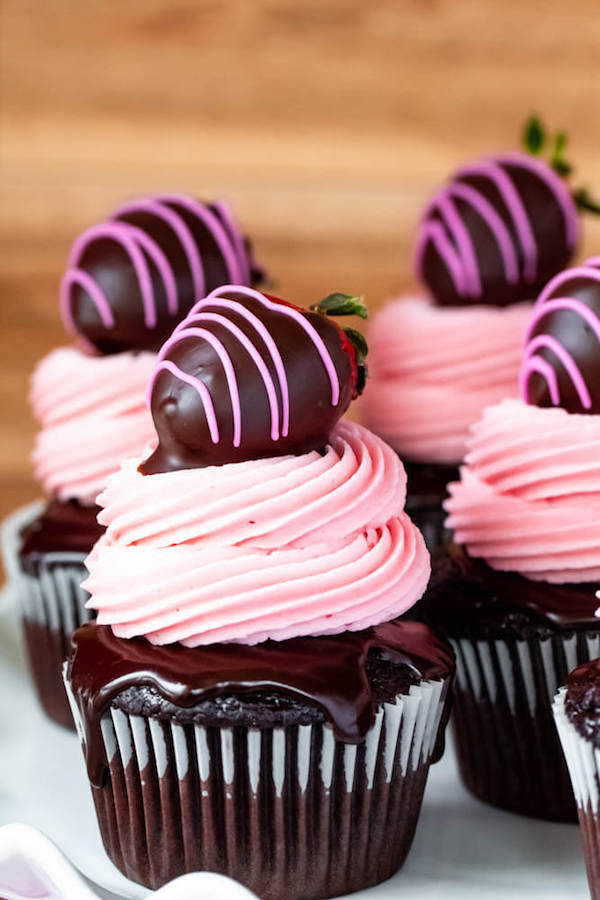 It's time to start rolling out Valentines Day desserts, can you believe it? We were literally just celebrating Christmas and now we're just a few weeks away from Valentines Day.
Unfortunately, I don't have a Valentine yet again this year. But I make up for it by baking lots of gorgeous treats that I'll love more than any man — like these Chocolate Covered Strawberry Cupcakes!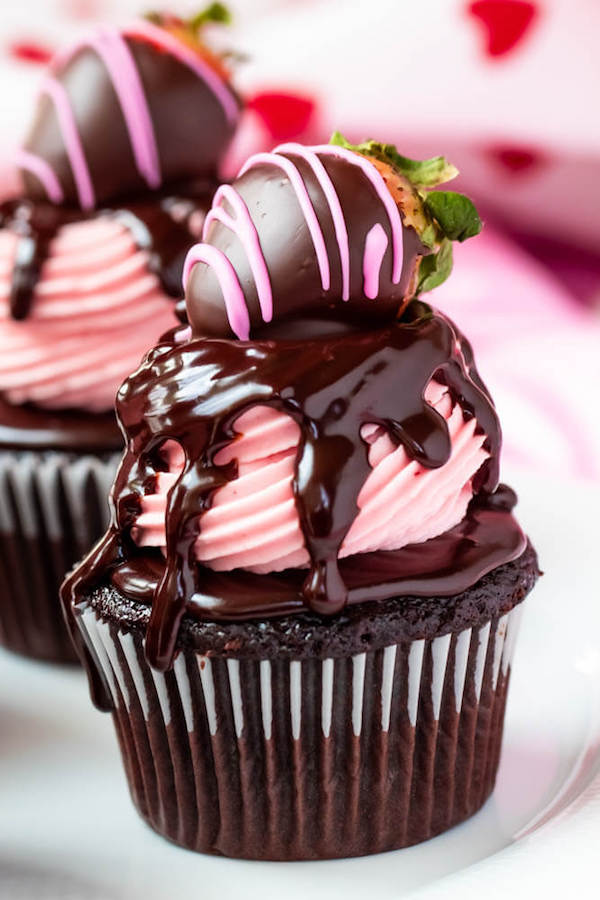 Chocolate Covered Strawberry Cupcakes
Nothing says Valentines Day like a good ole chocolate covered strawberry. And when it's in dessert form, whether it be cheesecake or cupcakes, it's a match made in holiday baking heaven!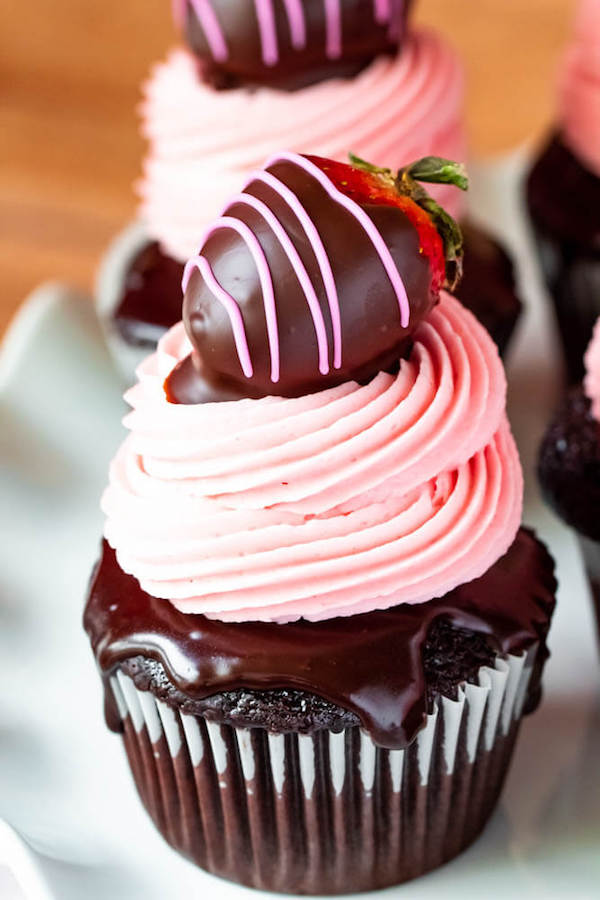 I've been wanting to make these cupcakes since I first started this blog a little less than 2 years ago, but I never got around to it. Now that I think about it, I'm actually glad that I waited so long, because now I have a favourite chocolate cupcake recipe and a fabulous strawberry buttercream recipe that I can combine to create the most perfect cupcake combination!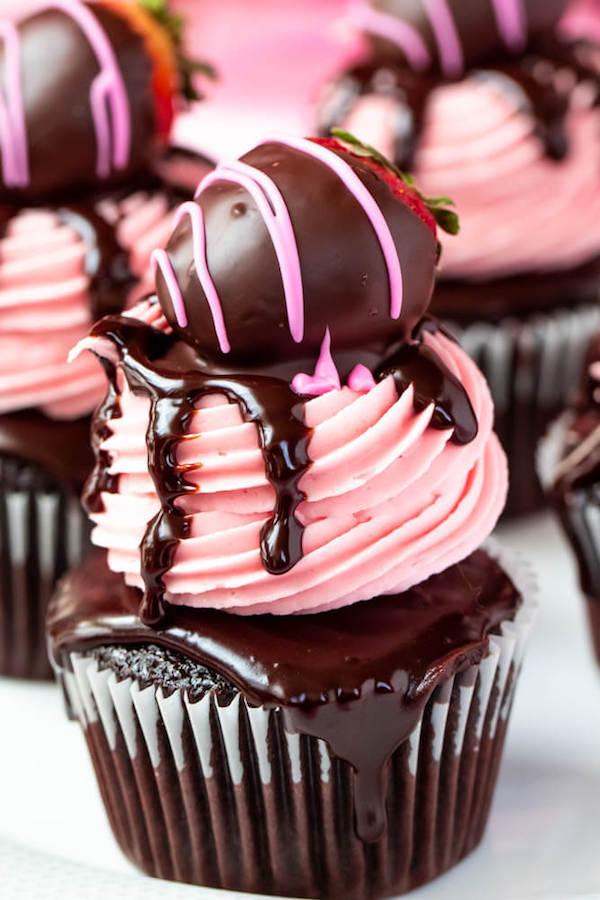 Moist Chocolate Cupcakes
Let's start with the cupcakes themselves. I used my favourite chocolate cupcake recipe that are ridiculously easy to put together! If you want a more detailed explanation about how the cupcakes are put together, check out the full recipe.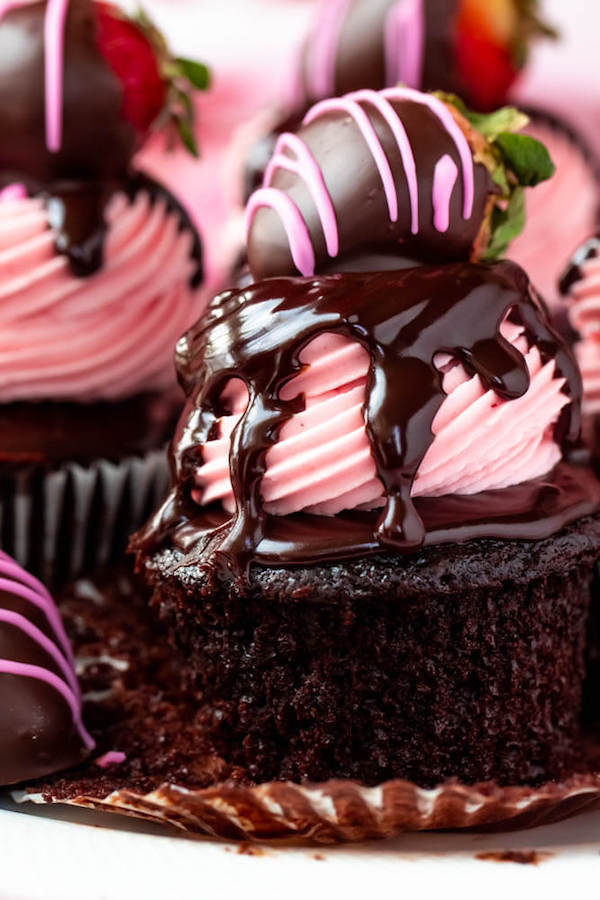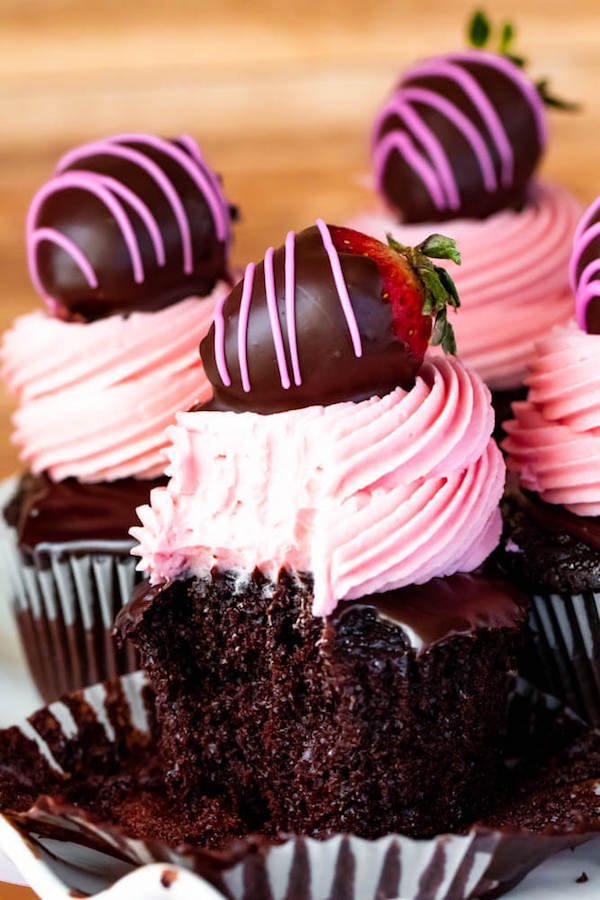 Ganache
Before frosting the cupcakes, I decided to top them with a simple ganache. Only two ingredients are needed to make ganache: chocolate and heavy cream. You can make the ganache 1 of 2 ways — either heat the heavy cream separately and pour it over the chocolate, or microwave the heavy cream and chocolate together until they're melted and combined.
For the chocolate, you can use either dark chocolate or semisweet, chocolate chips or chopped chocolate baking bars. All we want to do is pour the ganache over the cupcakes, so there really isn't any need to use a fancy high-quality brand. The end result will still be the same.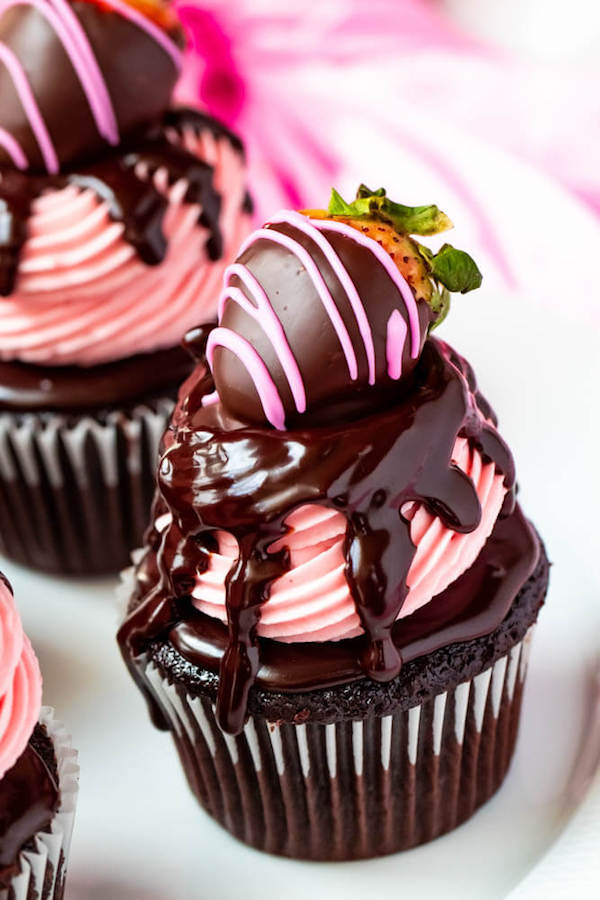 Strawberry Sauce/Strawberry Frosting
Ahh, this strawberry buttercream frosting recipe of mine is quickly becoming one of my favourites! The fresh strawberry flavour paired with all the chocolate is too good for words!
I start by making some of my amazing strawberry sauce. I initially planned on filling these cupcakes with some of the strawberry sauce, but in the end I decided against it. There's already so much going on between the chocolate cupcakes, ganache, frosting and chocolate covered strawberries, so a filling was not necessary.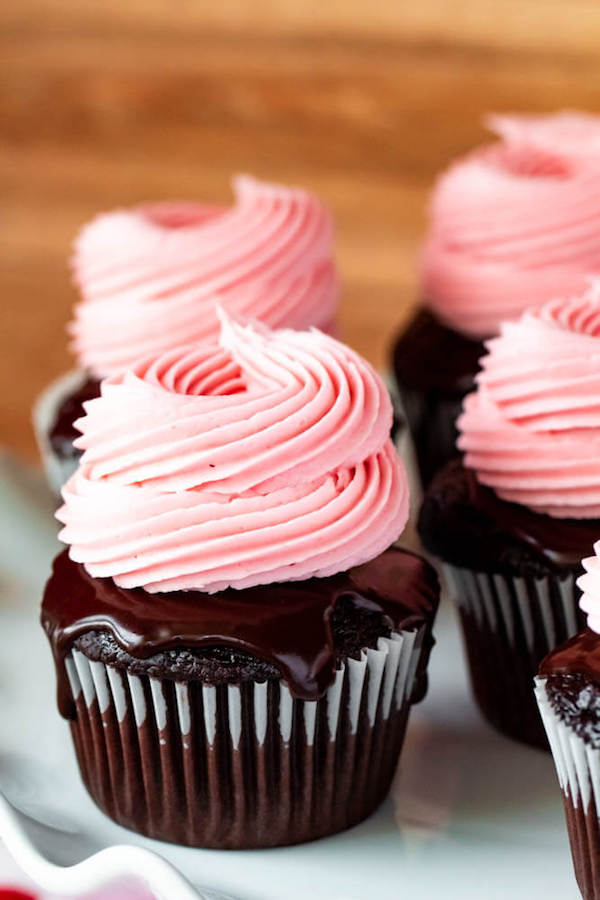 To make the strawberry sauce, I used a different method than usual. Instead of cooking the strawberries, straining them, then adding a cornstarch slurry to thicken it, I just cooked the strawberries and puréed them in a blender. This way I can keep all the strawberry in the sauce to boost the flavour of the frosting.
I recommend straining the sauce to get rid of the seeds so you don't get bits of seed in the frosting. The sauce will also need to be chilled completely before adding to the frosting, so you should make it at least a day ahead of time so it can be ready when it's time to make the buttercream.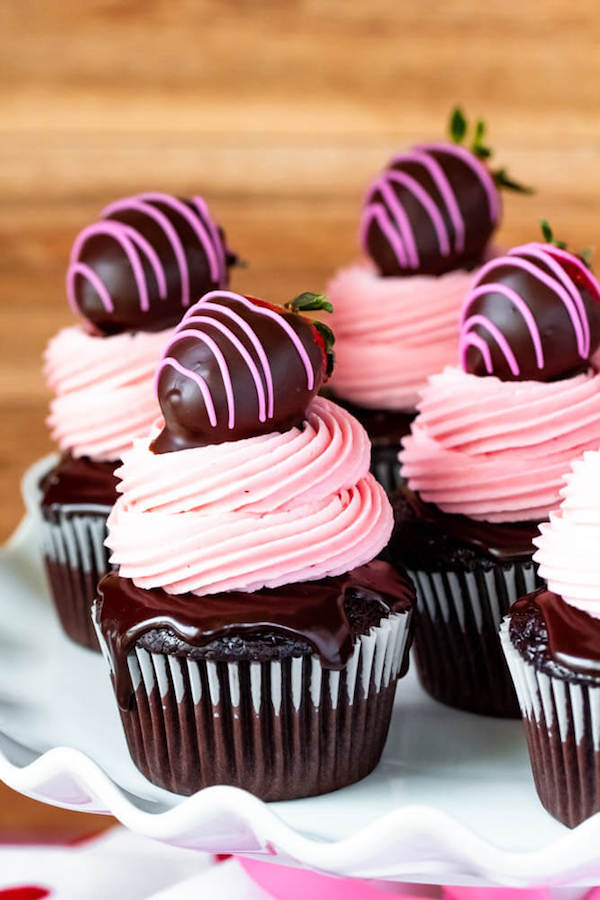 For the piping design, I used a Wilton 8B tip to create sort of a nest swirl, like I did for these Cadbury Creme Egg Cupcakes I made last year. For some of the cupcakes, I tried dripping some of the ganache off the top of the swirls, but it ended up looking a bit too messy for me so I left the other half plain and simple.
Now that's for appearance, but consumption wise, I would definitely drench the cupcakes in as much ganache as possible because there's absolutely nothing wrong with more chocolate!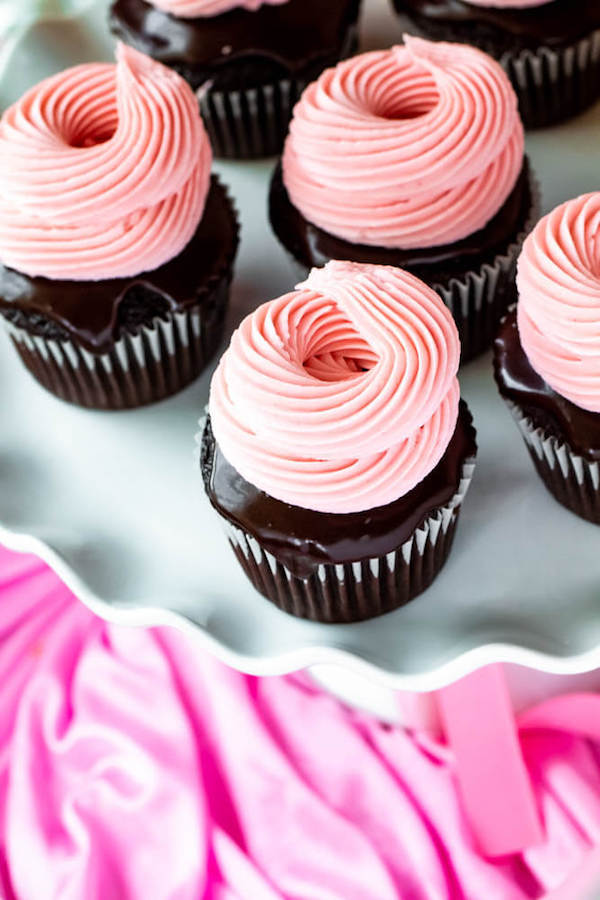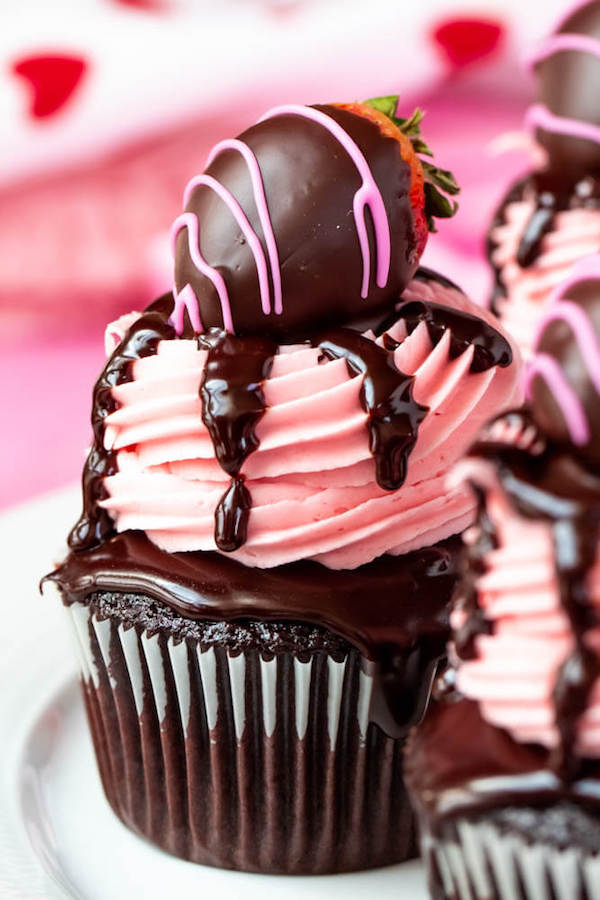 Chocolate Covered Strawberries
Now it's time for the star of the recipe, the chocolate covered strawberries! They are so easy to make and they're way cheaper to make at home then if you were to buy them.
Find the best looking strawberries you can buy, then wash and dry them. When I say dry, I mean DRY. You really don't want there to be any little droplets of water on the strawberries, because if there's one thing that chocolate hates, it's water. If any water were to get into the melted chocolate, it'll seize up so you wouldn't get that nice smooth coating.
You can leave the dipped strawberries plain, or you can decorate them like I did. I just melted some pink candy melts and drizzled them over the strawberries.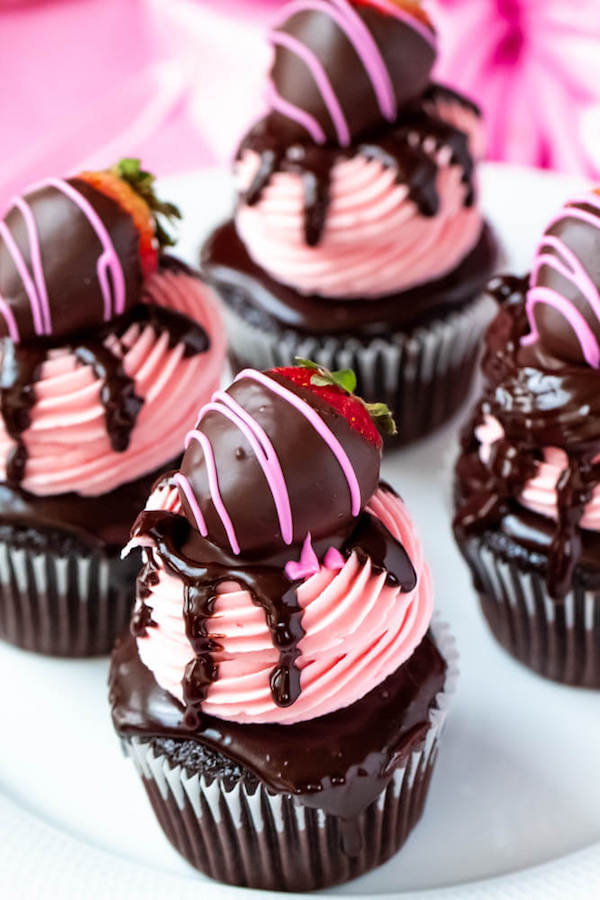 I chose pink candy melts because I wanted the strawberries to fit the colour theme of the entire cupcake, but you could choose any colour you want. You could also decorate them with sprinkles or nuts, although you'd have to add them immediately after you dip the strawberries.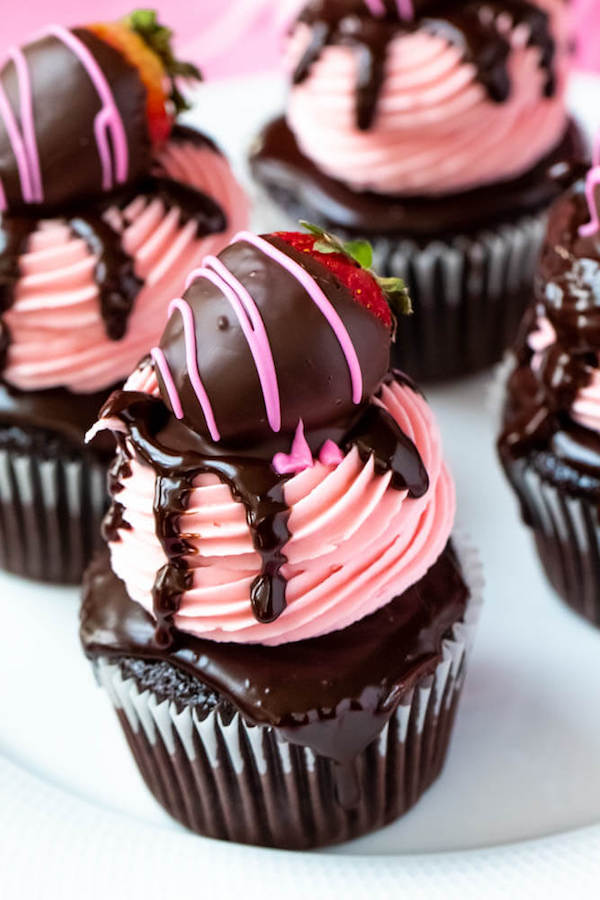 These cupcakes are the perfect treat for you and your sweetheart. Or if you're about that single life, you and you alone. They even make a great gift for Mother's Day coming up.
Enjoy!
More Valentines Day Desserts:
Mini Chocolate Covered Strawberry Cheesecakes
White Chocolate Fudge Red Velvet Brownies
Oreo Cookie Dough Stuffed Red Velvet Cupcakes
>>PIN ME FOR LATER<<

FOLLOW QUEENSLEE APPÉTIT
Like what you see? Make sure you're following Queenslee Appétit for more tasty recipes!
Pinterest | Instagram | Facebook | Twitter |
Have any questions about the recipe? Contact me here, and I'll be happy to help!
Let's get baking!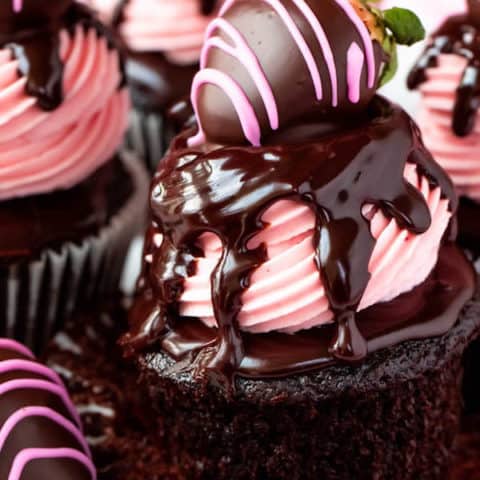 Chocolate Covered Strawberry Cupcakes
Total Time:
1 hour
10 minutes
These Chocolate Covered Strawberry Cupcakes are made with a moist chocolate cupcake topped with fresh strawberry buttercream, a drizzle of ganache and a perfect chocolate covered strawberry sitting on top! These beautiful cupcakes are a delightful Valentines Day treat!
Ingredients
Strawberry Sauce:
1 cup (8 oz) fresh or frozen strawberries, stems removed and diced (if frozen, thawed)
2-3 tablespoon granulated sugar (or to taste)
3 tablespoon water
½ teaspoon lemon juice
Chocolate Cupcakes:
1 and ½ cups All purpose flour
1 and ½ cups granulated Sugar
¾ cup unsweetened cocoa powder
1 and ½ teaspoons Baking powder
½ teaspoon Baking soda
½ teaspoon salt
2 large Eggs, room temperature
½ cup Vegetable oil
¾ cup buttermilk, room temperature
2 teaspoon Pure Vanilla Extract
½ cup hot coffee or boiling water
Chocolate Covered Strawberries:
12-15 strawberries, rinsed and pat dry
8 oz. dark chocolate, chopped
1 tablespoon vegetable shortening
½ cup pink candy melts
Ganache:
1 cup semisweet chocolate chips
½ cup heavy cream
Strawberry Buttercream Frosting:
6 tablespoon Strawberry Sauce, chilled (recipe above)
¾ cup unsalted Butter, softened to room temperature
¾ cup Hi-ratio Shortening (you can substitute for regular vegetable shortening)
¼ teaspoon salt
6 cups Powdered Sugar, sifted
Pink gel food colouring (optional)
Instructions
For the Strawberry Sauce:
Combine the strawberries, sugar, water, and lemon juice in a saucepan on medium-high heat and bring to a boil.
Once the mixture begins to boil, lower the heat and allow the strawberries to cook and soften, breaking up the strawberries and stirring occasionally with a wooden spoon for about 8-10 minutes.
Pour sauce into a blender or food processor and pulse until the strawberries are smooth. Press through a fine mesh sieve and discard the seeds. Allow to cool completely.
Once cooled, cover with plastic wrap and refrigerate until ready to use.
For the Chocolate Cupcakes:
Preheat the oven to 350°F (177°C), and line a standard 12-cup cupcake pans with paper liners. Line a second pan with 3 liners. This recipe makes about 12-15 cupcakes.
In a large mixing bowl, sift flour, sugar, cocoa powder, baking powder, baking soda and salt. Whisk to combine.
In a measuring cup, whisk together the eggs, vegetable oil, buttermilk and vanilla. Pour the wet ingredients into the dry ingredients and whisk to combine. Add boiling water OR hot coffee and mix until combined and smooth. Batter will be runny.
Scoop batter into cupcake liners, filling them ⅔ way full. Bake for 18-20 minutes or until a toothpick inserted into the centre comes out clean.
Remove cupcakes from oven and allow to cool in pans for about 10 minutes, then transfer to cooling racks to cool completely. Meanwhile, make the chocolate covered strawberries.
For the Chocolate Covered Strawberries:
Wash the strawberries and dry them completely. Set aside. You only need about 12-15 strawberries for the cupcakes, but there should be enough chocolate to dip a few extra.
Line a baking sheet with a silpat mat or wax paper. Set aside.
Melt dark chocolate and 1 tablespoon of shortening in the microwave in 30 second intervals, stirring after each interval until fully melted and smooth.
Using a toothpick or holding the strawberry by the stem, dip the strawberries in the chocolate. Shake off excess chocolate and place onto the prepared baking sheet. Transfer to the refrigerator for about 5-10 minutes to set.
Once chocolate coating is set, melt the pink candy melts in the microwave in 15 second intervals, stirring after each interval until fully melted and smooth.
Pour melted candy melts into a small ziplock bag and snip off a tiny corner.
Remove strawberries from the refrigerator and drizzle the pink chocolate on top of each strawberry. Transfer back to the refrigerator until ready to use.
For the Ganache:
Put the chocolate chips into a medium bowl. Set aside.
Heat the heavy whipping cream in a small saucepan until it just begins to simmer.
Remove hot cream from heat and pour it over the chocolate. Cover the bowl and allow it to sit for 5 minutes.
Remove cover and stir ganache until smooth. Spoon ganache onto each cupcake, then transfer cupcakes to the refrigerator to set while you prepare the frosting.
For the Strawberry Buttercream:
In the bowl of a stand mixer fitted with a paddle attachment, or in a large mixing bowl using a handheld mixer, beat butter, shortening and salt until light and fluffy, about 5-6 minutes.
Add half of the powdered sugar and mix on low until combined. Add 6 tablespoons of the chilled strawberry sauce and mix until well combined.
Gradually add remaining powdered sugar and beat until fully combined. Increase speed to medium-high and beat until light and fluffy, 5-7 minutes.
If the frosting isn't pink enough for you, you could add a few drops of pink gel food colouring if you want.
Assembly:
Fit a piping bag with a large star tip, then pipe a generous swirl onto each cupcake.
You can add another spoonful of any remaining ganache on top of the swirl, if you prefer. Or you could leave it plain.
Garnish
Notes
Make ahead: (1) Cupcakes can be made 1 or 2 days ahead of time and stored in an airtight container at room temperature. (2) Strawberry sauce can be made a few days ahead of time and stored in an airtight jar in the refrigerator. (3) Chocolate covered strawberries can be made the night before. I recommend keeping them uncovered on the same lined baking sheet you put them on in the first place. (4) Ganache can be made a day or two ahead of time and left in the same bowl it was made in. Just cover in plastic wrap and when you're ready to use it, microwave in 20 second intervals until it's loosened back up. (5) Strawberry Frosting can be made ahead of time and stored in an airtight container in the refrigerator for up to 1 week, or in the freezer for several months. Before using — allow frosting to come to room temperature, then re-whip in a stand mixer or with a hand mixer until the frosting is smooth and fluffy.
The chocolate covered strawberries can be decorated with sprinkles or nuts. You would have to add them right after dipping so they will stick. You can also drizzle with white chocolate, milk chocolate, dark chocolate or any other colour of candy melts, if you prefer.
Recommended Products
As an Amazon Associate and member of other affiliate programs, I earn from qualifying purchases.
BON APPÉTIT!
Love, Dedra ❤
DID YOU MAKE A RECIPE?
Tag @queensleeappetit and use the hashtag #queensleeappetit so I can see all of the Queenslee Appétit recipes you've made!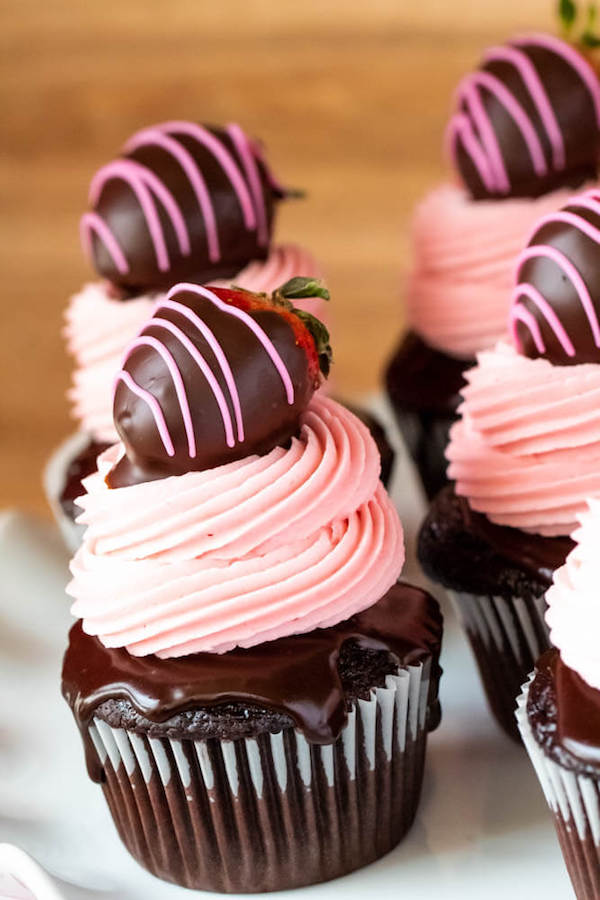 ©QUEENSLEE APPÉTIT. All images & content are copyright protected. Please do not use my images without prior permission. If you want to republish this recipe, please re-write the recipe in your own words, or link back to this post for the recipe.
This post may contain affiliate links. Please see my full disclosure policy for details.