These Dark Chocolate Cupcakes are full of the deepest, richest chocolate flavour! The moist chocolate cupcakes are topped with a fluffy, creamy and decadent whipped dark chocolate ganache frosting!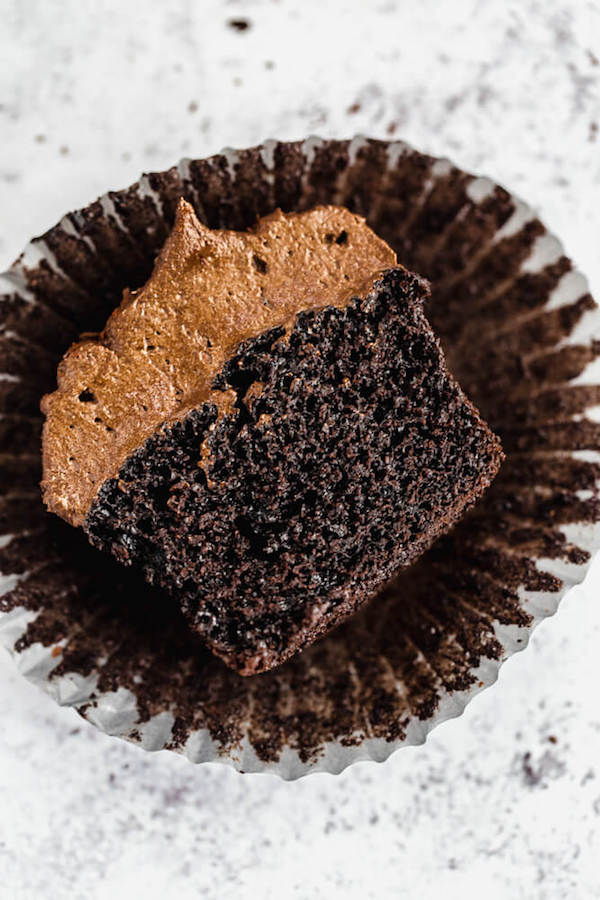 This post may contain affiliate links. Please see my full disclosure policy for details.
I hope your chocolate cravings haven't passed yet, because I still have ONE more mouthwatering chocolate recipe coming tomorrow!
This #Choctoberfest week has been great so far, but it's about to come to an end. You still have a few more hours to enter the giveaway though, so do it now before time runs out!
Let's Talk Chocolate Cupcakes!
Today is #NationalChocolateCupcakeDay, and I believe everyone needs that perfect go-to chocolate cupcake recipe. Luckily, I've got TWO!! Two years ago, I celebrated this day by sharing my favourite chocolate cupcake recipe.
Yesterday, I shared the recipe for the BEST Chocolate Cake I've ever made! So since today is dedicated to Chocolate Cupcakes, I decided to take my favourite chocolate cake recipe and turn it into my new favourite chocolate cupcakes!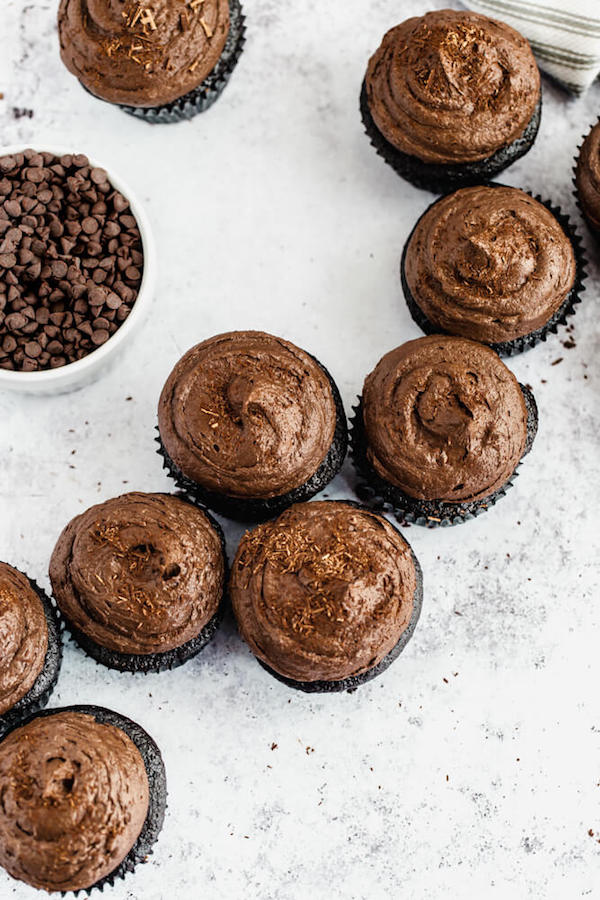 Dark Chocolate Cupcakes with Dark Chocolate Ganache Frosting
These dark chocolate cupcakes are so moist and fudgy, and the dark chocolate ganache frosting is unbelievably rich and creamy, it's like eating a chocolate cloud!
And I'll be super honest with you, these cupcakes blow my other chocolate cupcake recipe out of the water!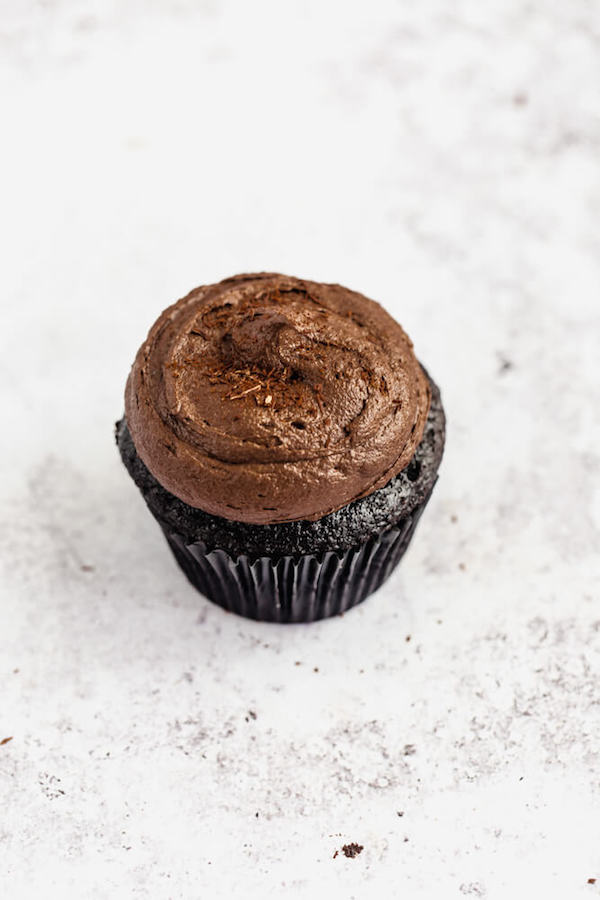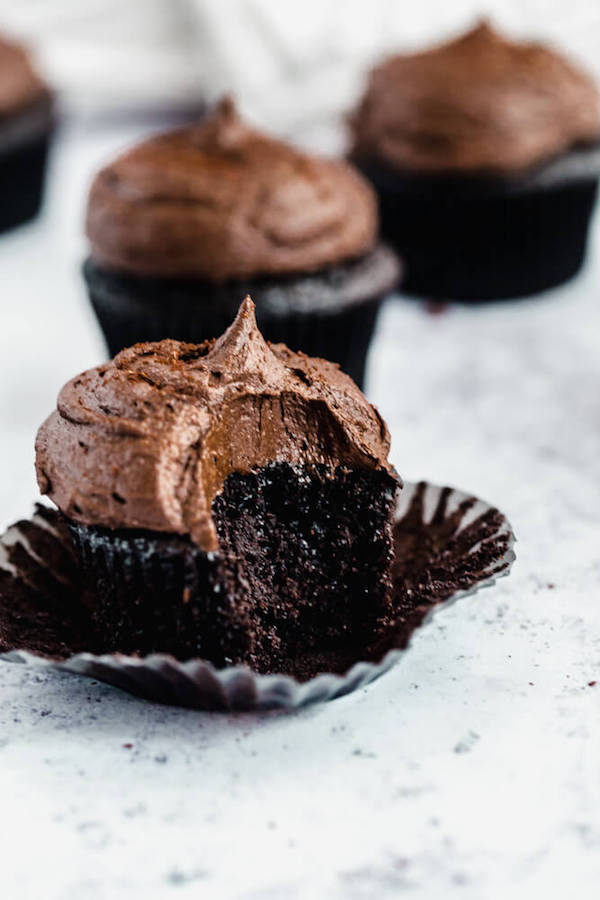 Dark Chocolate Cupcakes
The process for making these dark chocolate cupcakes is exactly the same as my perfect chocolate cake. Start by whisking the dry ingredients together. For the cocoa, I used a blend of natural cocoa powder and black cocoa powder which gives the cupcakes it's deep rich chocolate flavour and darker appearance.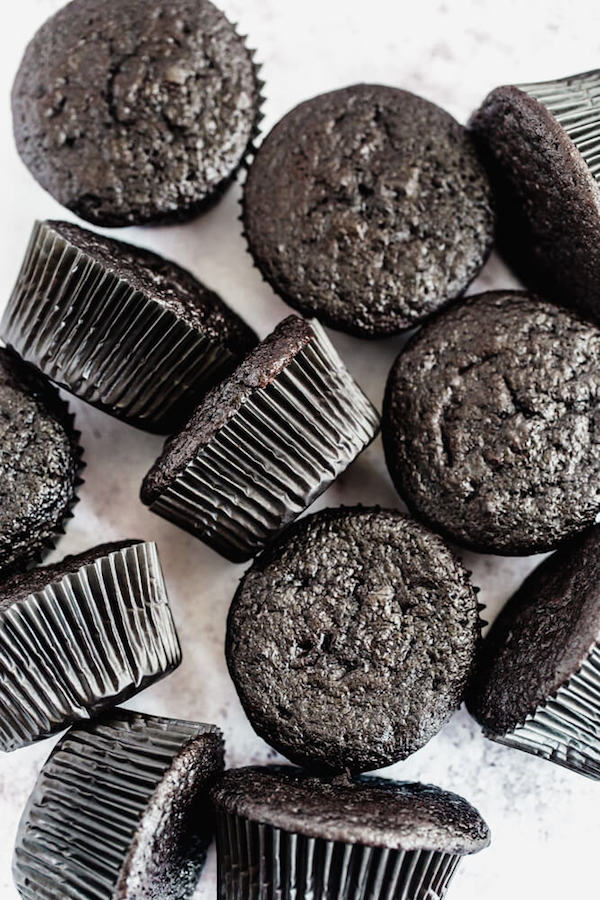 Baker's Tip: I recommend pre-measuring all of your ingredients before beginning. Combine all the dry ingredients, crack the eggs in a separate bowl, have the buttermilk ready in a liquid measuring cup, etc.
For the next step, beat the butter and sugar together until it is very pale and fluffy. For my chocolate cake, you need to use a stand mixer, but since I cut the recipe in half you can get away with using a hand mixer and a large mixing bowl.
Now, do you see this texture? How fluffy the cupcakes are? If you skimp on the butter/sugar creaming step, they won't come out like this. At least 4 minutes of mixing before moving on, my friend.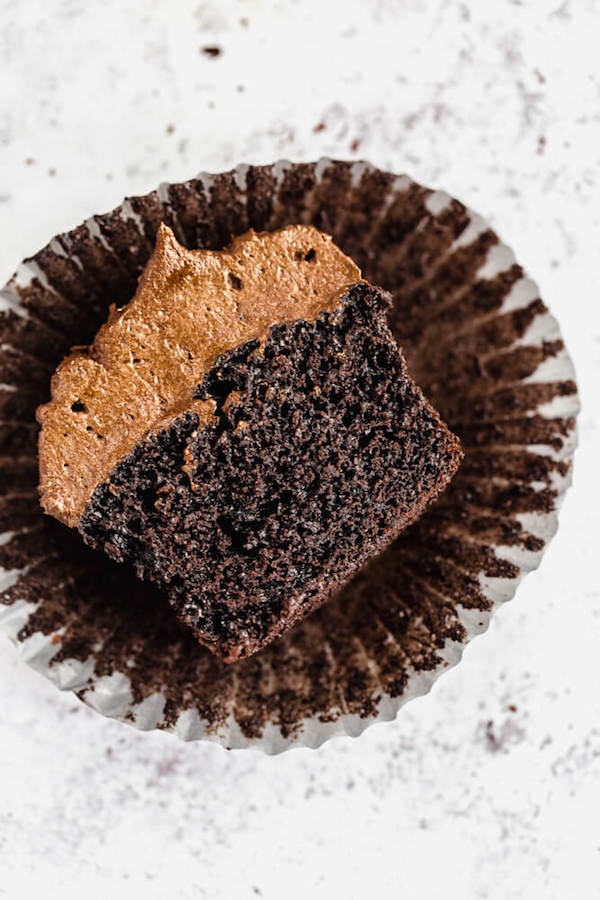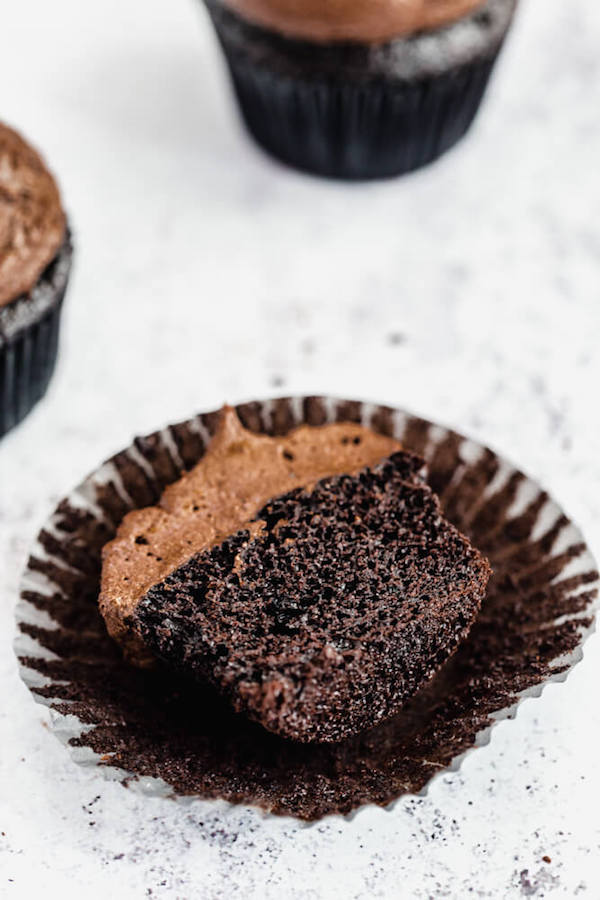 One thing I've been thinking about ever since I developed this recipe is how it would turn out if I used half or all brown sugar instead of white sugar. I'm definitely gonna test it one day, but if one of you adventurous bakers out there wanna give this recipe a try with all brown sugar, go ahead and let me know how they turn out!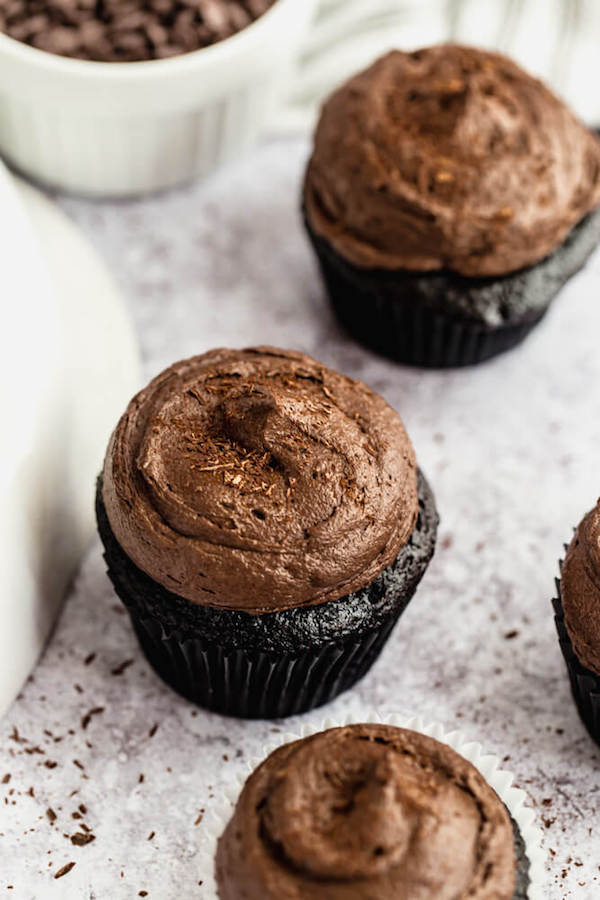 Moving on, add the eggs one at a time, then throw in some sour cream. The sour cream is the perfect addition to this recipe because it's purpose is to create the softest most tender crumb you could ever ask for, and it never disappoints!
Along with the sour cream, we'll be adding a blend of instant coffee and vanilla extract. Coffee acts as a strengthener to chocolate desserts. It makes chocolate taste even chocolatier! And if you're a coffee hater (you'll despise tomorrow's recipe) don't worry, you won't taste the coffee in the cupcakes. Just pure delicious chocolate!
Now this next step is crucial, you'll need to add the dry ingredients and buttermilk, but in multiple additions. Don't just throw in all of the dry ingredients followed by the milk. The batter will be a mess and the cupcakes won't come out right.
Start by adding ⅓ of the dry ingredient mixture, then mix that on low speed until it's just combined. Now add ½ of the buttermilk and mix, second addition of dry, final addition of buttermilk, then final addition of dry ingredients. This keeps our batter nice and smooth throughout the entire mixing process.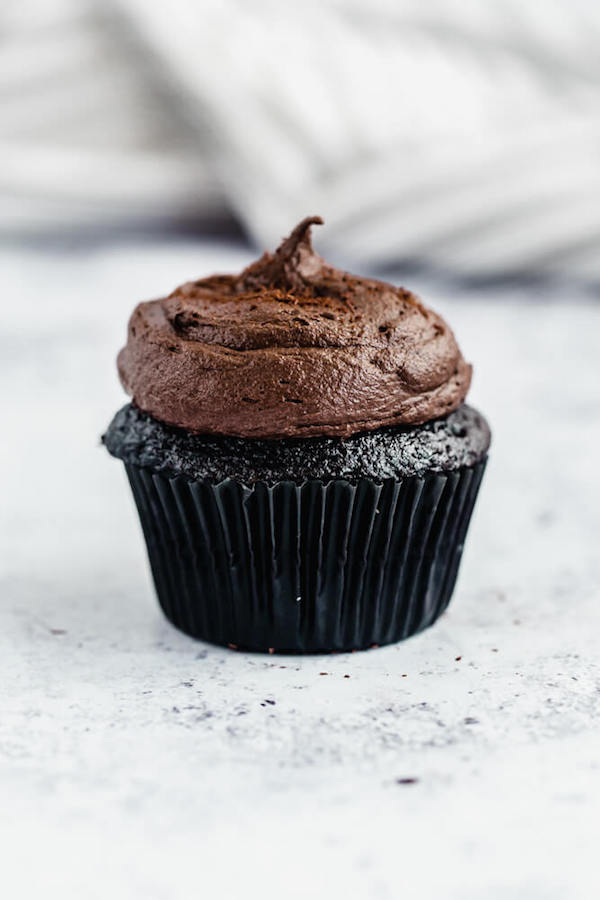 Once everything's mixed together, you'll be left with the most beautiful chocolate cupcake batter. My other chocolate cupcakes required a thin and liquid-y batter, but this batter is thick, dark and gorgeous.
I'm not gonna make that joke, I'm not gonna make that jo—
Just like me.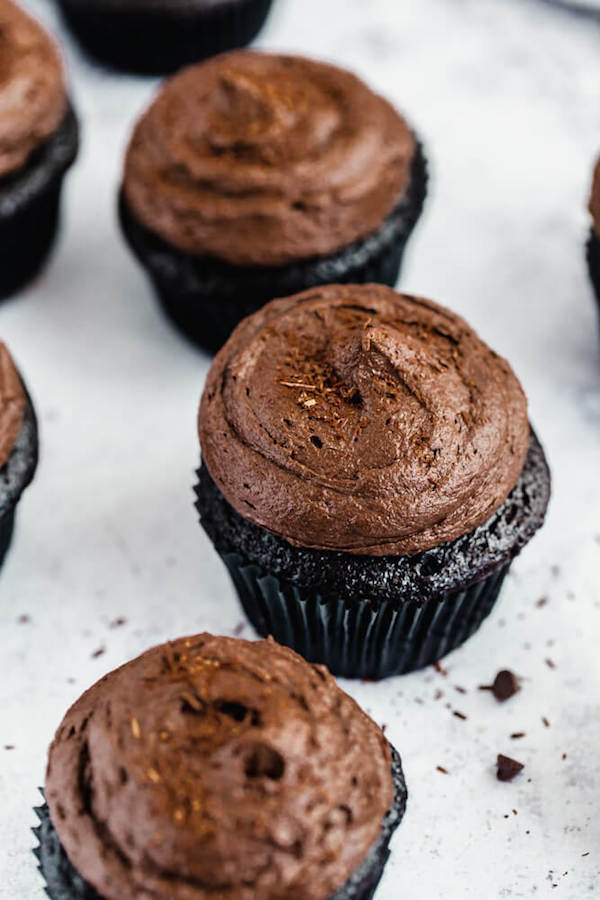 I had to.
Anyways, to divide the batter, I highly recommend using an ice cream scoop. I can't even remember my cupcake baking days before I started using a scoop to divide my batter, it's made my life so much easier! One medium scoop of batter per liner should be the perfect amount to ensure even rising.
Best Chocolate Frosting Ever!!!
While the cupcakes are cooling, prepare the frosting.
Guys!!!!! Oh my God, this FROSTING!!! I came up with this idea at the very last second, honestly. I was planning on topping these cupcakes with the same fudge frosting I used in yesterday's chocolate cake recipe, but in the middle of mixing, I decided I wanted to mix things up, all the pun intended.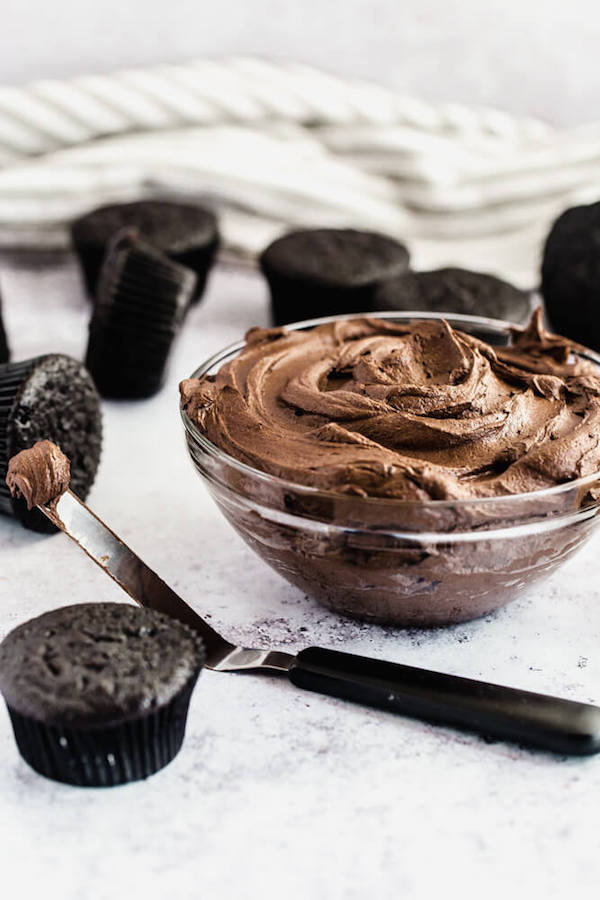 So I scrapped the hot water and sour cream, and decided to switch out the melted chocolate for GANACHE! I remembered my Dreamy Chocolate Buttercream recipe, where I started by making a basic chocolate buttercream using cocoa powder, then dumped a load of melted chocolate inside to make it even better!
This time I did the same thing, but we're using ganache instead. I think you have a bit of drool on your chin, there 😉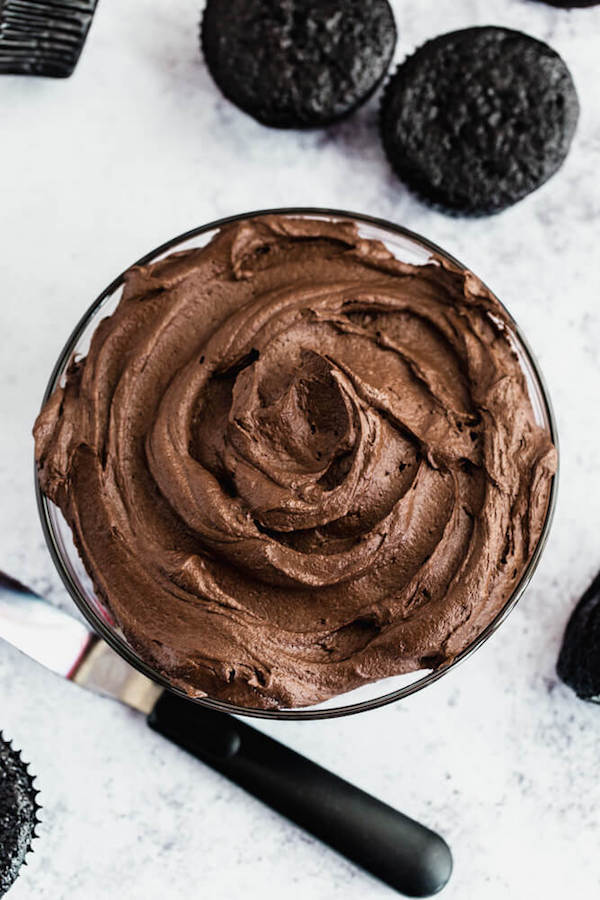 How to Make Dark Chocolate Ganache Frosting
First we're gonna make the ganache. There's so many tutorials out there about how to make ganache, but it's honestly fool-proof! Only two ingredients are needed: chocolate and heavy cream.
Put both of those ingredients in a heat safe bowl, then pop it in the microwave and heat in 30 second intervals until the cream is thoroughly heated. This only takes me a total of 1 minute.
Let the ganache sit for about a minute to give all the chocolate chips a chance to melt a bit more, then stir, stir, stir until you get a silky ganache. It'll look broken at first, but keep going and it should all come together, I promise.
When the ganache is ready, set it aside to cool while you prepare the chocolate buttercream. Again, we're gonna wanna beat the butter until it's pale and fluffy. Then add the powdered sugar, one cup at a time so it's easier to mix.
Now add the cocoa powders and vanilla. As with the chocolate cupcake, I used both natural and black cocoa powder to add depth to the chocolate flavour! Give the ganache a stir to loosen it back up, then pour it all into the buttercream! Whip it up for at least 3 minutes, then lick the beaters clean!
Pipe this ultra yummy chocolate frosting onto the cupcakes, poofs or swirls, whichever you prefer. However, I suggest folding and stirring the frosting with a wooden spoon to remove any air bubbles before using, like I should've done.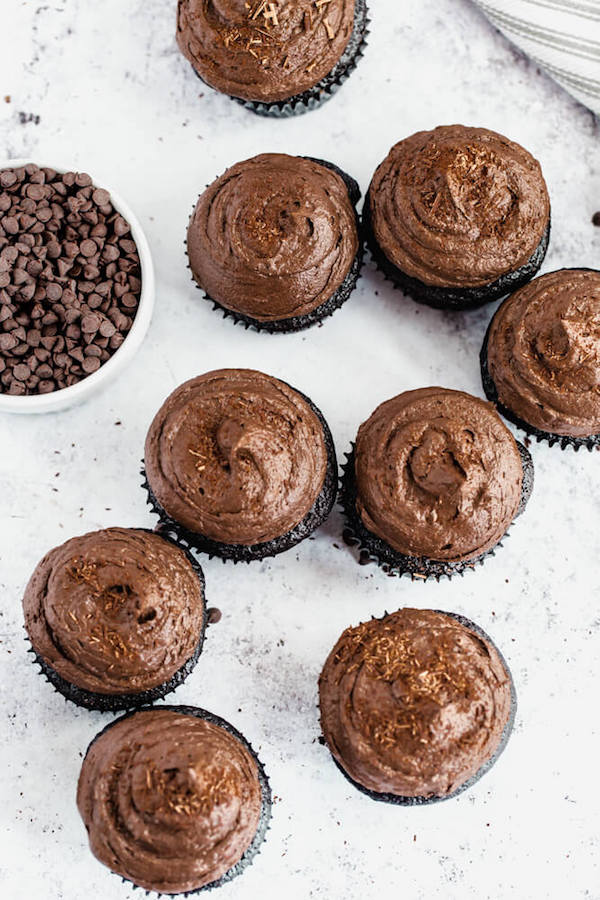 As a final optional touch, you can top the cupcakes with chocolate shavings, mini chocolate chips, chocolate curls, or some fresh fruit! You can also leave out any garnish and enjoy the cupcake and frosting together without any outside interference, the way the good Lord intended.
Did you make these Dark Chocolate Cupcakes? Let me know how they turned out in the comments below! And don't forget to leave a rating!
>>PIN THIS FOR LATER<<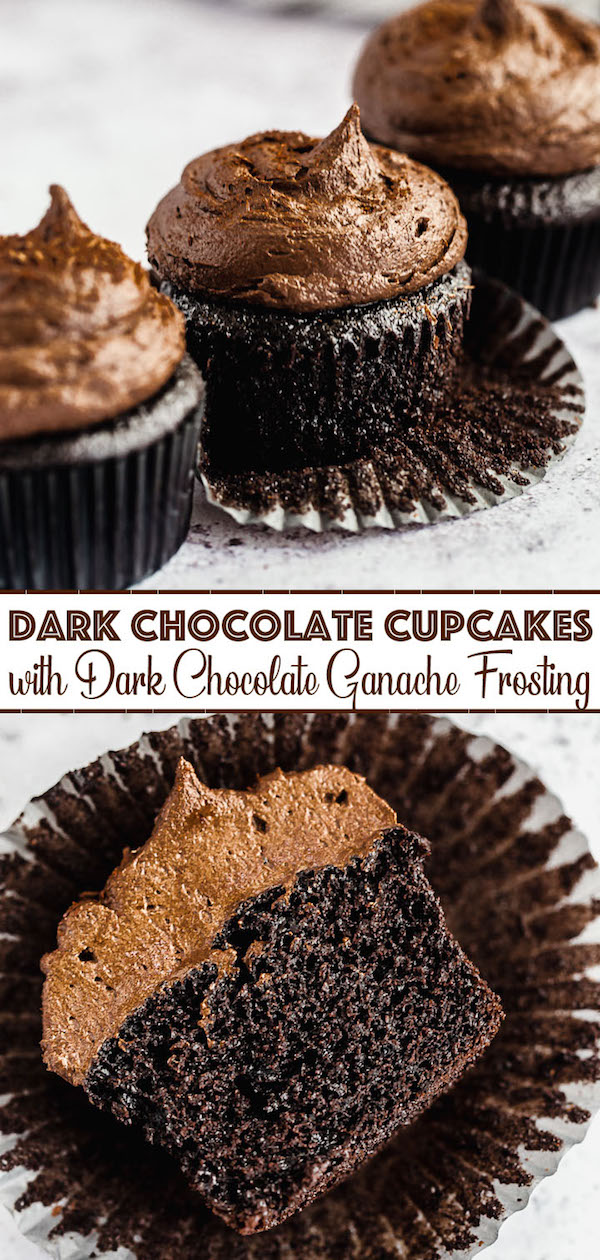 More Delicious Chocolate Recipes
Chocolate Caramel Turtle Cupcakes
Amazing chocolate recipes from fellow bloggers also participating in our week long celebration of Chocolate!

You are invited to the Inlinkz link party!

FOLLOW QUEENSLEE APPÉTIT
Like what you see? Make sure you're following Queenslee Appétit for more tasty recipes!
Pinterest | Instagram | Facebook | Twitter |
Have any questions about the recipe? Contact me here, and I'll be happy to help!
SHARE YOUR PICS!
Tag me on Instagram @queensleeappetit or use the hashtag #queensleeappetit so I could see your gorgeous creations!
Let's get baking!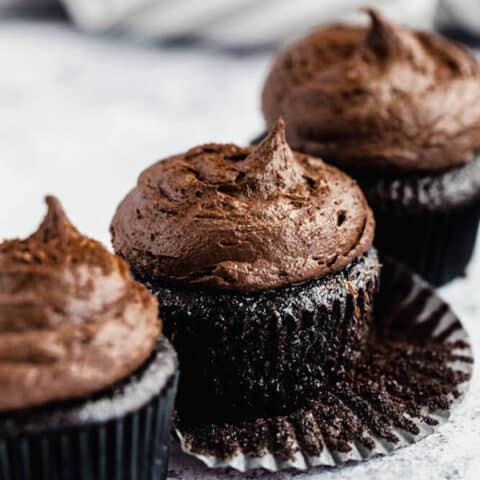 Dark Chocolate Cupcakes with Dark Chocolate Ganache Frosting
These Dark Chocolate Cupcakes are full of the deepest, richest chocolate flavour! The moist chocolate cupcakes are topped with a fluffy, creamy and decadent whipped dark chocolate ganache frosting!
Ingredients
Dark Chocolate Cupcakes:
1 cup + 2 tablespoon all purpose flour
½ cup unsweetened cocoa powder
¼ cups black cocoa powder
¾ teaspoon salt
1 and ⅛ teaspoon baking soda
½ teaspoon baking powder
¾ cups unsalted butter, room temperature
1 cup + 2 tablespoon granulated sugar
2 large eggs, room temperature
6 tablespoon sour cream, room temperature
2 and ½ teaspoon pure vanilla extract
2 and ½ teaspoon instant coffee granules
1 cup + 2 tablespoon buttermilk, room temperature
Dark Chocolate Ganache Frosting:
1 cup dark chocolate chips
½ cup heavy cream
1 cup unsalted butter, softened to room temperature
¼ teaspoon salt
3 cups powdered sugar, sifted
¼ cup unsweetened cocoa powder, sifted
¼ cup black cocoa powder, sifted
1 and ½ teaspoon pure vanilla extract
Optional Garnishes:
Chocolate shavings, mini chocolate chips or fresh fruit
Instructions
For the Dark Chocolate Cupcakes:
Preheat the oven to 350°F (177°C), and line a standard cupcake pan with paper liners. Line a second pan with 7 liners, this recipe makes about 19 cupcakes.
In a large bowl, sift flour, cocoa, salt, baking powder and baking soda. Whisk to combine, set aside.
In the bowl of a stand mixer fitted with a paddle attachment, or in a large mixing bowl using a hand mixer, beat the butter and sugar on medium speed until pale and fluffy, 4-5 minutes. Scrape down the sides and bottom of the bowl.
Lower the speed to medium-low and add eggs one at a time, mixing after each addition until just combined. Scrape down the sides and bottom of the bowl.
In a small bowl, combine the vanilla and instant coffee granules. Add the sour cream to the batter along with the vanilla coffee mixture and beat on medium speed until combined.
Add ⅓ of the dry ingredients and beat until just combined, add ½ of the buttermilk and continue to mix. Repeat mixing in ½ of the remaining dry ingredients, then the remaining buttermilk followed by the remaining dry ingredients.
Scoop batter into cupcake liners, filling them ⅔ way full. Bake for 18-20 minutes or until a toothpick inserted into the centre comes out clean.
Remove cupcakes from oven and allow to cool in pans for about 5 minutes, then transfer to cooling racks to cool completely before frosting.
For the Dark Chocolate Ganache Frosting:
In a heat safe bowl, microwave the heavy whipping cream and chocolate together in 30 second intervals, until the cream is steaming hot. This takes me about 1 minute, but it may be longer for you, so stir after each interval to check if the chocolate is melted enough.
Stir until the mixture comes together to form a thick and silky ganache. Set aside to cool.
In the bowl of a stand mixer fitted with the paddle attachment, or in a large bowl with a hand-held mixer, beat the butter and salt on medium speed until light and fluffy (about 5-6 minutes). Scrape down the sides and bottom of the bowl.
Turn the mixer to low, and gradually add the sugar, one cup at a time and beat on low speed until just combined.
Add both cocoas and vanilla and continue to mix. Frosting will be thick.
Pour in the cooled ganache and mix on medium-low speed until combined.
Increase mixer speed to medium-high and whip until light and fluffy, about 2-3 minutes.
Transfer frosting to a piping bag fitted with a large round tip (I used this one) and squeeze a dollop of frosting onto each cupcake. Garnish with chocolate shavings or fresh fruit, if desired. Enjoy!
Notes
Make Ahead: cupcakes can be made a day ahead of time, covered and stored at room temperature. They can also be frozen for up to 2-3 months. Thaw in the refrigerator overnight. Frosting can also be made ahead of time and stored in the refrigerator. Bring to room temperature and re-whip on high speed before using.
Cocoa: You can use all regular unsweetened cocoa powder if you can't get your hands on black cocoa powder.
Cake Version: Both cupcake and ganache recipe can easily be doubled to make a cake version. The recipe above is enough for 2 8-inch cake layers, and if doubled you can make either 2 thicker layers, 3 layers or 4 thinner layers. See my chocolate cake post for more information!
Recommended Products
As an Amazon Associate and member of other affiliate programs, I earn from qualifying purchases.
Nutrition Information:
Yield:

19
Serving Size:

1
Amount Per Serving:
Calories:

384
Total Fat:

27g
Saturated Fat:

16g
Trans Fat:

0g
Unsaturated Fat:

9g
Cholesterol:

75mg
Sodium:

160mg
Carbohydrates:

36g
Fiber:

2g
Sugar:

29g
Protein:

3g
BON APPÉTIT!
Love, Dedra
©QUEENSLEE APPÉTIT. All images & content are copyright protected. Please do not use my images without prior permission. If you want to republish this recipe, please re-write the recipe in your own words, or link back to this post for the recipe.