Chocolate lovers gather 'round, because this is the beginning of the chocolatiest week ever — #Choctoberfest! And I'm excited to announce that I will be participating this year! That's right, my friends — this week is all about Man's greatest creation: CHOCOLATE!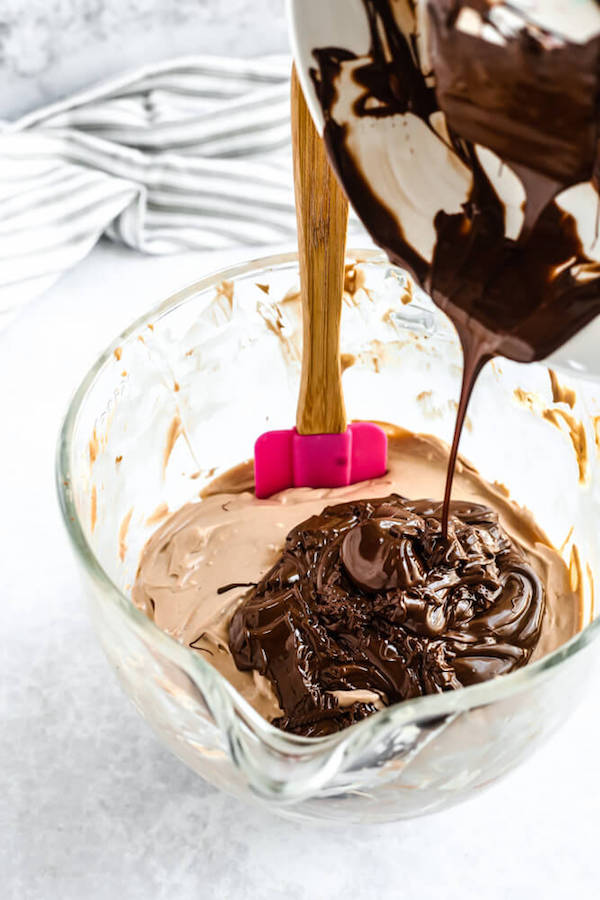 What is #Choctoberfest?
#Choctoberfest is an annual recipe-sharing event. I'm joining other food bloggers from around the world to create delicious chocolate recipes. This year, over 70 bloggers are joining together for a week full of chocolate cakes, pies, cookies, puddings, tarts, candies, and more. You can follow along by searching for the hashtag #Choctoberfest on Instagram, Pinterest, Facebook, and Twitter. Or, simply follow any of the participating bloggers listed below.
What kind of Chocolate Madness have you come up with this week?
I currently have 5 new awesome chocolate recipes in the making for #Choctoberfest week, and one of them should be live right now!
Hint: it's cheesecake...for chocolate addicts.
The rest is a surprise that I can't wait to share with you guys! Until then, you can check out some of my previous chocolate recipes like:
Mini Triple Chocolate Cheesecakes
Chocolate and Peanut Butter Banana Bread
Salted Caramel Dark Chocolate Cupcakes
Perfectly Moist Chocolate Cupcakes
Chocolate Lovers Hot Chocolate
And so much more!
Chocolate-y GIVEAWAY!
Now, yummy chocolate recipes won't be the only thing you folks will be getting from this event. There will also be a huge giveaway from our #Choctoberfest sponsors, who make #Choctoberfest possible every year. Our sponsors have banded together to put together a delicious prize pack worth over $400! Here's what you get if you win! (Scroll down to enter.)
This is a prize pack worth over $400! Open worldwide, except where prohibited. Must be 18+ to enter (21+ in some locations). One lucky winner will be drawn randomly on October 20,
2019 and contacted via email. See terms and conditions for more details. Enter the giveaway now:
Entries from spam or inactive accounts are invalid. #Choctoberfest bloggers, sponsors, and their immediate families/households are not eligible to win. This giveaway is not affiliated with or sponsored by Facebook, Instagram, Twitter, or Pinterest.
Make sure you check out the participating bloggers to see #Choctoberfest recipes throughout the week:
Triple Chocolate Kitchen • 2 Cookin Mamas • A Day in the Life on the Farm • A Labour of Life • A Little Fish in the Kitchen • A Southern Fairytale • Amy's Cooking Adventures • An Affair from the Heart • Bottom Left of the Mitten • Broken Teepee • Bunsen Burner Bakery • Champagne and Coconuts • Cindy's Recipes and Writings • Cook with Renu • Cook's Hideout • Cookaholic Wife • Crafty Cooking Mama • Daily Dish Recipes • Dixie Chik Cooks • Everyday Eileen • Fairyburger • Family Breakfast Recipes • First Timer Cook • Fix Me a Little Lunch • Frugal & Fit • Fun Happy Home • Get the Good Stuff! • Glenda Embree • Hezzi-D's Books and Cooks • How Was Your Day? • I Can Cook That • Join Us, Pull up a Chair • Karen's Kitchen Stories • Kate's Recipe Box • Kelly Lynn's Sweets and Treats • Life & Medicine Blog • Life on Food • Long Distance Baking • Lynchburg Mama • Makes, Bakes and Decor • Making Miracles • Mama Needs Cake • Memories In The Kitchen • Our Good Life • Our Sutton Place • Palatable Pastime • Queenslee Appétit • Reviewz & Newz • Sarah Cooks the Books • Sarah's Bake Studio • Seduction In The Kitchen • Shockingly Delicious • Simple Family Crazy Life • Simply Inspired Meals • Sneha's Recipe • Style Island • Sumptuous Spoonfuls • Sweet Coralice • Sweet Dash of Sass • Take Two Tapas • That Recipe • The Awesome Muse • The Beard and The Baker • The Delicious Spoon • The Food Hunter's Guide to Cuisine • The Freshman Cook • The Redhead Baker • The Schizo Chef • The Spiffy Cookie • The Urben Life • Trampling Rose • Turnips 2 Tangerines • Who Needs A Cape? • Wildflour's Cottage Kitchen • Zesty South Indian Kitchen