These Turkey Sandwiches are the best way to use up those Thanksgiving leftovers.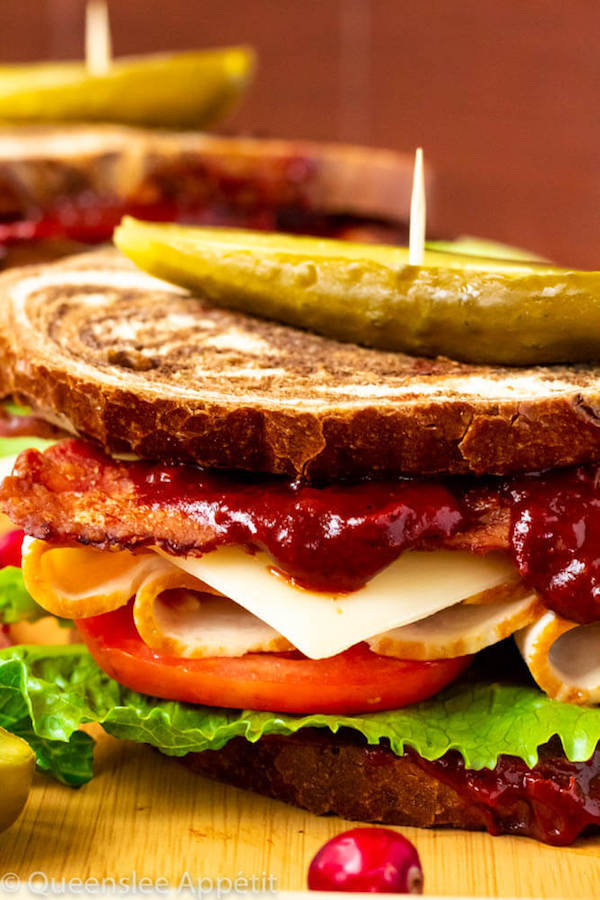 Ok this is the final Thanksgiving related recipe I'll be sharing this year, I promise! After this I'll be sharing a ton of amazing Christmas recipes! Until then, let's give you another use for your Thanksgiving leftovers.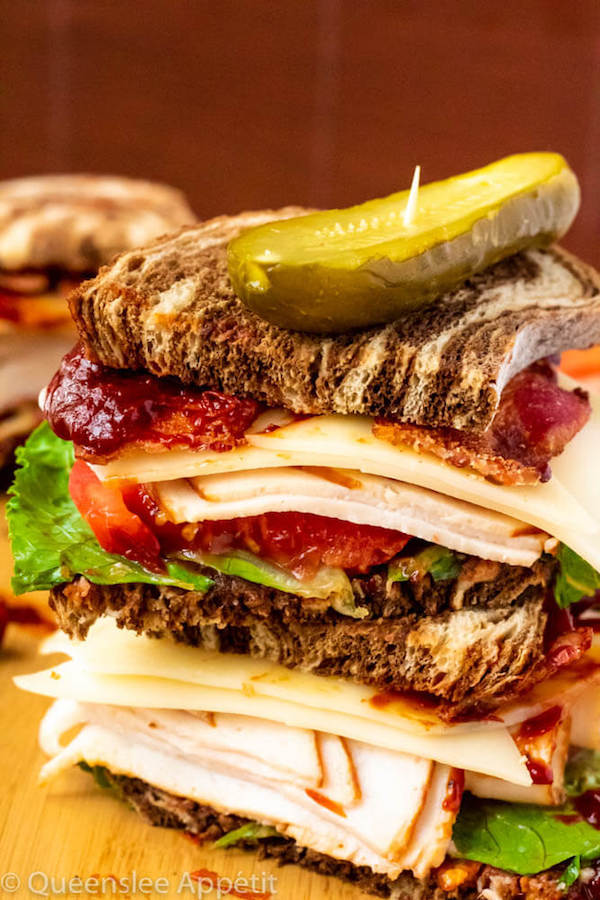 I hope my American readers had a lovely Thanksgiving with a nice and big delicious dinner (hopefully featuring some of my awesome side dishes). Now you're probably wondering what to do with all of those leftovers? Well here are 2 perfect options for you: Cranberry BBQ Turkey Pizza or these Turkey Sandwiches!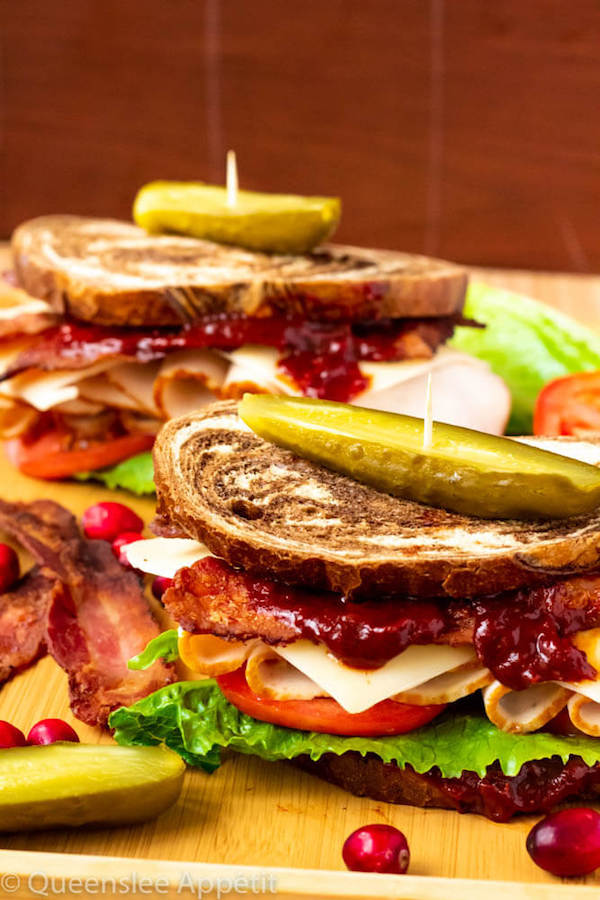 Turkey Sandwiches with Cranberry BBQ Sauce
This easy turkey sandwich is exactly what you need after you've recovered from your Thanksgiving dinner food coma. Slices of rye bread, turkey, fresh lettuce, tomatoes, swiss cheese, crispy bacon and sweet-tart cranberry BBQ sauce for a nice kick!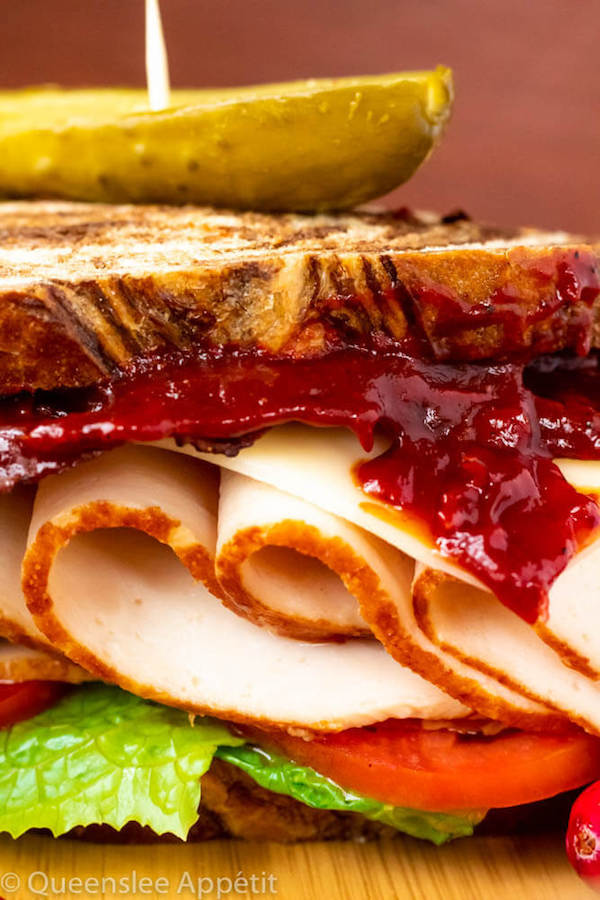 Now this recipe is entirely based on how you like your sandwiches. I live in Canada, so my Thanksgiving was a month ago and my Jamaican family doesn't cook traditional Thanksgiving foods like turkey, stuffing and cranberry sauce.
Because of this, I had to make do with ingredients I already had. My American readers, however, can use all of those leftovers sitting in your refrigerator to make your own version of these turkey sandwiches!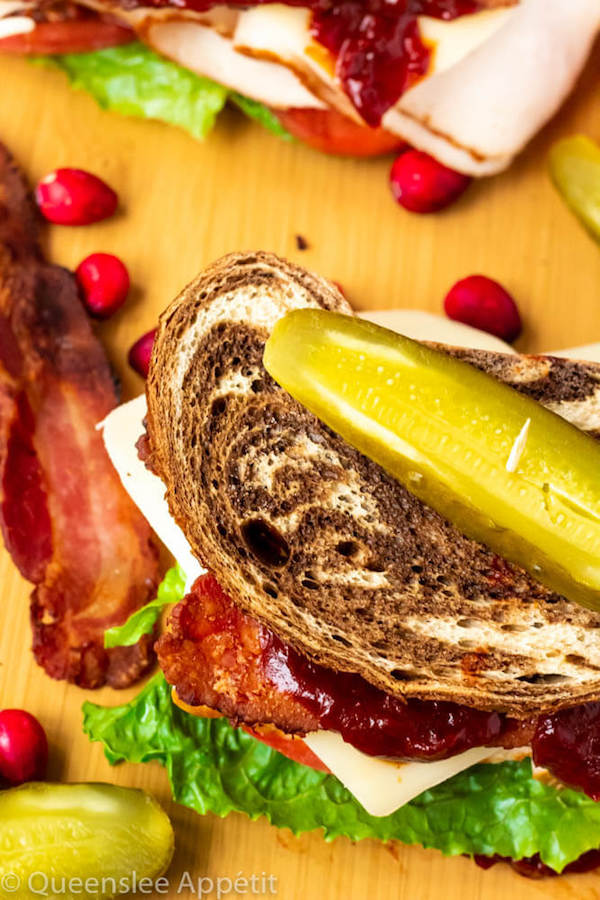 How to Assemble Turkey Sandwiches
Bread — We start with the bread. I used marbled rye bread, but you could use ciabatta buns, croissants, french bread or regular old sandwich bread. I also toasted my bread, but you don't have to if you don't wanna.
Cranberry BBQ Sauce — Is putting BBQ sauce on sandwiches weird? I'm not sure, but I had some of my homemade cranberry Bbq sauce leftover from this Cranberry BBQ Turkey Pizza, so I decided to spread some onto these sandwiches.
It's thick, rich, sweet-tangy and savoury! This recipe is made completely from scratch, so if that's too much work for you, you could substitute it with any leftover cranberry sauce you have.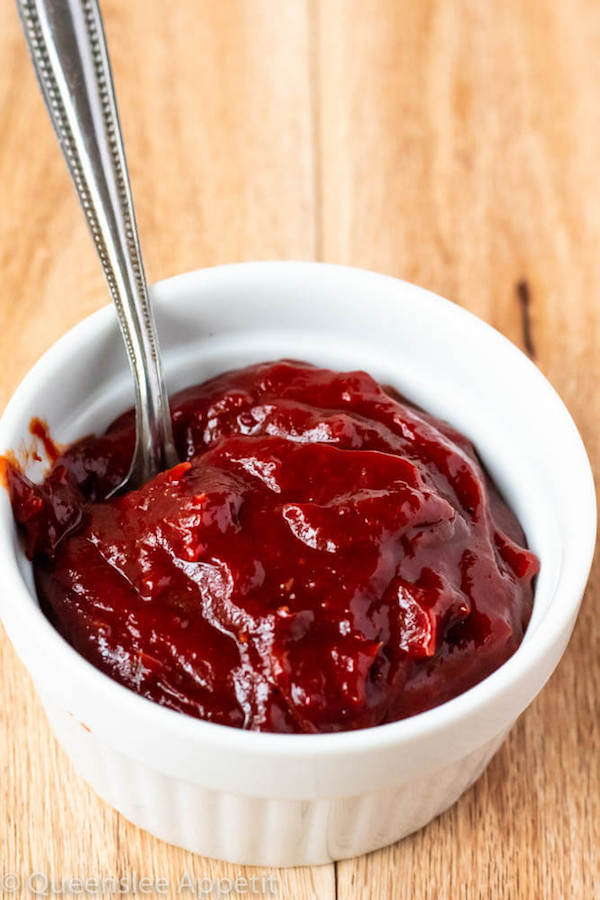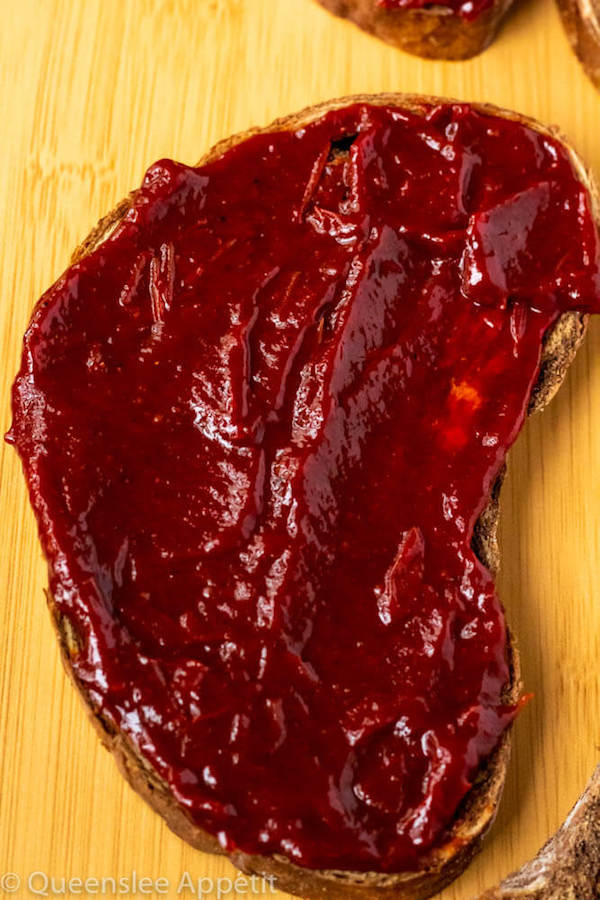 Turkey Slices — as I mentioned above, Canadian turkey day was last month, so I didn't have any homemade roasted turkey to put in this sandwich. As a substitute, I used some packaged turkey slices I got from the grocery store. Again, if you got leftover turkey I highly recommend you use it in this sandwich!
Crispy Bacon — my favourite! You really can't have a turkey sandwich, or really any sandwich, without a few slices of nice and crispy bacon in it! I always had trouble getting my bacon to crisp perfection, so this time I tried baking it in the oven and it was a success! I'll get into more details in the notes below the recipe.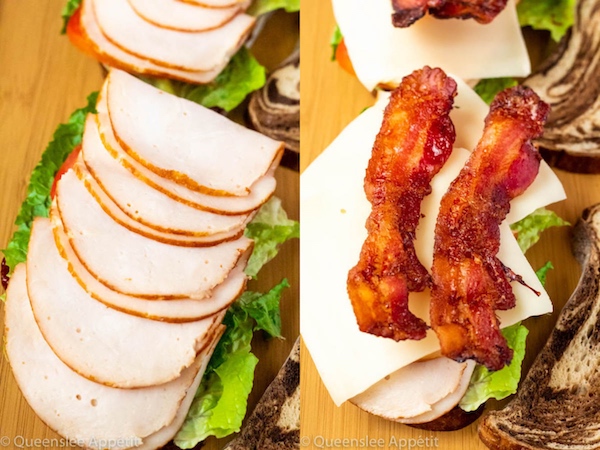 Swiss Cheese — I used swiss cheese because it complements the turkey well, but other great choices are cheddar, mozzarella, smoked gouda or any other cheese of your choice. One thing I wish I did and recommend you do is melt the cheese. So you can add the cranberry BBQ sauce, turkey and cheese to the sandwich first, then broil in the oven for a few minutes until the cheese is melted.
Tomatoes & Romain Lettuce — I added tomatoes and lettuce, but if you have any greens or stuffing leftover, you could totally substitute with those instead!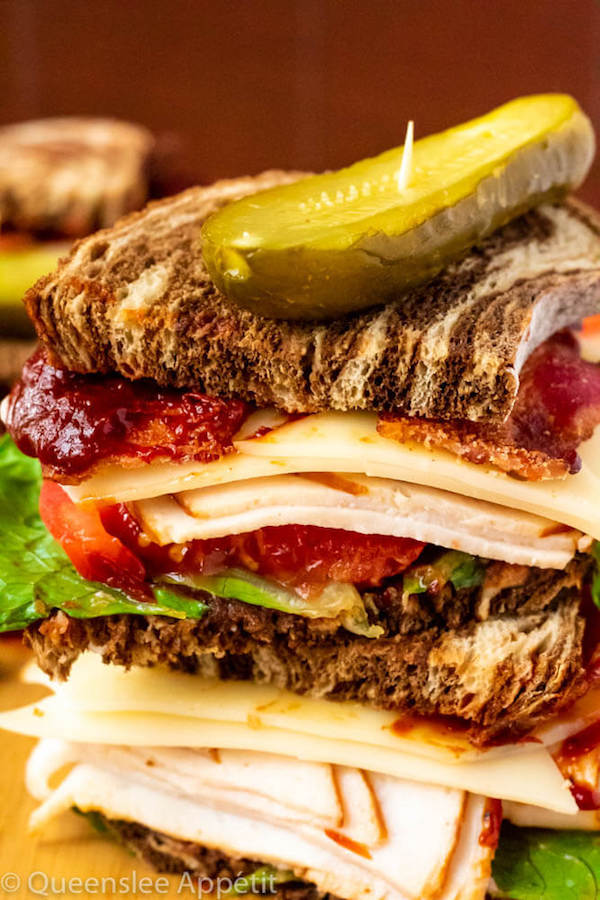 Take a break from all of that heavy Thanksgiving foods and enjoy this lighter turkey sandwich with a kick of savoury, sweet and smoky cranberry sauce! Enjoy!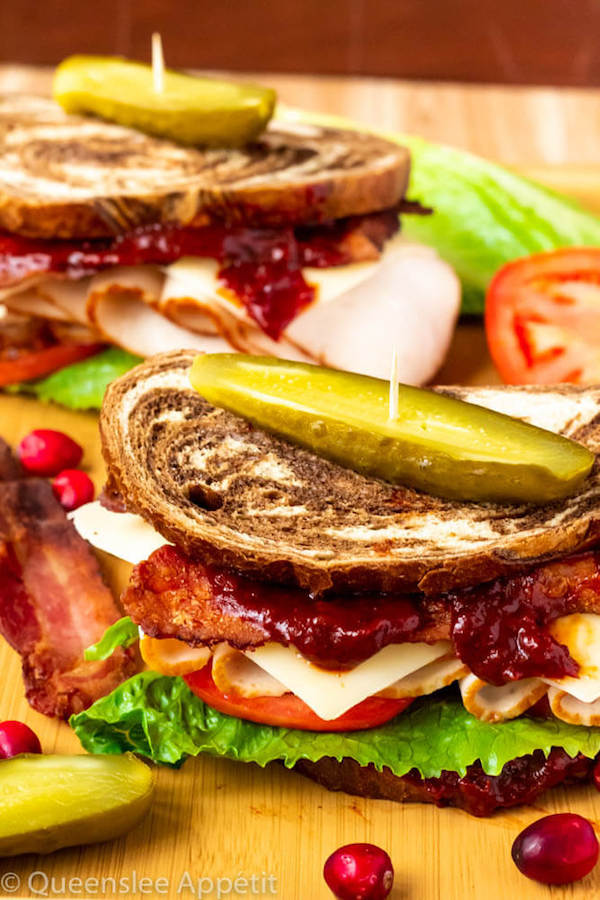 >>PIN ME FOR LATER<<

FOLLOW QUEENSLEE APPÉTIT
Like what you see? Make sure you're following Queenslee Appétit for more tasty recipes!
Pinterest | Instagram | Facebook | Twitter |
Have any questions about the recipe? Contact me here, and I'll be happy to help!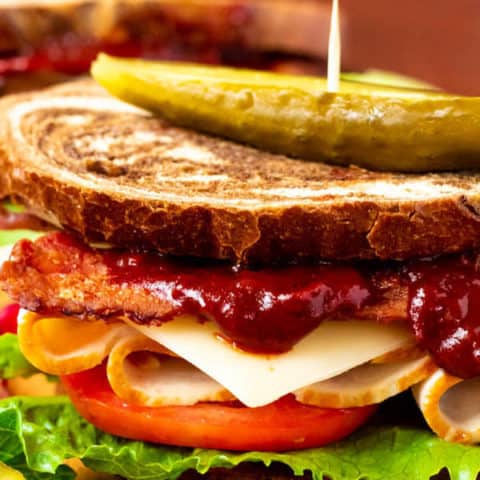 Turkey Sandwiches with Cranberry BBQ Sauce
These Turkey Sandwiches are the best way to use up those Thanksgiving leftovers.
Ingredients
Cranberry BBQ Sauce:
8 oz. fresh cranberries
1 and ½ cups ketchup
½ cup dark brown sugar, packed
¼ cup molasses
1 and ½ tablespoon Worcestershire sauce
¼ cup apple cider vinegar
1 tablespoon Dijon Mustard
1 teaspoon lemon juice
2 teaspoon paprika
1 and ½ teaspoon garlic powder
1 and ½ teaspoon onion powder
½ teaspoon cayenne pepper
½ teaspoon kosher salt
½ teaspoon freshly ground black pepper
Turkey Sandwiches:
4 slices Rye bread, toasted (can substitute with ciabatta buns, brioche, french bread etc.)
Cranberry BBQ Sauce (recipe above)
Carved leftover turkey slices, re-heated
4 slices Swiss Cheese (can substitute with mozzarella, cheddar, smoked gouda etc.)
1 large tomato, thinly sliced
Romain Lettuce leaves
4 slices crispy bacon (see notes)
Other Options:
Leftover Stuffing
Leftover cranberry sauce
Leftover greens
Optional Toppings:
Instructions
For the Cranberry BBQ Sauce:
Add all of the ingredients to a medium saucepan and stir to combine. Bring to a boil over medium high heat.
Once boiling, reduce the heat to medium low and continue to simmer uncovered for about 20 minutes, stirring occasionally.
Pour sauce into a food processor or blender and blend until completely smooth. Store in an airtight jar and set aside.
Assembly of the Turkey Sandwiches:
Spread the cranberry barbecue sauce over each slice of bread.
Top with turkey and cheese. Place onto a baking sheet and broil in the oven until the cheese is melted.
Remove from oven and top with tomatoes, lettuce and crispy bacon.
If you have any additional leftovers like stuffing, cranberry sauce, greens etc. You can use those in your sandwich instead!
Stick a slice of dill pickle on top of the sandwiches using a toothpick, if desired. Enjoy!
Notes
If you have any leftover cranberry sauce, you could use that instead of making the cranberry BBQ sauce.
I made 2 sandwiches, but you could make as much as you can depending on the amount of ingredients you have.
To get the crispiest bacon, I lined a baking sheet with foil and laid on a few slices of bacon in a single layer. I then baked it in a 375°F oven for about 15 minutes to reach the desired crispiness.
Recommended Products
As an Amazon Associate and member of other affiliate programs, I earn from qualifying purchases.
BON APPÉTIT!
Love, Dedra ❤
DID YOU MAKE A RECIPE?
Follow me on Instagram and use the hashtag #queensleeappetit so I can see all of the Queenslee Appétit recipes you've made!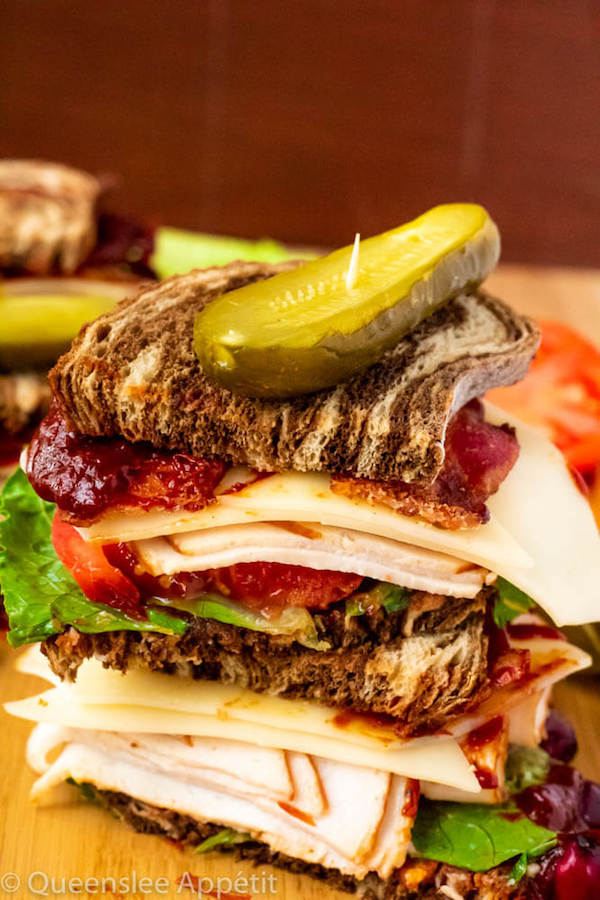 ©QUEENSLEE APPÉTIT. All images & content are copyright protected. Please do not use my images without prior permission. If you want to republish this recipe, please re-write the recipe in your own words, or link back to this post for the recipe.
This post may contain affiliate links. Please see my full disclosure policy for details.