This Key Lime Pie Pudding is sweet, tangy and creamy. Each bite tastes just like a key lime pie! Top this key lime pudding off with whipped cream, crushed graham crackers and a slice of lime for a delightful summer treat!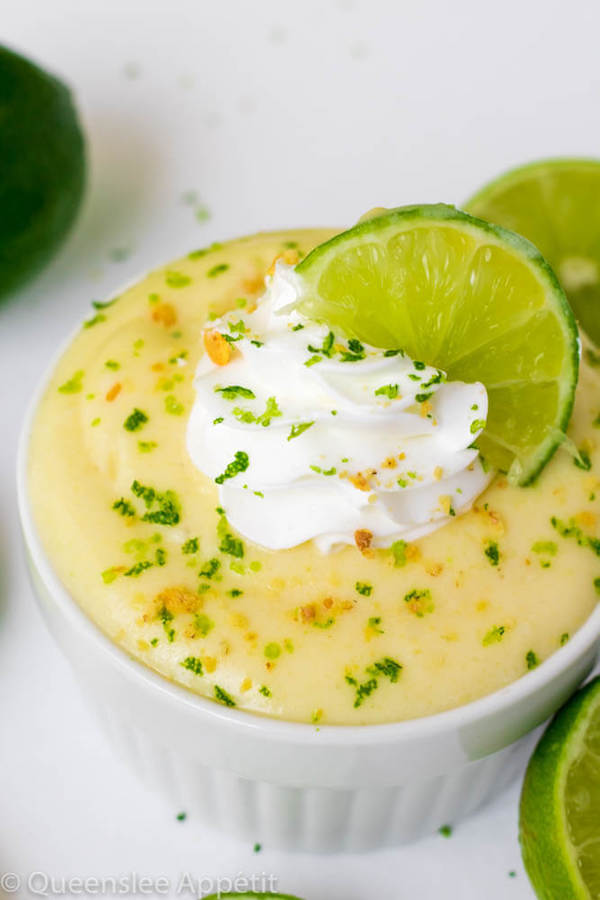 Wow it's been so long since I've shared a homemade pudding recipe. I've really missed coming up with different unique flavours of this classic treat. Since National Key Lime Pie Day is coming up soon, I decided to turn the traditional dessert into a smooth and creamy pudding!
"Key Lime" Pie Pudding
Here's a little secret, even though this is a KEY lime pudding, not a single key lime was used for this recipe. They're so annoyingly tedious to juice and you need to squeeze so many just to get a small amount of juice.
Key limes are also pretty darn expensive and could be a bit hard to find, which is just not worth the trouble to me. Regular limes are easier to juice, you only need a few, and they're more affordable. Win-Win-Win.
Some people say key limes have better tasting juice, but I doubt there's that much of a difference. However, if you prefer to use key limes then go right ahead! This pudding will still be bursting with citrus flavour no matter which kind of lime you use.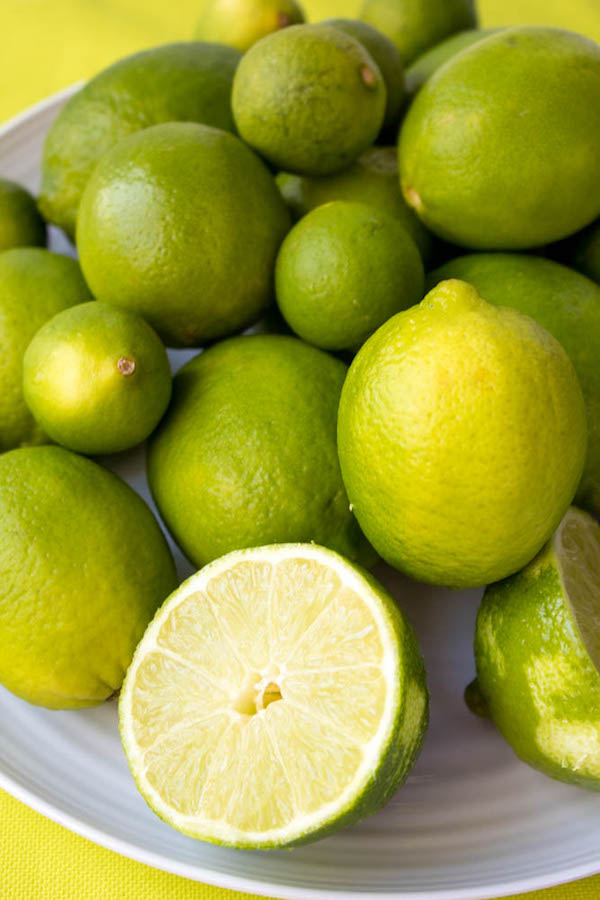 How to make Key Lime Pie Pudding
To make this Key Lime Pie Pudding, we start by combining some milk, heavy cream and lime juice in a liquid measuring cup.
Next, we're gonna mix the sugar, cornstarch, salt and some lime zest in a medium saucepan. I used 5 tablespoons of cornstarch to thicken the pudding, especially since we're gonna be adding more liquid because of the lime juice.
I actually used the regular 2 and ½ cups of milk and ½ cup of heavy cream when making this and the pudding ended up being a bit thin, so the recipe below is a bit different because I cut down the amount of milk to 2 cups so your pudding should end up thicker than mine did.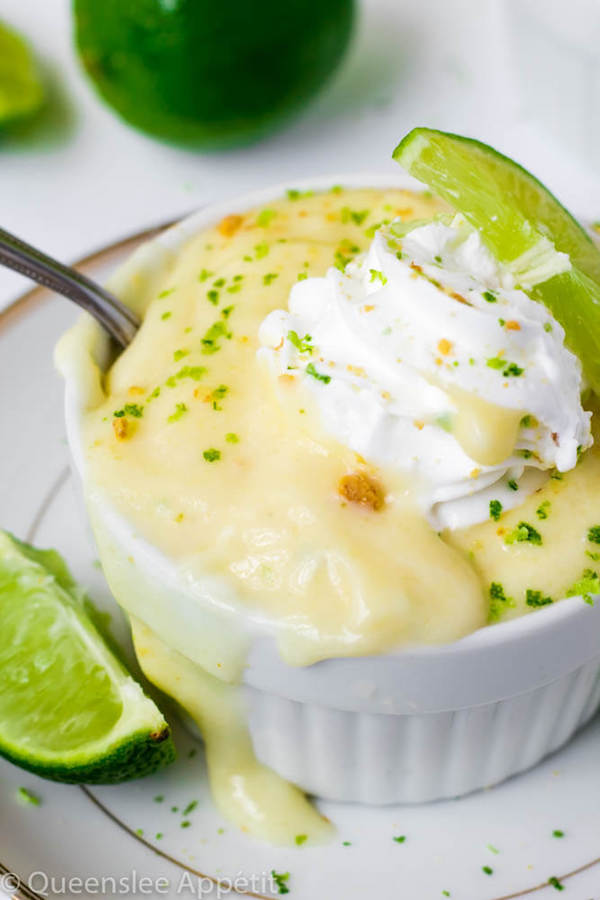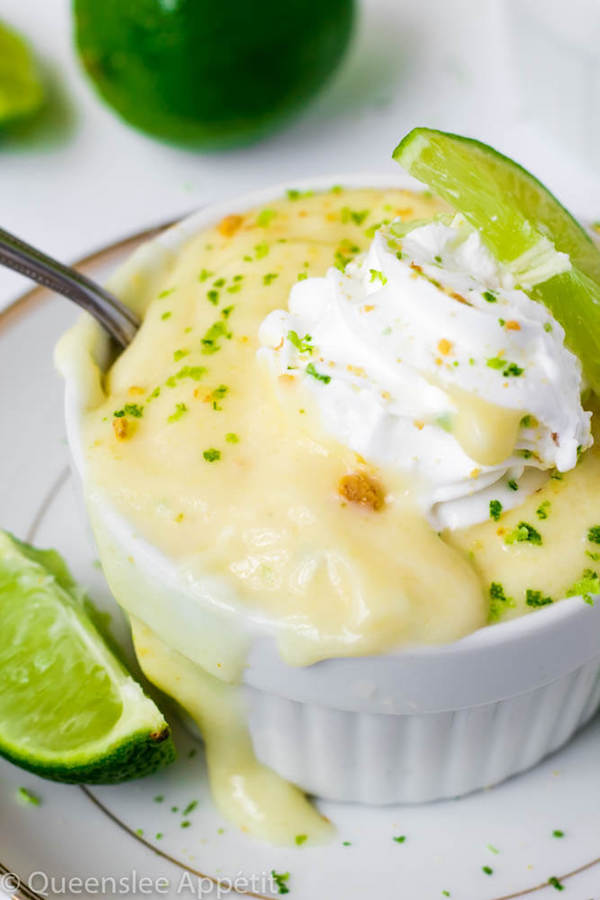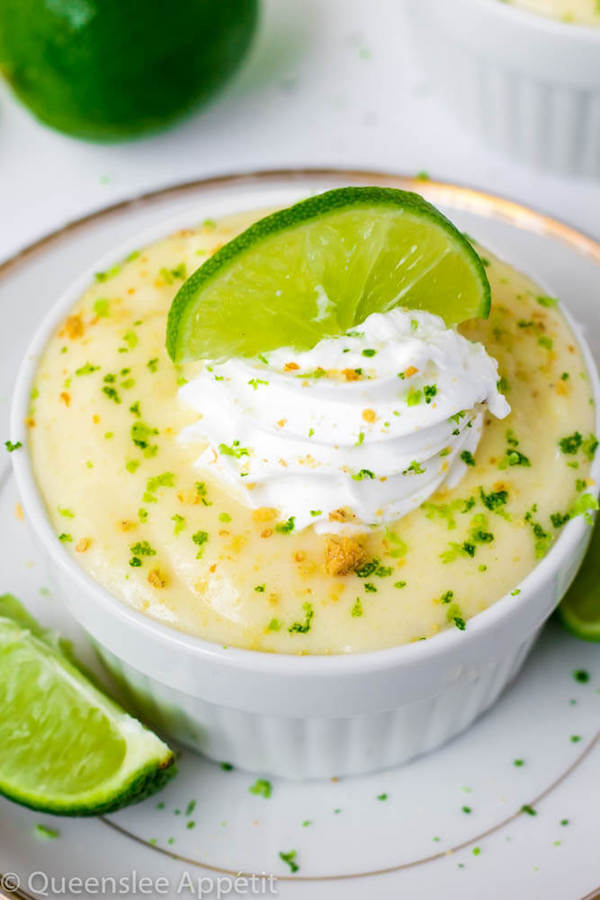 Another thing that will help thicken the pudding is egg yolks. I whisked 4 egg yolks into the sugar/cornstarch mixture until it was smooth. Then I slowly poured in the lime juice/milk mixture while whisking until everything was combined.
Because we aren't tempering the eggs, there's a higher chance that they can curdle. To avoid bits of eggs in your pudding, I recommend whisking constantly while the mixture is cooking so the eggs don't cook.
My pudding recipes usually take about 8-10 minutes to thicken up, but as I mentioned above, I used a lot of liquid so this took a while longer. I increased the time in the recipe to 10-12 minutes, but since you'll be using less liquid than I did, it should thicken up at around 8 minutes.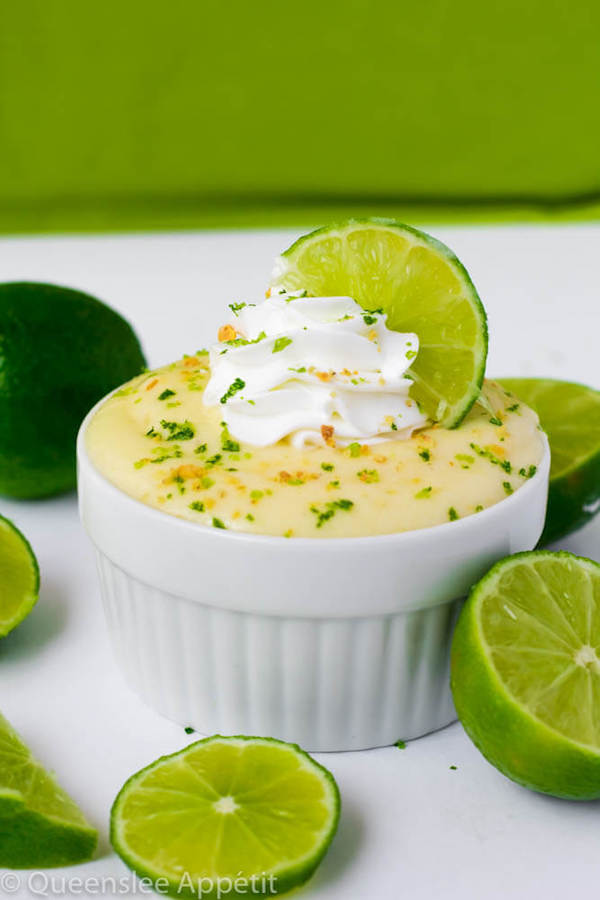 Once the pudding has thickened, you'll want to strain it through a fine mesh strainer to make sure it's smooth and silky. I strained my pudding twice, once right after it was cooked, then again after it was chilled to be 100% sure there were no lumps remaining.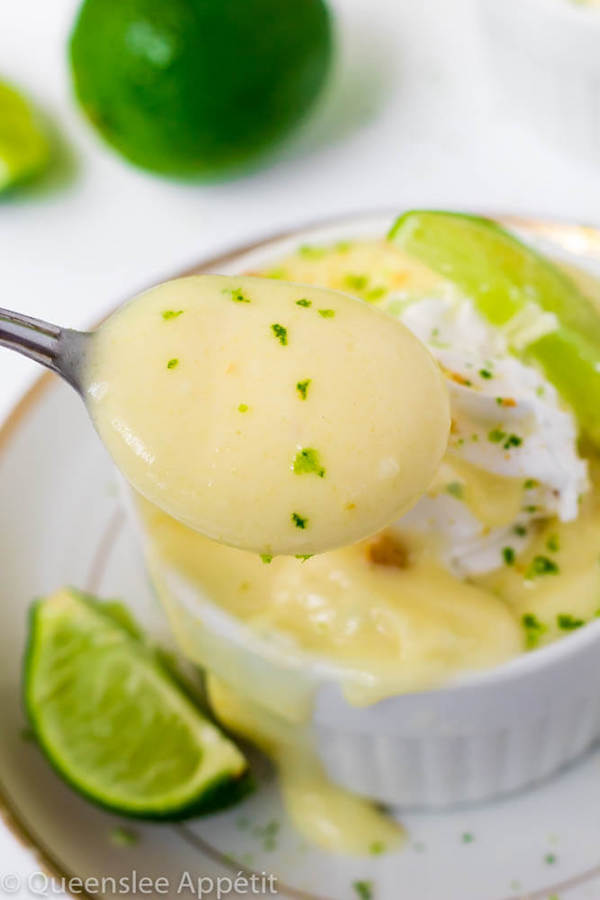 Putting the "Pie" in this Key Lime Pie Pudding
To make this pudding look more like a key lime pie, I garnished it with whipped cream, graham cracker crumbs, lime zest and a slice of lime. You can leave the pudding plain if you like, but aside from making the pudding look prettier, the garnishes add extra flavours and textures and makes this taste even more like a key lime pie.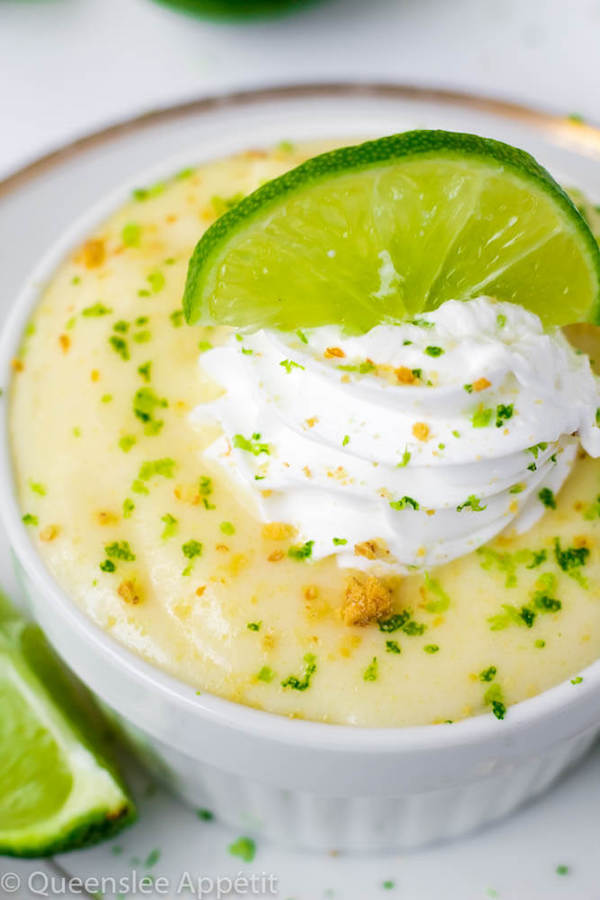 Smooth, creamy and bursting with lime flavour. It's like you took the best Key Lime Pie ever and turned it into the most delicious pudding! Simple to make and full of fun flavours and textures. If you're a fan of key lime pie, this pudding is a must try.
Yeah, that rhymed.
Enjoy!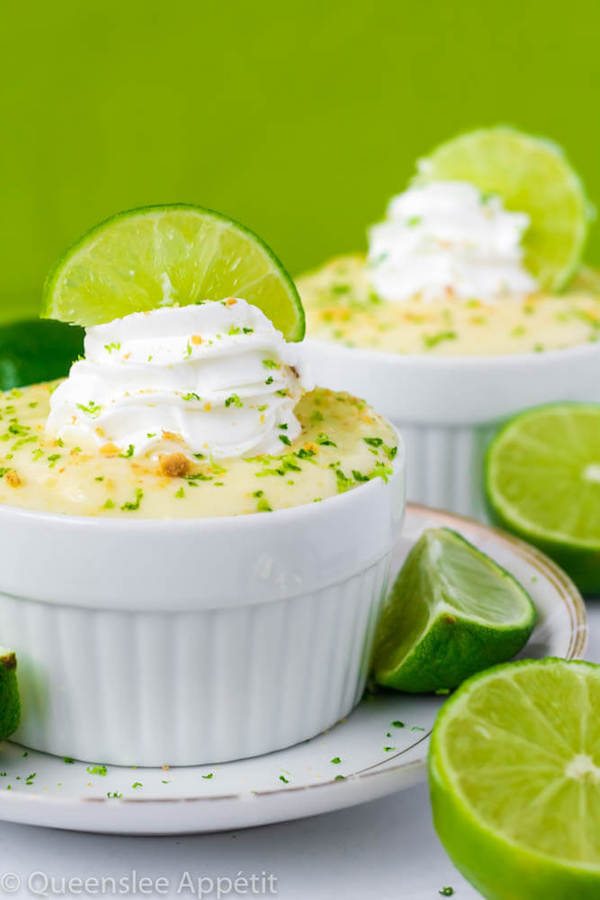 >>PIN ME FOR LATER<<

FOLLOW QUEENSLEE APPÉTIT
Like what you see? Make sure you're following Queenslee Appétit for more tasty recipes!
Pinterest | Instagram | Facebook | Twitter |
Never miss a recipe, SUBSCRIBE at the bottom of this post!
Have any questions about the recipe? Contact me here, and I'll be happy to help!
Let's get baking!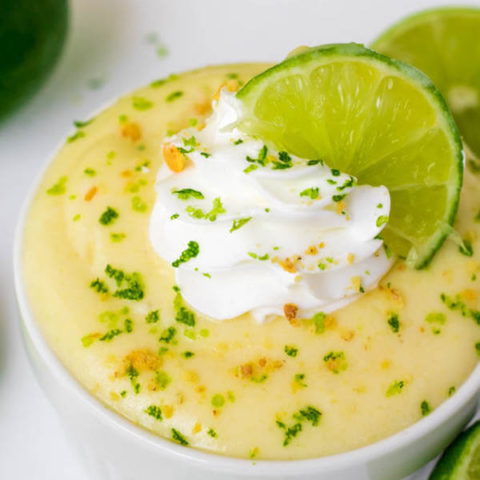 Key Lime Pie Pudding
Total Time:
4 hours
15 minutes
This Key Lime Pie Pudding is sweet, tangy and creamy. Each bite tastes just like a key lime pie!
Ingredients
Key Lime Pudding:
2 cups whole milk
½ cup heavy whipping cream
⅔ cup lime juice (about 5-6 limes, or 12-16 key limes)
⅔ cup granulated sugar
4-5 tablespoon cornstarch (depending on how thick you like your pudding)
¼ teaspoon salt
1 tablespoon finely grated lime zest
4 large egg yolks
4 tablespoons unsalted butter, cut into pieces
Optional Garnishes:
Whipped cream
Lime slices
Lime zest
Graham cracker crumbs
Instructions
In a liquid measuring cup, combine the milk, heavy cream and lime juice. Set aside.
Add sugar, cornstarch, salt and lime zest to a medium saucepan and whisk together. Add the egg yolks and whisk until completely combined and smooth.
Slowly pour the milk/lime mixture into the saucepan while whisking constantly until combined and smooth.
Place saucepan on the stove and heat on medium heat and cook, stirring constantly until the mixture is thickened and begins to boil, 10-12 minutes. Mixture should coat the back of a spoon. Allow to boil for an additional 30 seconds.
Remove from heat and add butter. Whisk until melted and smooth. Strain pudding through a fine mesh sieve into a bowl.
Divide pudding into individual serving cups and cover each with plastic wrap, placing the plastic directly on top of the pudding so it doesn't form a skin while cooling. Chill in the refrigerator for 4 hours or overnight.
Top puddings with whipped cream, lime zest, graham cracker crumbs, and a lime slice. Serve and enjoy!
BON APPÉTIT!
Love, Dedra
Did you make a recipe? I'd love to see how it turned out! Follow me on Instagram and use the hashtag #queensleeappetit so I can see all of the Queenslee Appétit recipes you've made!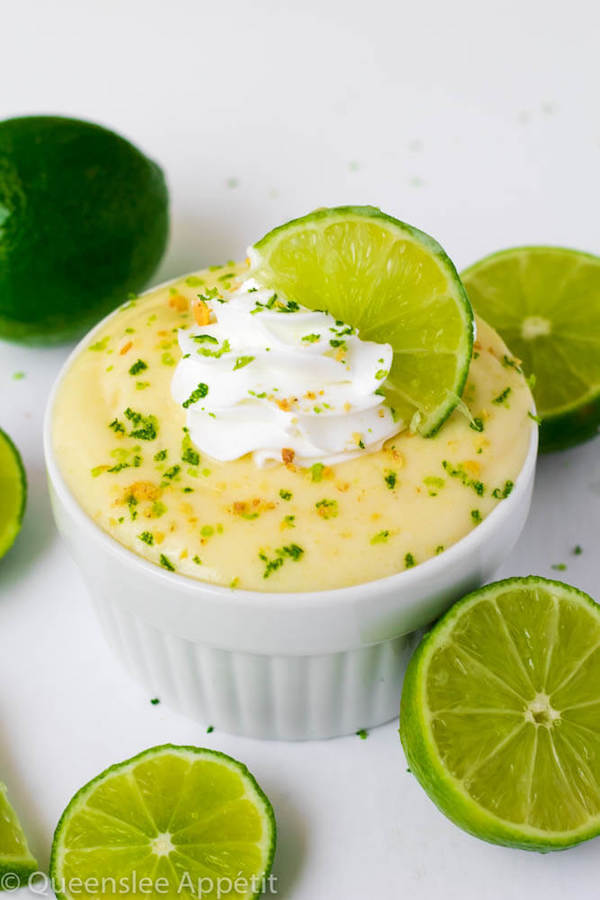 More Key Lime Pie Recipes You'll Love!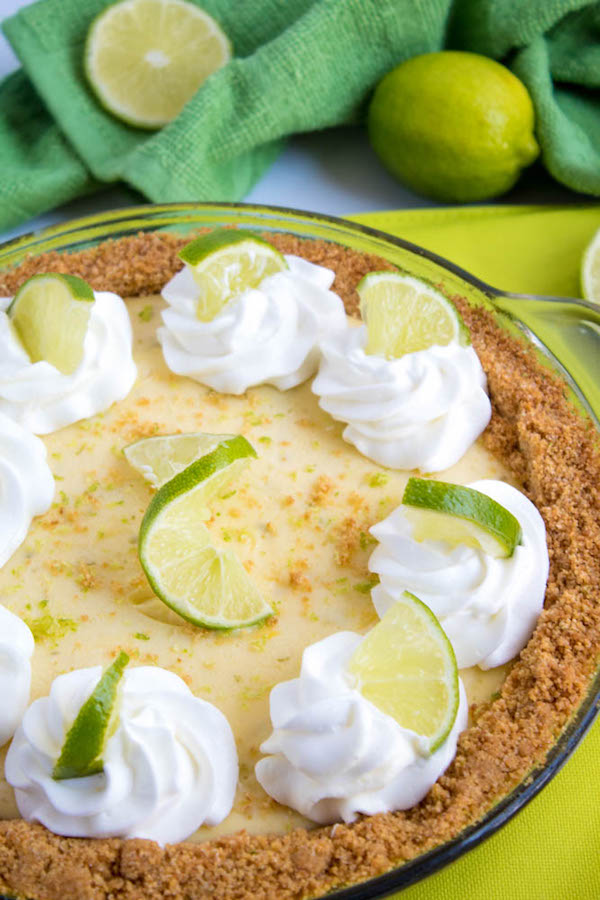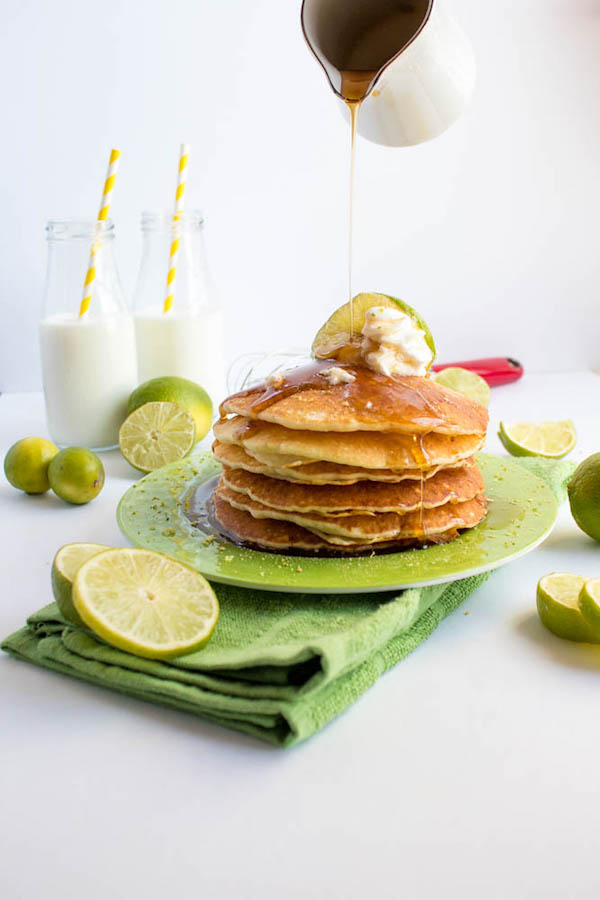 ©QUEENSLEE APPÉTIT. All images & content are copyright protected. Please do not use my images without prior permission. If you want to republish this recipe, please re-write the recipe in your own words, or link back to this post for the recipe.
This post may contain affiliate links. Please see my full disclosure policy for details.