This Malted Easter Egg Milk Chocolate Cheesecake will blow your mind! A thick and creamy malted milk chocolate cheesecake loaded with mini chocolate Easter eggs. Top with a rich malted milk chocolate mousse and loads of Easter candies and you've got the perfect Easter dessert!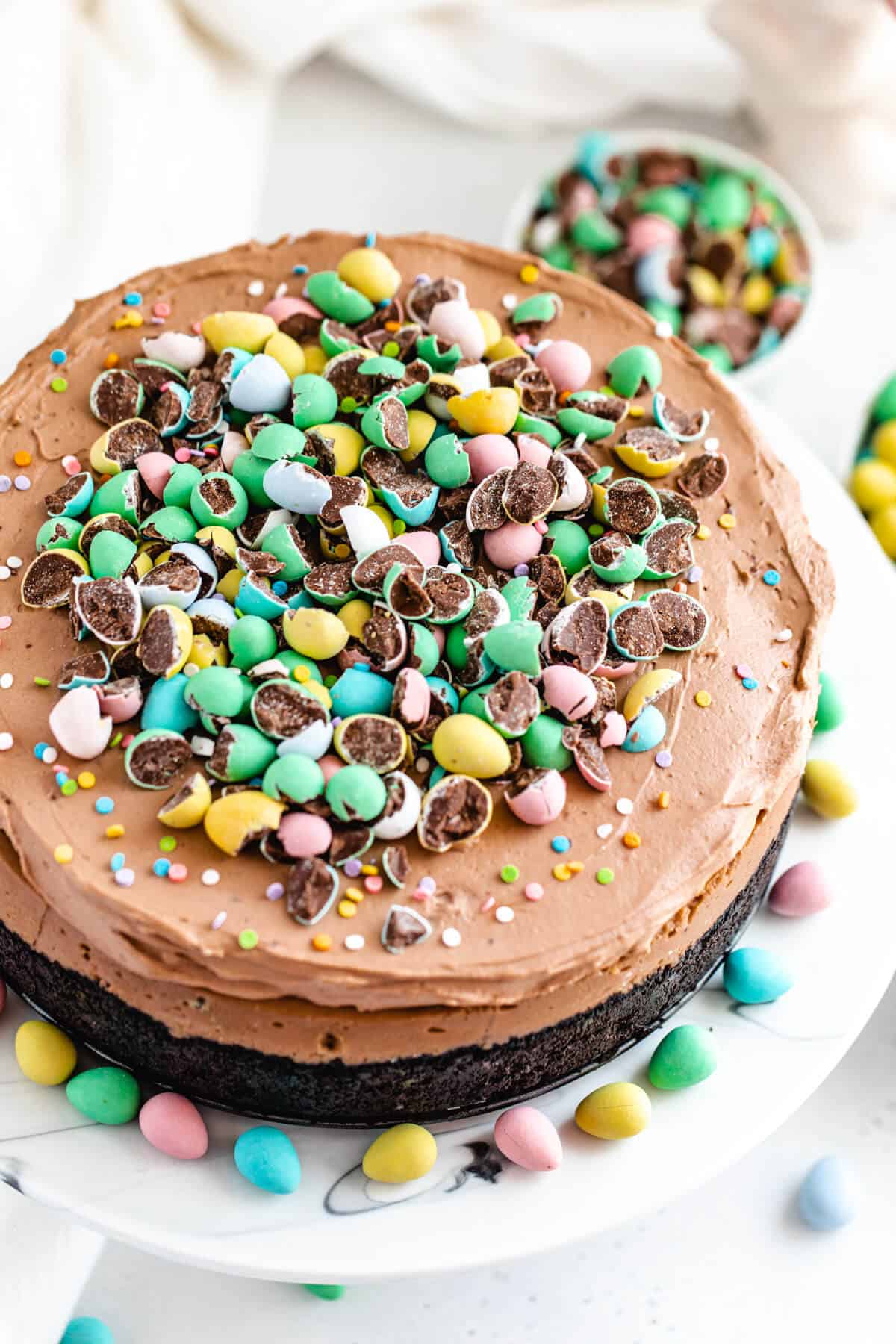 This post may contain affiliate links. As an Amazon Associate I earn from qualifying purchases. Please see my full disclosure policy for details.
*Post/Photos/Recipe Updated 03/18/2020*
How many mini chocolate eggs is too many mini chocolate eggs? Honestly, because I think I'm about to explode after eating mountains and mountains of them inside and outside of a dessert.
I bought a GIANT bag of mini chocolate eggs because I planned on making at least 2 or 3 Easter themed desserts with them and wanted to have enough. And I definitely did.
I made these Malted Easter Egg Milk Chocolate Fudge Brownies with them and still had plenty left. Then after making a few mini egg treats for friends and family, I decided to throw some into and on top of this cheesecake and I still have a ton of mini eggs left. It's insane!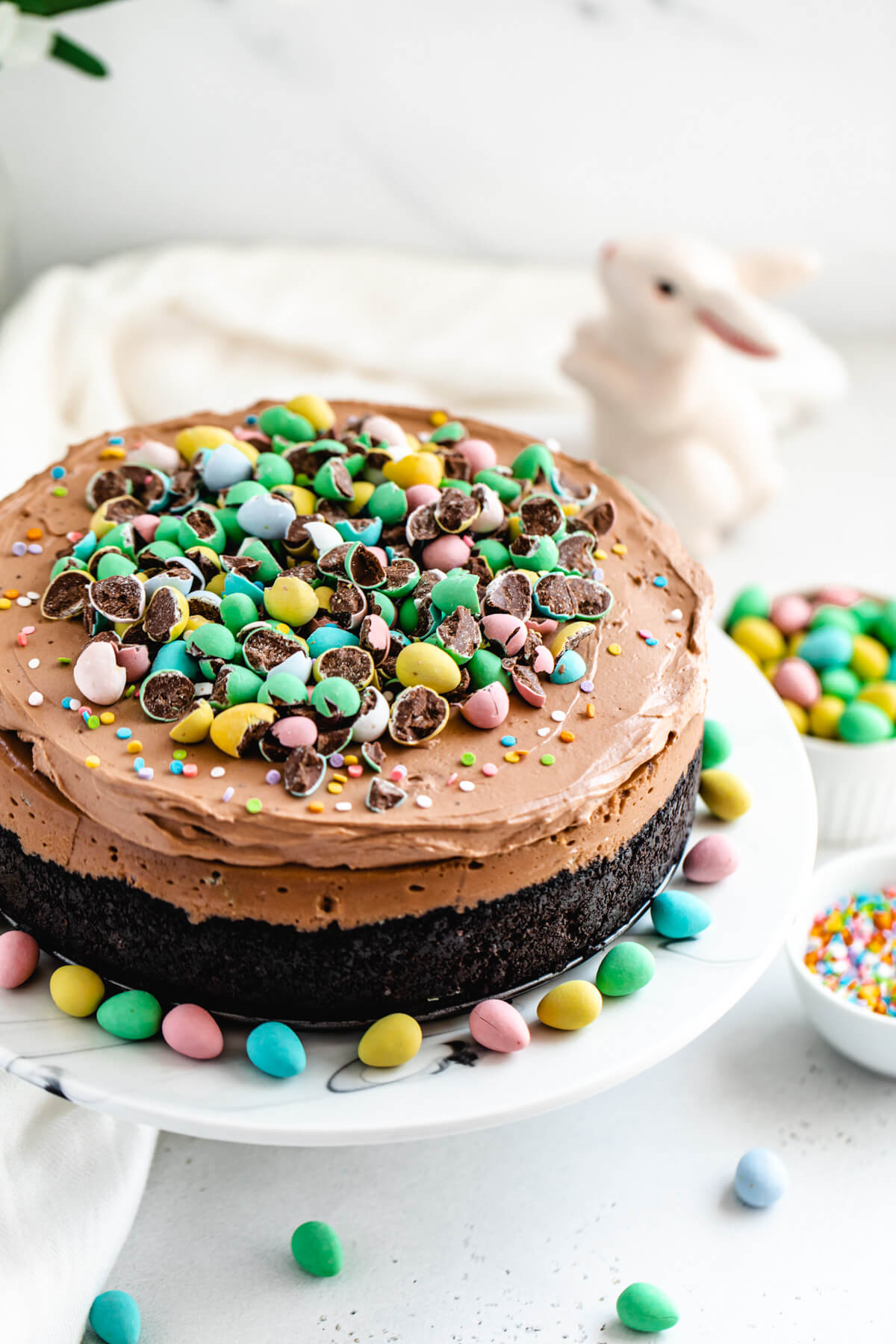 MALTED EASTER EGG MILK CHOCOLATE CHEESECAKE
Alright enough about me drowning in mini eggs, let's talk about this decadent cheesecake! I originally planned on making a mini chocolate egg cake, but then I got an insane 4 cakes in 3 days order, so the thought of making another cake sounded like the worst thing ever.
Although I do have another cake recipe coming that I still need to make and share, sigh.
Until then, have some cheesecake!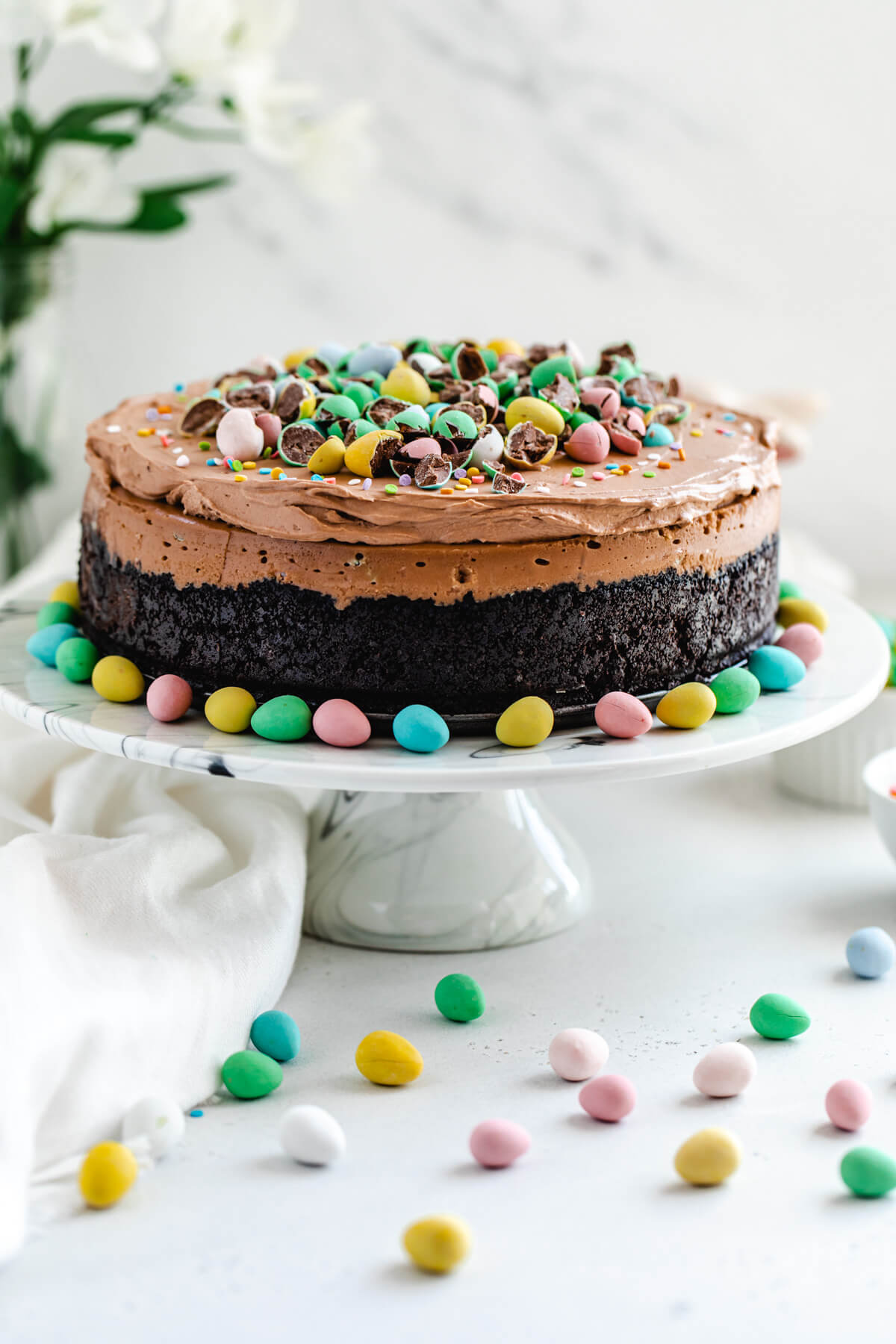 This Malted Easter Egg Milk Chocolate Cheesecake is pure chocolate heaven! From the chocolate crust, to the chocolate cheesecake that's loaded with more chocolate, topped with chocolate mousse and even MORE chocolate candies!
Fellow chocolate lovers, you know when you see something super chocolatey and you gasp, freeze and stare for like an hour before devouring it? Yeah, that's pretty much the type of reaction this cheesecake gives people.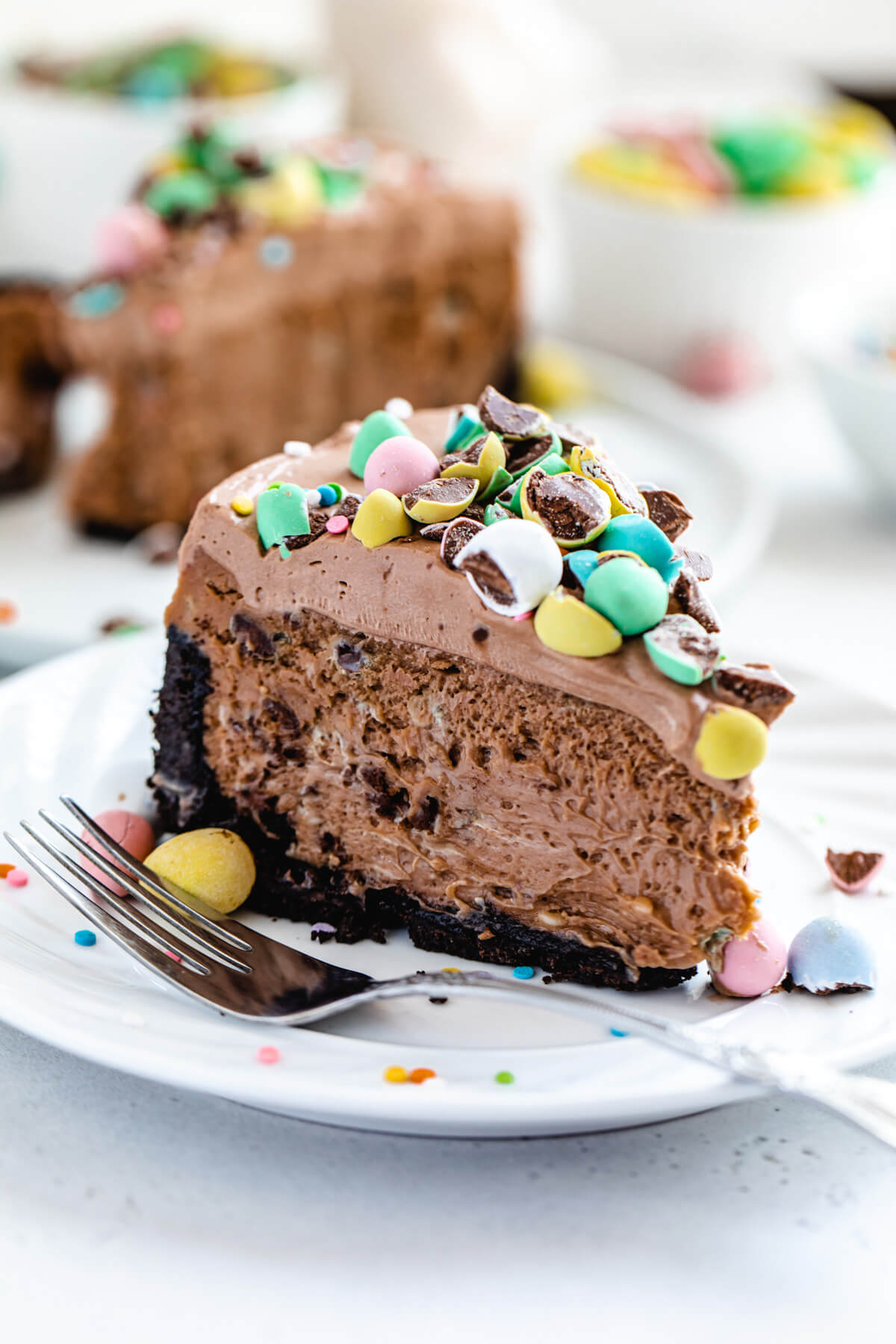 3 Parts to this Cheesecake
Oreo Crust: your simple cookie crust made with Oreos and melted butter. I upped the amount of Oreo crumbs to 3 cups instead of 2 so the crust can cover the sides.

Malted Milk Chocolate Cheesecake: I adapted this from my Chocolate Lovers Cheesecake recipe and replaced the dark chocolate with milk chocolate and the cocoa with chocolate malt powder. Did I mention there's loads of chopped mini chocolate eggs inside?
Malted Milk Chocolate Mousse: only 4 ingredients are used and none of them are eggs or gelatin! Combine a malt milk chocolate ganache with homemade whipped cream for a simplified chocolate mousse!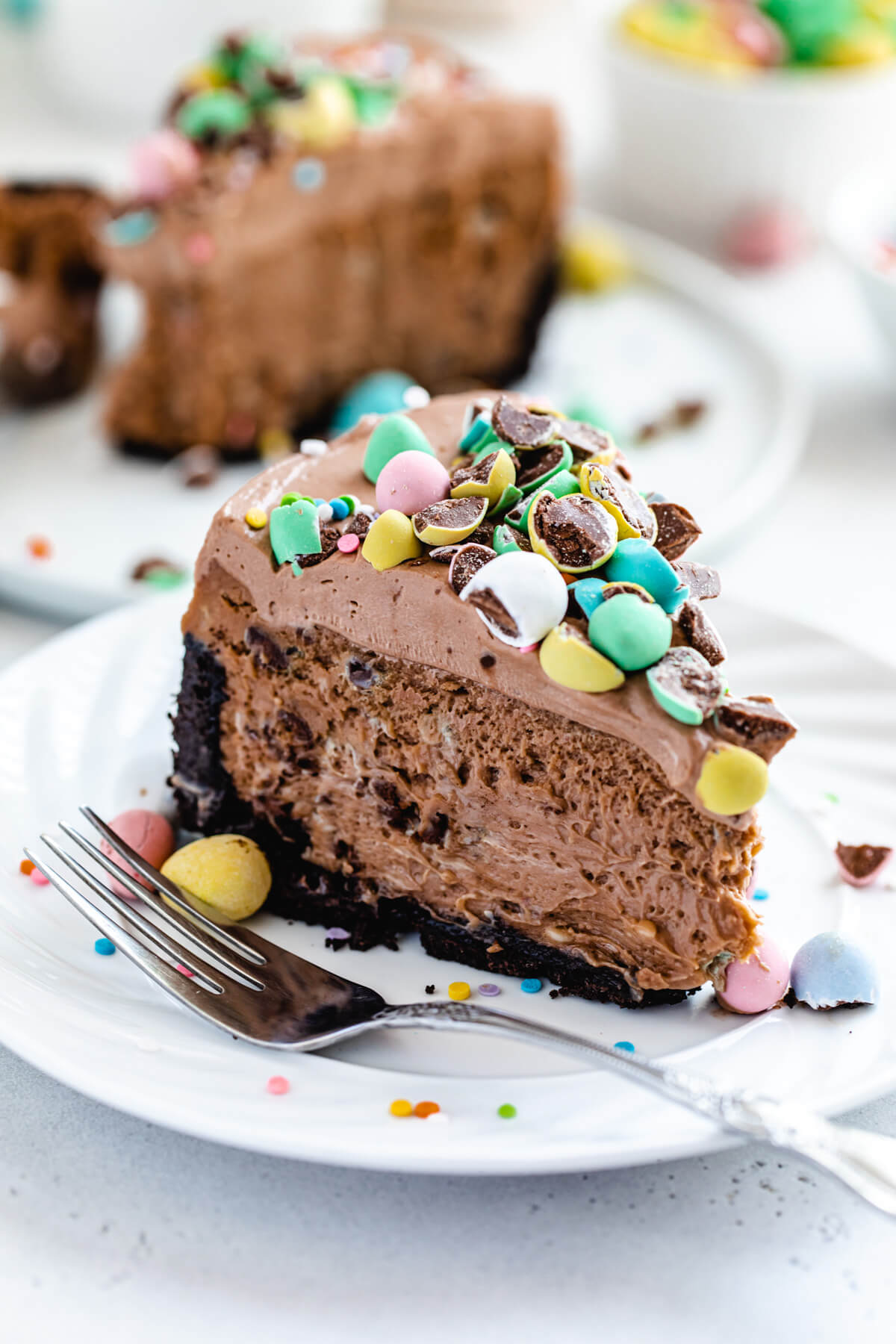 MALTED MILK CHOCOLATE CHEESECAKE
For some reason when I think of mini eggs, I think of chocolate malt powder and when I think of chocolate malt powder, I think of milk chocolate because milk chocolate and malt powder make a strangely delicious flavour combo.
So after pre-baking my Oreo crust, I prepared a malted milk chocolate cheesecake filling! This recipe was adapted from my Chocolate Lovers Cheesecake recipe. I simply changed around some ingredients to make this malted milk chocolate flavour.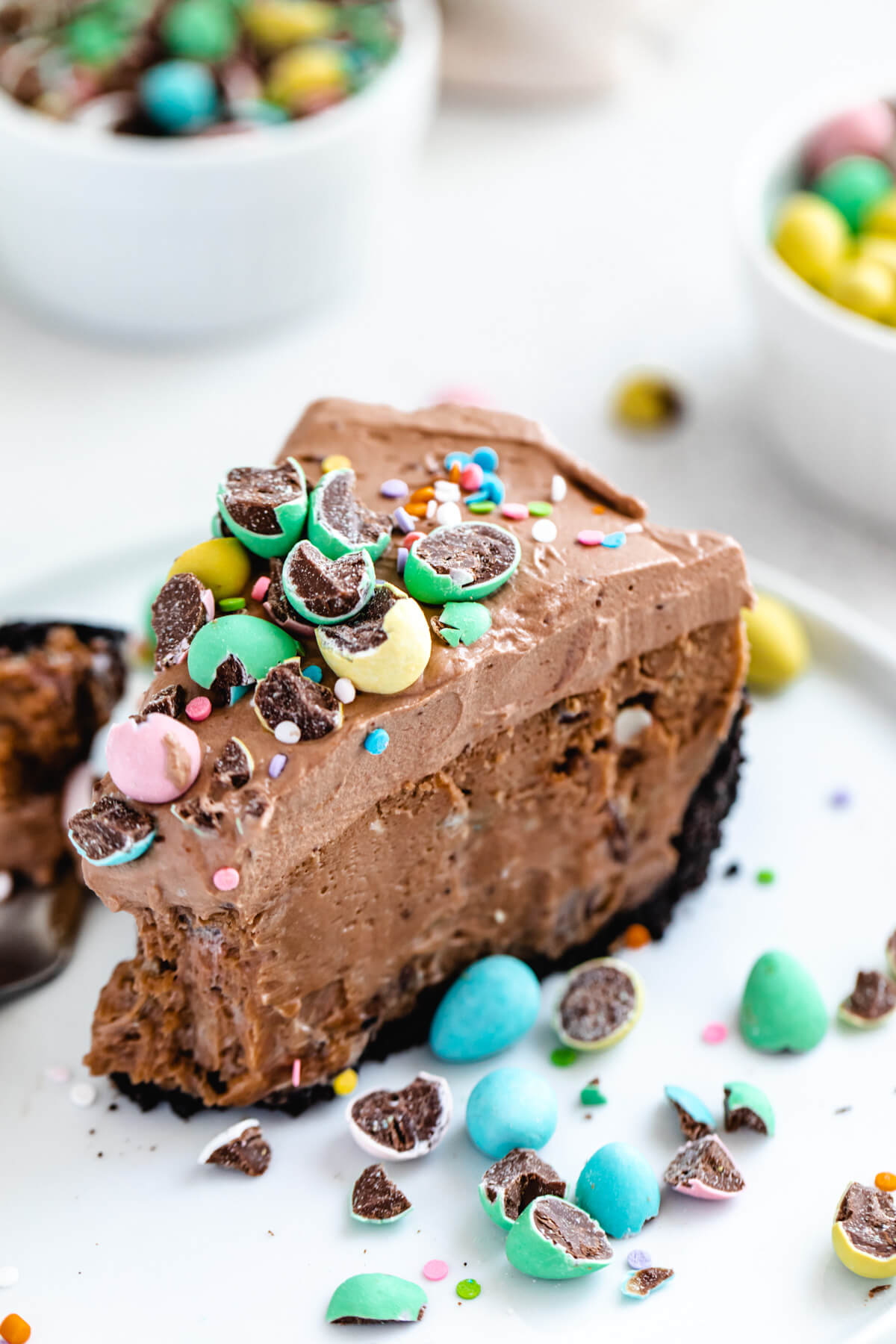 To start, I melted down 10 ounces of Belgian milk chocolate. I recommend using the best quality chocolate you could find, only use chocolate chips if that's all you've got. The better the chocolate tastes, the better the cheesecake will taste.
While the chocolate is cooling, whip up the cheesecake batter as normal: beat the cream cheese, add sugar, cornstarch etc. In my chocolate cheesecake recipe I added a bit of cocoa powder, but this time I replaced the cocoa with a chocolate malt powder to add the malt flavour.
Once the silky chocolatey cheesecake batter has been made, we're gonna throw in some chopped mini chocolate eggs. I'm sad that you can't really see them in the sliced cheesecake pics because I added quite a bit in there. But trust me, the added chocolate pieces in every bite of creamy chocolate cheesecake is truly unbeatable!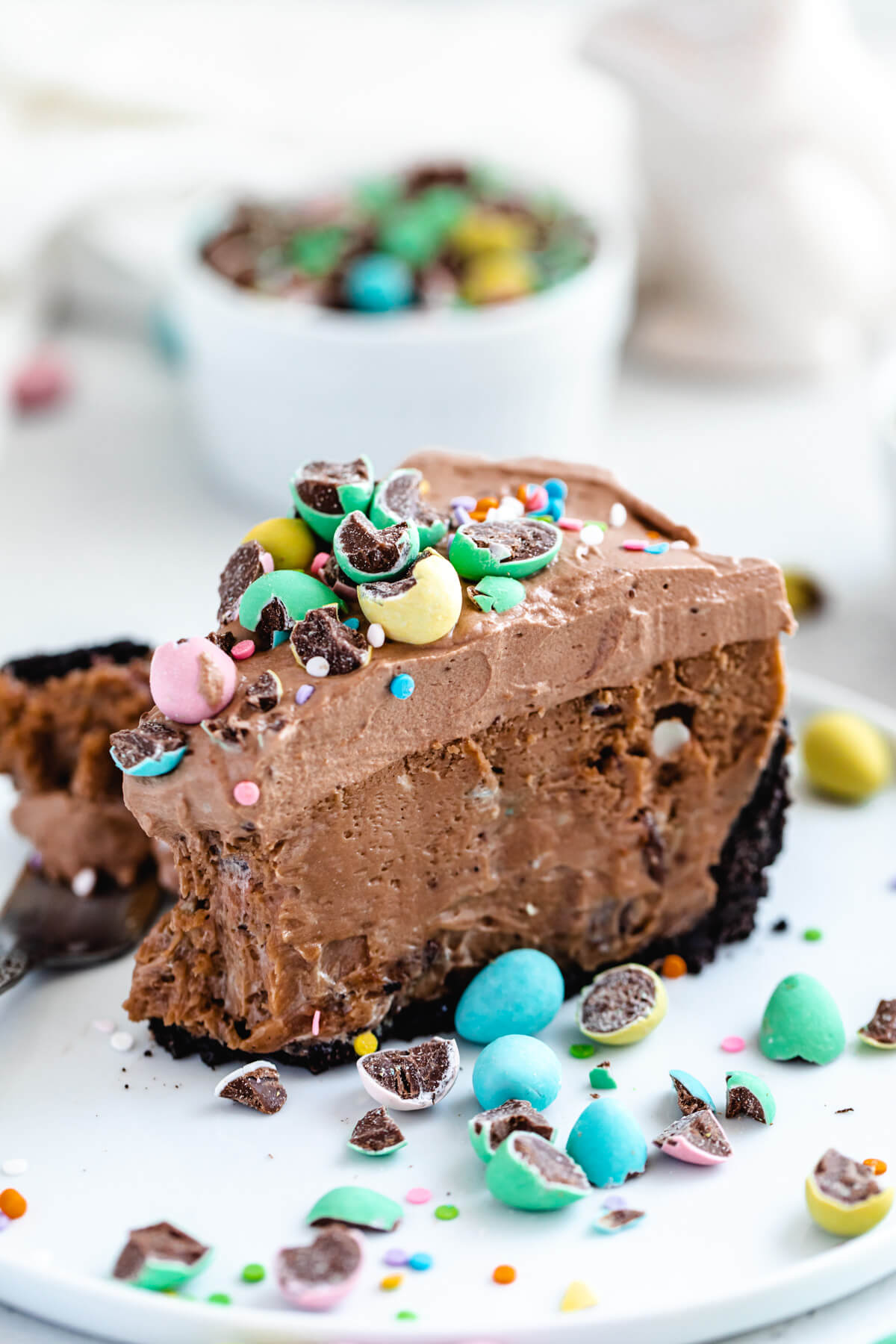 PREVENTING WATERBATH LEAKS
Although we are covering the top of the cheesecake, I still recommend baking it in a waterbath. Not only do waterbaths prevent cracking, they also keep the cheesecake creamy and stop it from drying out.
My new favourite method for preventing waterbath leaks is to put my springform pan into a slightly larger round pot, then put that pot into an even bigger pan where I pour the boiling water. Alternatively, you could buy a leak-proof springform pan or a large sheet of heavy duty aluminum foil.
With the aluminum foil, I used to always do the method where you would take 2 long sheets and form a cross etc. But that never worked because the water always found a way to leak inside. So you're better off using a sheet of aluminum foil that's large enough to wrap around the whole pan so there's no crevices the water could leak through.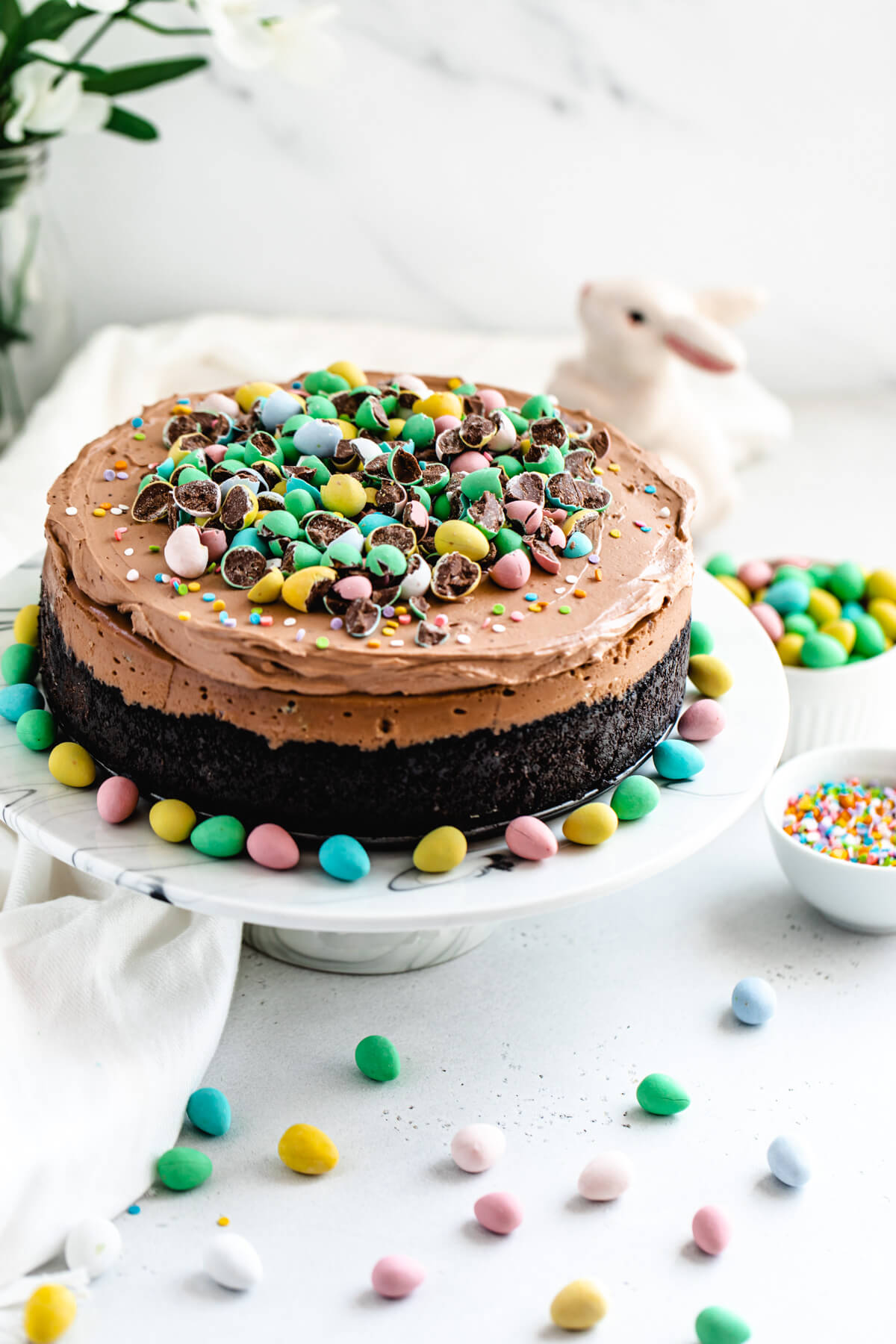 MALTED CHOCOLATE MOUSSE TOPPING
Once the cheesecake has baked, allow it to cool to room temperature, then transfer it to the refrigerator to begin chilling while you prepare the malted chocolate mousse topping. This needs to be made ahead of time so it can chill and firm up with the cheesecake.
Making the mousse is beyond easy. You only need 4 ingredients: chocolate, malt powder, heavy cream and powdered sugar. I used milk chocolate, but you can easily swap that out for semisweet or dark chocolate if you don't want the mousse to be too sweet.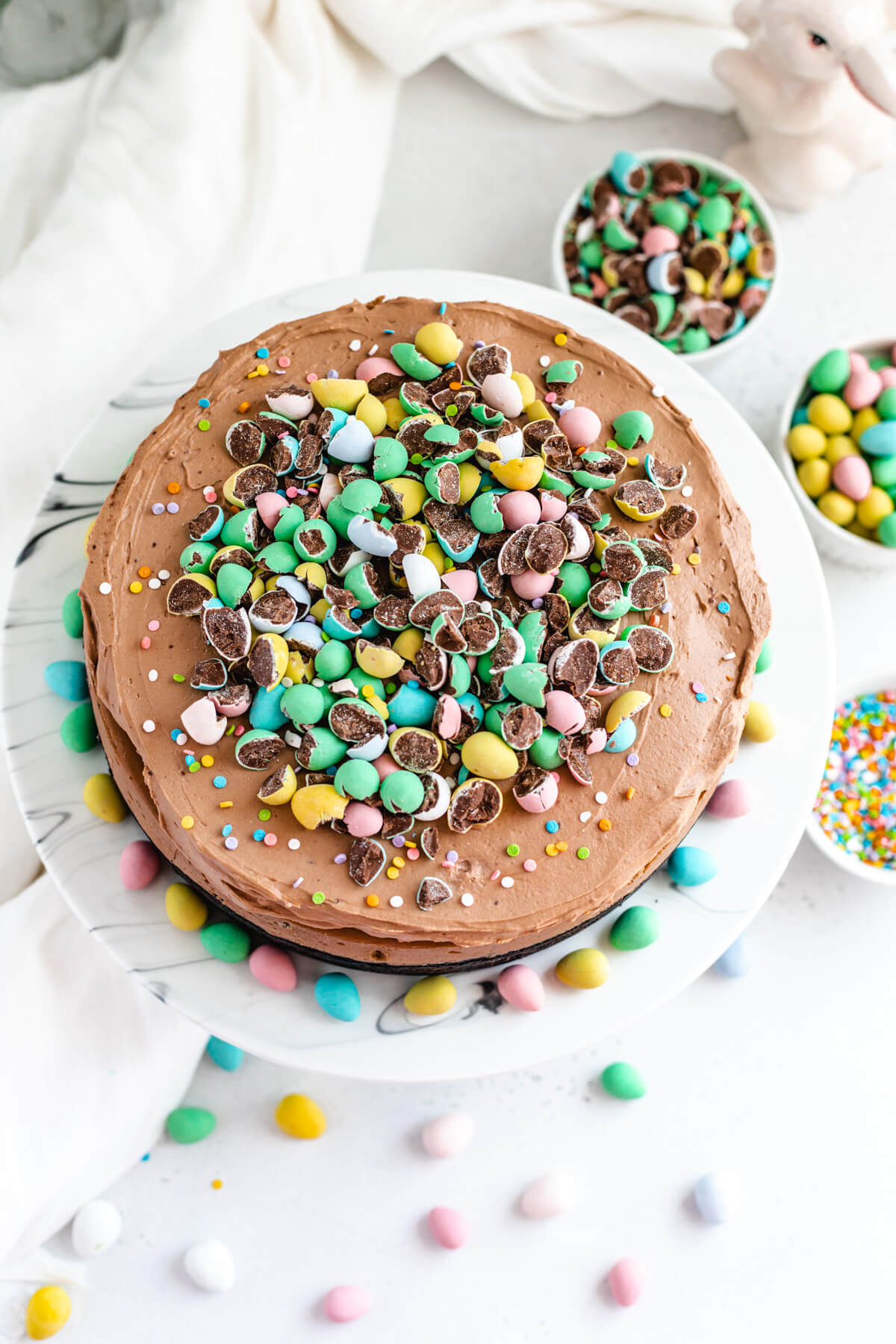 To make the mousse, I started by creating a malt chocolate ganache by combining the chocolate malt powder with some of the heavy cream and heating them together in a saucepan until the powder dissolved. Pretty much the way you make Ovaltine. Then I poured the malted heavy cream mixture over the chocolate and stirred until a silky smooth ganache was formed.
Allow that to cool completely, then whip up the rest of heavy cream with the powdered sugar and slowly fold the whipped cream into the malt chocolate ganache and you've got mousse!
When I first made this cheesecake, I immediately poured the mousse onto the cheesecake and let them both set overnight. This time I left the mousse in the bowl and let it chill separately. Then the next day, I spread that fluffy goodness onto the cheesecake. I gotta say, in terms of appearance, I love this method so much more!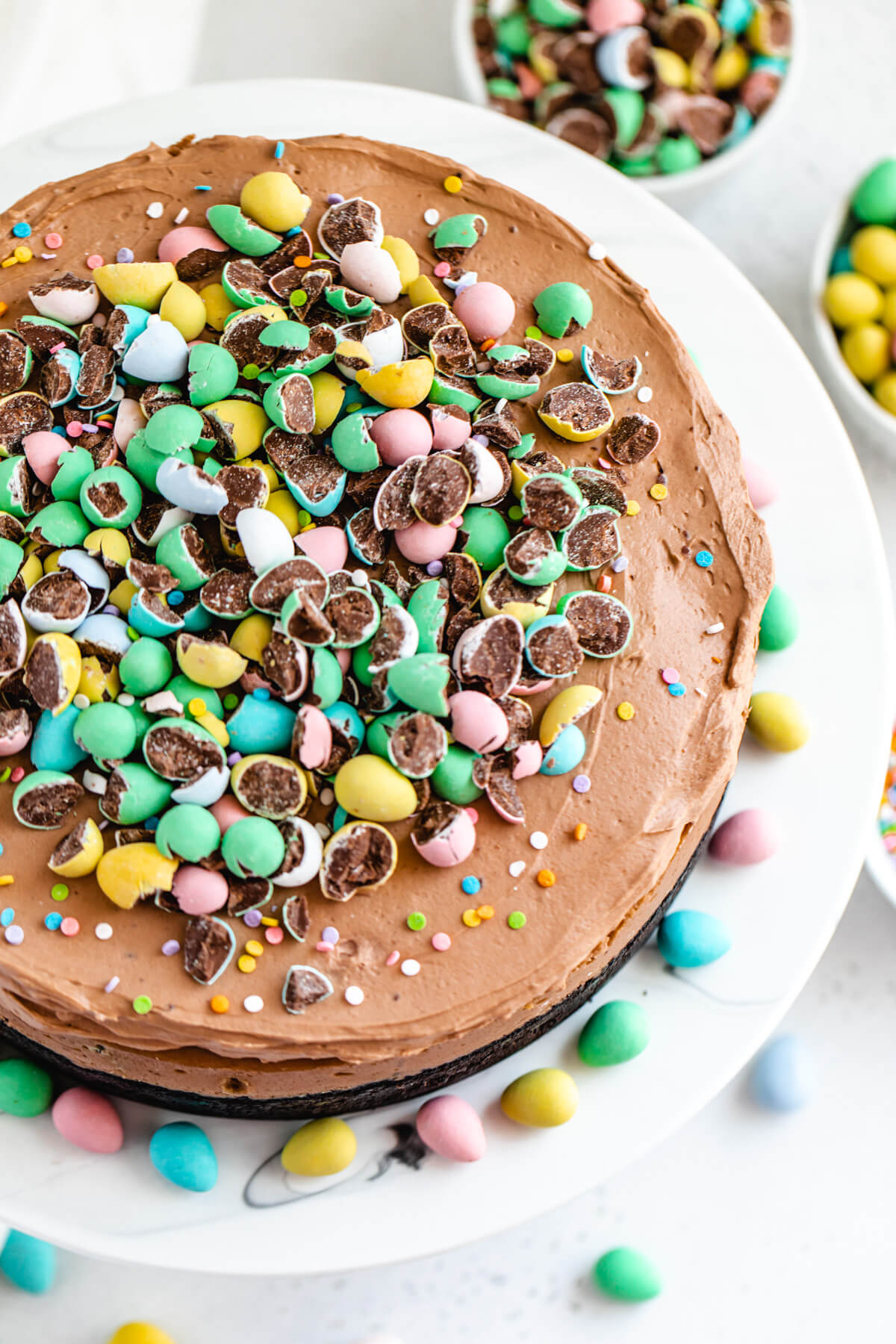 The next day, remove the cheesecake from the refrigerator and pile on a bunch of chopped mini eggs, sprinkles and other fun Easter treats you prefer!
P.S. there's a mini version of this decadent delight coming soon! Stay tuned ❤️
You May Also Like
Malted Milk Chocolate Easter Egg Fudge Brownies
>>PIN THIS FOR LATER<<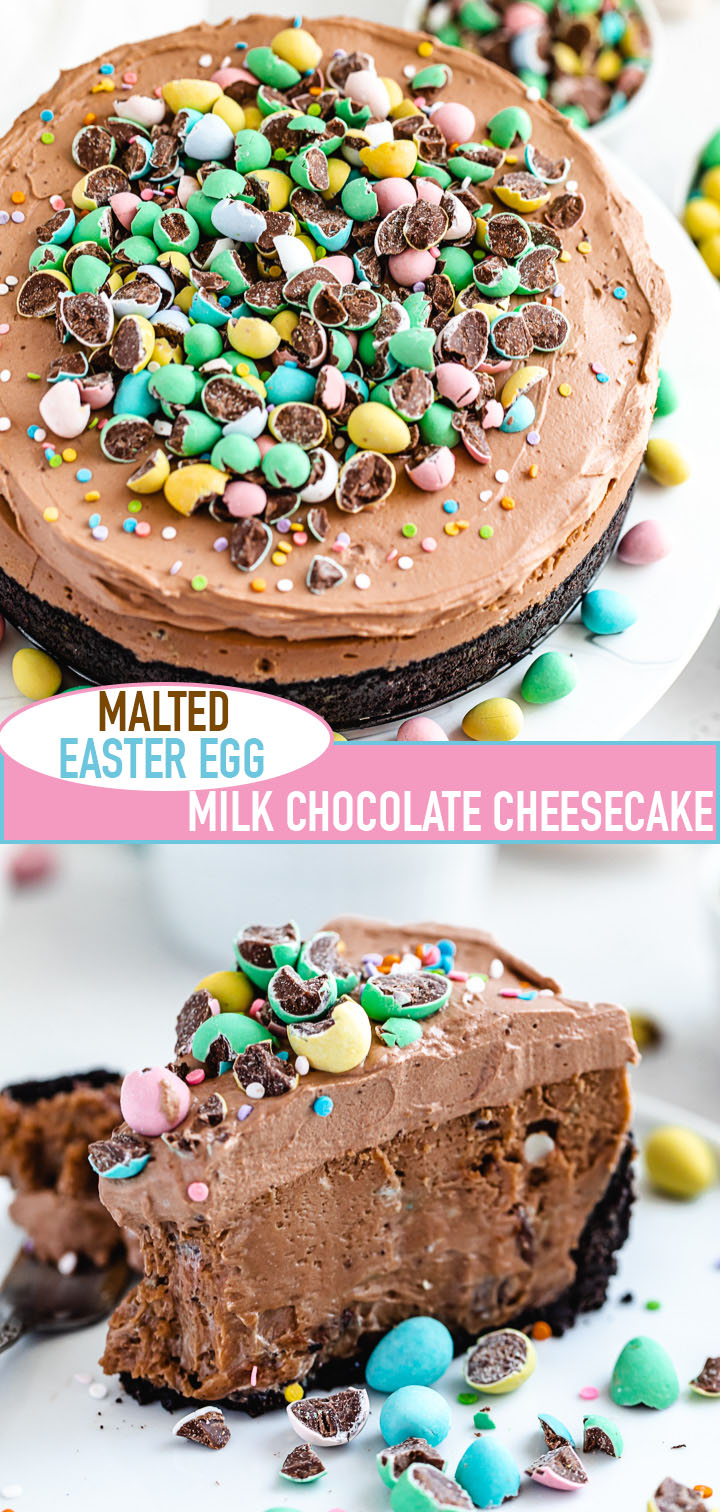 FOLLOW QUEENSLEE APPÉTIT
Like what you see? Make sure you're following Queenslee Appétit for more tasty recipes!
Pinterest | Instagram | Facebook | Twitter |
Have any questions about the recipe? Contact me here, and I'll be happy to help!
SHARE YOUR PICS!
Tag me on Instagram @queensleeappetit or use the hashtag #queensleeappetit so I could see your gorgeous creations!
SWEETEN UP YOUR INBOX!
SUBSCRIBE to the Queenslee Appétit Newsletter to recieve new recipe notifications, monthly baking tips, sneak peeks to upcoming recipes, exclusive recipes and more!
Let's get baking!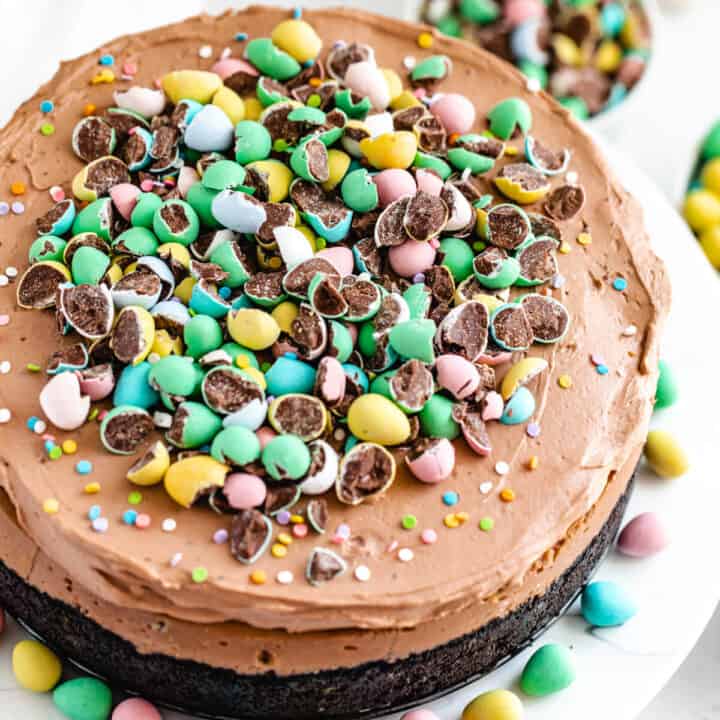 Malted Easter Egg Milk Chocolate Cheesecake
Cook Time:
1 hour
35 minutes
Total Time:
2 hours
5 minutes
This Malted Easter Egg Milk Chocolate Cheesecake will blow your mind! A thick and creamy malted milk chocolate cheesecake loaded with mini chocolate Easter eggs. Top with a rich malted milk chocolate mousse and loads of Easter candies and you've got the perfect Easter dessert!
Ingredients
Crust:
3 cups Oreo crumbs (about 36 whole Oreos)
6 tablespoon unsalted butter, melted
Malted Milk Chocolate Cheesecake:
10 oz. good-quality milk chocolate, melted and cooled
3 (8 ounce) packages (24 oz) cream cheese, room temperature
1 cup granulated sugar
1 tablespoon cornstarch (or 3 tablespoon all purpose flour)
¼ cup chocolate malt powder
1 cup sour cream, room temperature
1 teaspoon pure vanilla extract
3 large eggs, room temperature
1 large egg yolk
1 and ½ cups mini chocolate eggs, chopped
Malted Milk Chocolate Mousse:
6 oz. milk or semisweet chocolate, chopped
¼ cup chocolate malt powder
1 and ½ cups heavy cream, divided
¼ cup powdered sugar
Topping:
Mini chocolate eggs
Confetti sprinkles
Instructions
For the Crust:
Preheat the oven to 325°F (163°C). Make sure the rack is positioned in the centre of the oven. Grease sides of one 9-inch springform pan with butter or non-stick spray and line the bottom with parchment rounds.
In a food processor or using a rolling pin and a large Ziploc bag, crush Oreo cookies into fine crumbs.
In a medium bowl, mix together the cookie crumbs and melted butter.
Transfer mixture to the greased 9-inch springform pan and, using the flat bottom of a glass or measuring cup, press into the bottom and up the sides of the pan.
Bake the crust until its slightly darkened, 8-10 minutes. Remove from oven and reduce the oven temperature to 300°F.
Take 1 extra large piece of aluminum foil that's bigger than your springform pan. Place springform pan in the centre and fold aluminum up to the sides to cover the outside of the pan. This ensures that no water seeps into the pan during the water bath. Alternatively, I placed my pan in a slightly larger pot to completely protect my crust from the water.
For the Malted Milk Chocolate Cheesecake:
Put chocolate in a heat-safe bowl and heat in the microwave for 30 second intervals, stirring after each interval until chocolate is completely melted and smooth. Set aside to cool.
In the bowl of an electric mixer fitted with the paddle attachment, or in a large bowl using a handheld mixer, beat the cream cheese on low speed until creamy, about 2-3 minutes.
Scrape down the sides of the bowl and add sugar, cornstarch and malt powder. Beat on low until smooth and combined.
Add the sour cream and vanilla. Continue beating until smooth. Add melted chocolate and mix on low speed to combine.
Add eggs and yolk one at a time, beating slowly until just combined, do not overbeat.
Scrape sides and bottom of the bowl with a rubber spatula to make sure everything is combined. Fold in chopped mini eggs.
Pour the cheesecake onto the cooled crust and place into a larger pan.
Bring a few cups of water to a boil and carefully pour into the larger pan. The water should only be a few inches up the sides of the pan. Do not go over the top.
Bake at 300°F for about 1 hour and 25-30 minutes. The cheesecake is done when the edges are set and the center jiggles just slightly.
Turn off oven and leave the cheesecake inside to cool for 30 minutes. After 30 minutes, crack the door open and continue cooling the cheesecake for another 30 minutes. This slow cooling process helps prevent cracking.
After an hour, remove cheesecake from waterbath and aluminum foil. Run a knife around the edge of the pan so it's not sticking to the sides and allow to cool completely on a rack.
For the Malted Chocolate Mousse:
Place chocolate in a medium bowl. Set aside.
Heat ½ cup of heavy cream and malt powder in a small saucepan, stirring constantly until the malt powder dissolves and mixture just begins to simmer.
Remove hot malt/cream mixture from heat then pour it over the chocolate, and stir until smooth. Cover the bowl and transfer to the refrigerator to cool down, stirring occasionally for about 30 minutes.
Whip 1 cup of heavy cream and powdered sugar in a stand mixer fitted with a whisk attachment, or in a large stainless steel mixing bowl using a hand mixer, on high speed until it reaches stiff peaks, about 4-5 minutes.
Stir the malt ganache to loosen. Use a rubber spatula to gently fold the whipped cream into the ganache, about ⅓ at a time until fully incorporated.
Cover bowl with plastic wrap, placing the wrap directly onto the mousse surface. Refrigerate for 1-2 hours or overnight.
Remove cheesecake from the refrigerator and unlatch the springform pan ring. Top with the chocolate mousse, spreading evenly over the top.
Garnish with chopped mini eggs and any other Easter themed candies and sprinkles you prefer. Slice, serve and enjoy!
Notes
Storage: Store in an airtight container in the refrigerator for up to 3-4 days.
Nutrition Information:
Yield:

12
Serving Size:

1
Amount Per Serving:
Calories:

481
Total Fat:

26g
Saturated Fat:

15g
Trans Fat:

0g
Unsaturated Fat:

9g
Cholesterol:

123mg
Sodium:

120mg
Carbohydrates:

57g
Fiber:

2g
Sugar:

48g
Protein:

7g
BON APPÉTIT!
Love, Dedra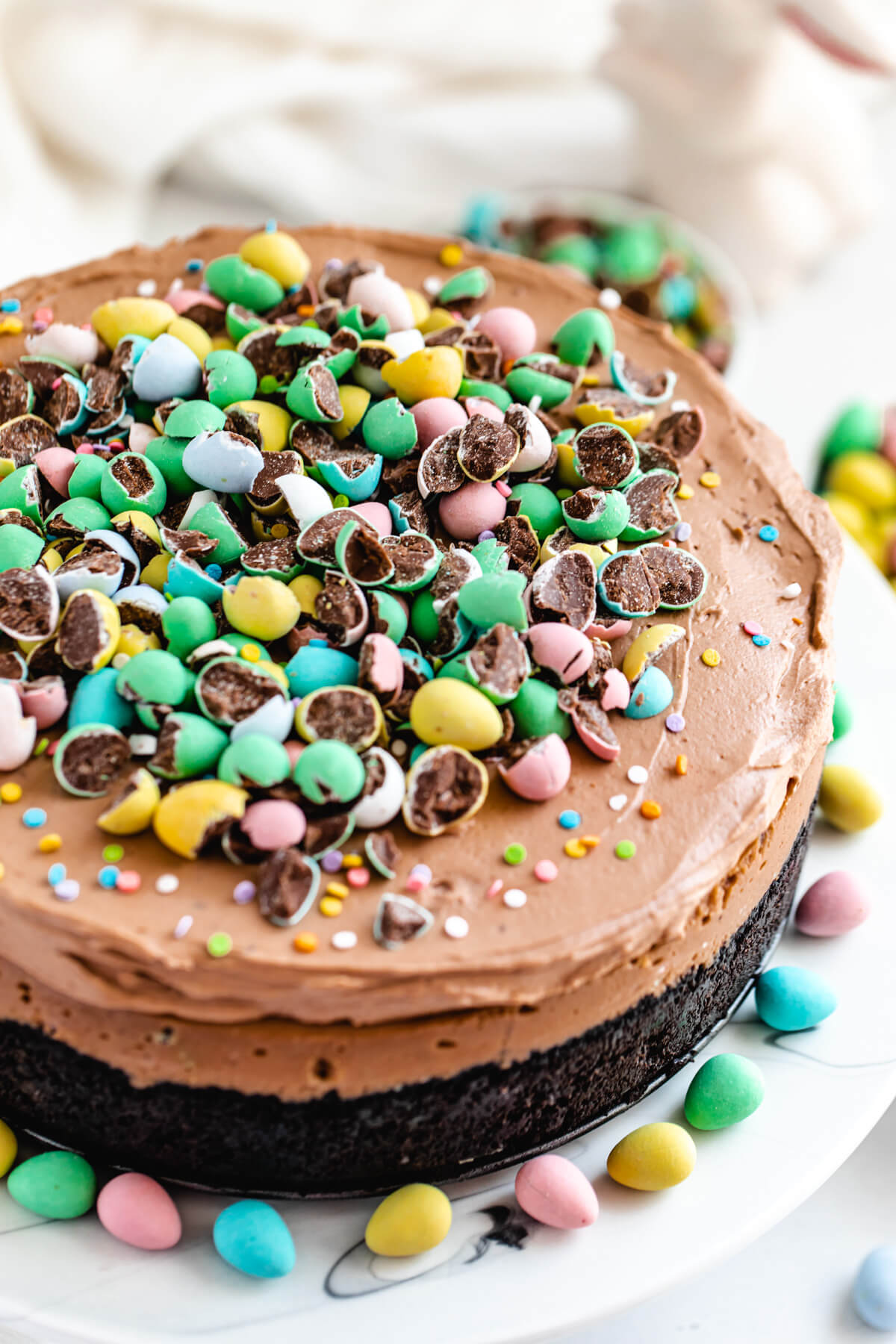 ©QUEENSLEE APPÉTIT. All images & content are copyright protected. Please do not use my images without prior permission. If you want to republish this recipe, please re-write the recipe in your own words, or link back to this post for the recipe.